Quadrant House, Broad Street Mall, Reading.
FAST PACED OFFICE LIGHTING FOR A CAT A & B DESIGN-LED FITOUT
QUADRANT HOUSE, BROAD STREET MALL, READING.
Project Summary:
Location: Reading
Sector: Office
Client: Co-Space
Interior Designer: Waistcoat & Badger
M&E Contractor: HCL Interiors
Value: £26K
Duration: 8 Weeks
Size: 14,000 sq. ft
Photography: Co-Space
The fast growing network of flexible workspaces Co-Space successfully opened the doors of its latest premises situated in Broad St. Mall in Reading town centre in September 2020. Offering approximately 14,000 sq. ft of contemporary ready to occupy flexible serviced office accommodation, it is set to attract start-ups, SME and established businesses alike.
Good location and a community sense with an online platform to support growth are the key points behind the Co-space philosophy. With more outside of London locations coming soon, Co-Space is one to watch.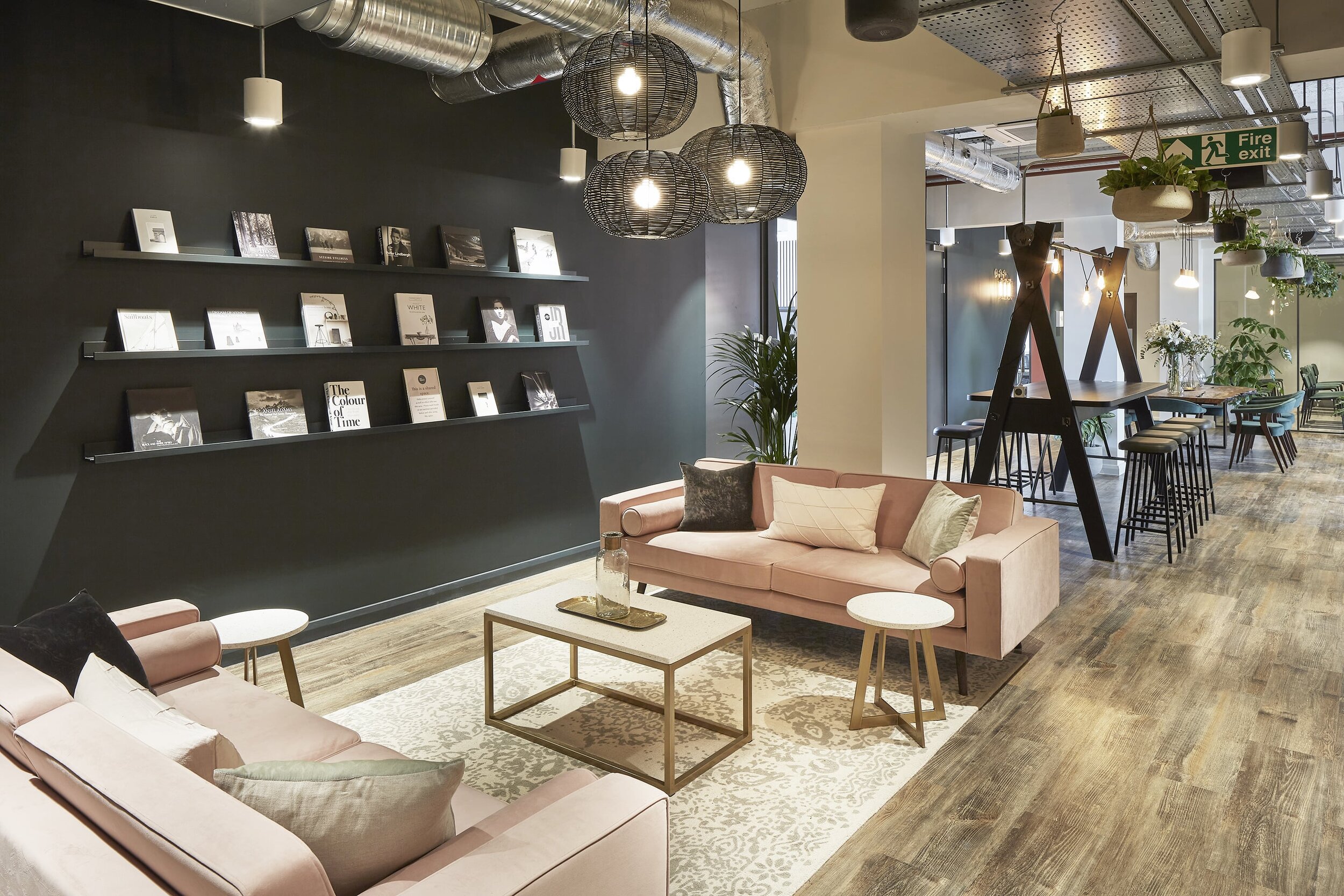 Arranged over two floors, the contemporary CAT A & B refurbishment scheme was designed by the interior designer practice Waistcoat & Badger who were tasked with transforming the un-inspiring office space in a neglected 60's shopping centre into a desirable ready to occupy work space. The internal refurbishment works were carried out by HCL Interiors as part of the huge regeneration project of the Broad Street Mall refurbishment designed by Moorgarth.
Uniquely positioned in a shopping centre, the Reading Co-Space location is accessible to its members 24/7. Situated within a walking distance to all amenities, it also boasts a great connection to London.
Following a successful cooperation on several projects in the last few years, we were approached by HCL Interiors in January 2020 with a lighting design specification for this project. Working closely with the M&E contractor, we progressed this fast paced project with site visits followed by lighting design and calculations, ensuring correct office lighting was specified and supplied within a short time scale. The scheme was set to achieve the current CIBSE Code for Lighting, which indicates the performance specification requirements for the various areas in the building.
THE DESIGN BRIEF
We revised the original proposed RCPs and layout for the luminaires on each floor. Our technical team put forward our slim 50mm linear profile Rio Suspended, and demonstrated it was capable of the task by calculating the lux levels and unified glare rating on each floor. Good quality light distribution and low glare were an absolute key for this project.
The site is positioned on the 2nd and 3rd floor of the Broad Street Mall shopping centre. The layout of the second floor consists of private offices, communal area, resident desking, meeting rooms, kitchen area with breakout space and a quiet zone.
In corridors and the office space across the entire CAT A & B scheme, the designer's favourite Rio Suspended Direct was used for the general office lighting. Rio is the ultimate performance driven linear lighting with a contemporary clean-cut design, creating beautiful lines of light and providing comfortable lighting for the user.
"299 were able to take our designs for Co-Space Reading and create a lighting plan that worked with the overall look and feel whilst achieving the relevant lux levels. We want to move away from a more traditional office lighting design and create a scheme that showcases our brand and the design-led elements of the space."
William Stokes - Joint Founder & CEO Co-Space
In the reception and common areas, the suspended tubular lighting Bellart was used; dotted around across the entire scheme. To keep a sense of symmetry, in some places with more restricted access, the surface mounted version of the Bellart was mounted onto the services. The can-style fittings work well with the exposed ceilings and services, adding a more informal look and creating a more dramatic lighting effect.
The third floor features open plan office space with larger desking areas lit by Rio Suspended Direct linear systems. The scheme is using two different colour temperatures, several standard sizes and the Rio profiles are equipped with opal diffusers.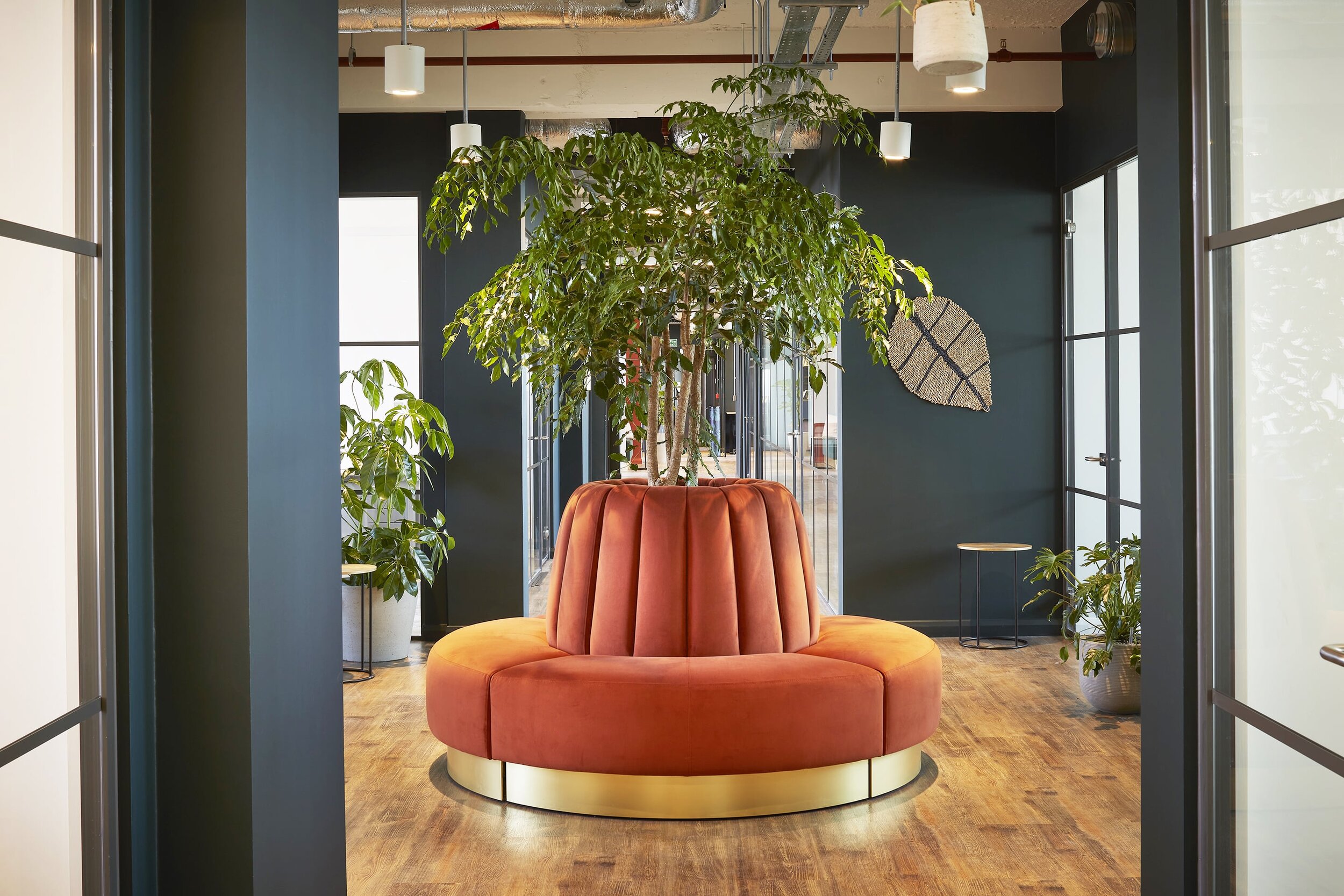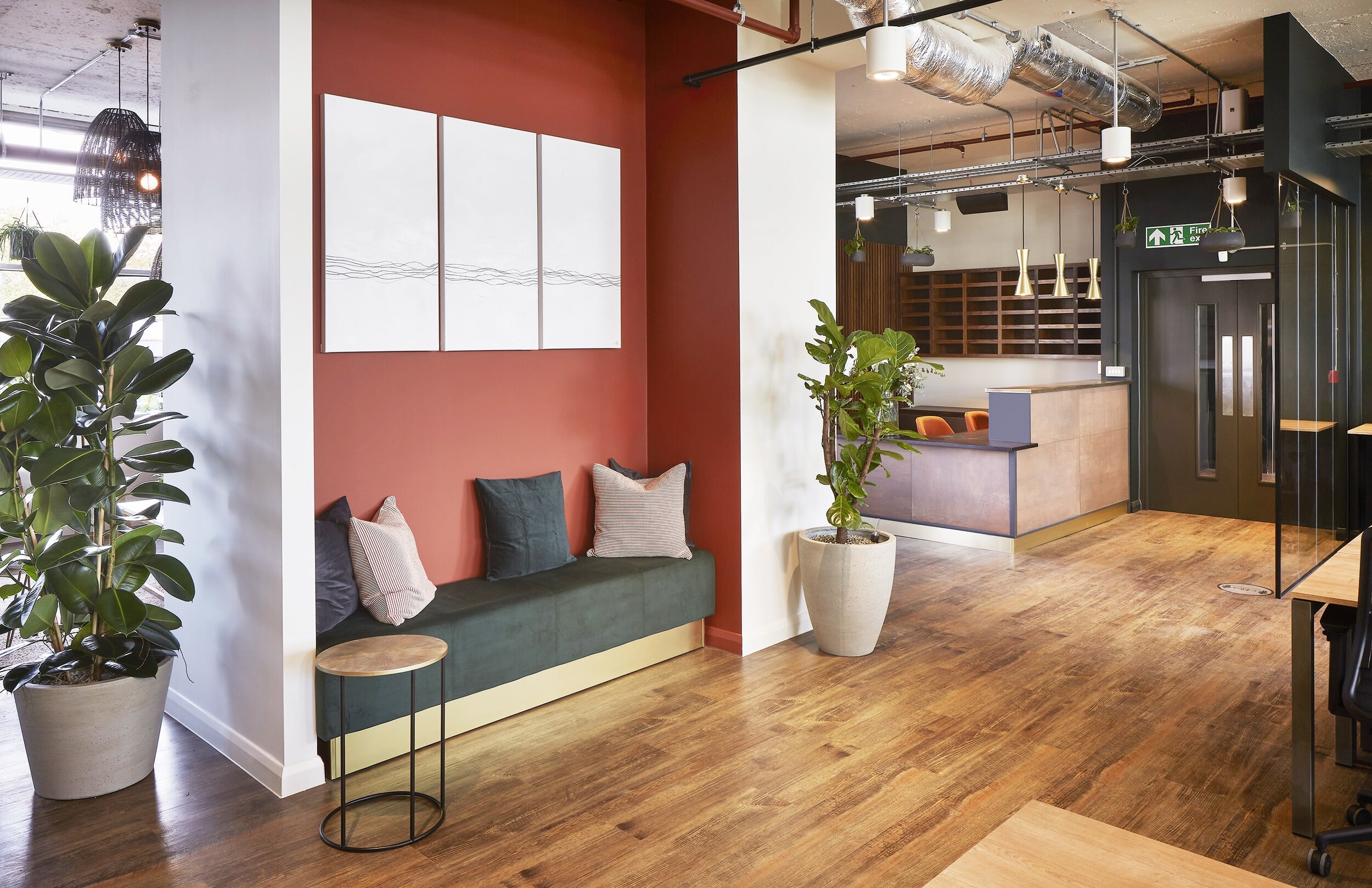 In the two larger meeting rooms, rectangular-shaped made-to-measure linear systems were created to provide illumination and create a bold visual statement, framing the decorative pendants.
All linear and tubular lighting on the 2nd floor was supplied in a contemporary white finish, enhancing the dark interior colour scheme. The linear lighting on the 3rd floor was supplied in a contemporary matte black finish. Some luminaires were supplied with integrated emergency lighting as per the emergency lighting design.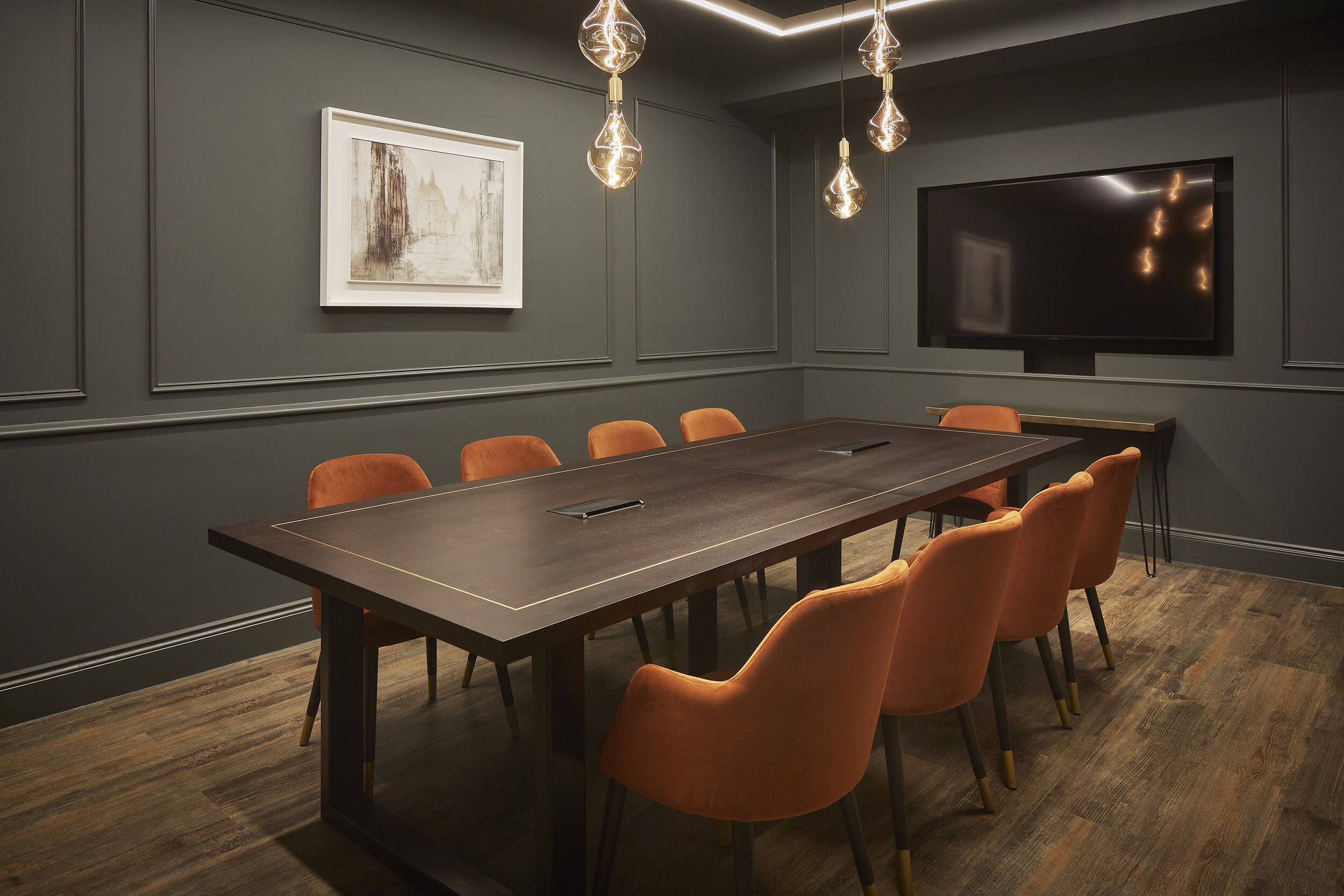 The result is a visually strong contemporary CAT A & B workplace designed to the very last detail. The suspended office lighting creates a bold contrast with the dark interior scheme and the tubular pendants blend in with the exposed ceiling and services, allowing the staggering amount of suspended plant pots to steal the show. Designed with every attention to detail, the first Co-Space location in Reading delivered the promise of premium design led flexible office space. Thanks to the great work our team delivered on this project, we have been trusted with lighting the second Co-Space location in Stevenage, which will be opening very soon.
Project in figures:
12 Hours
We spent approximately 12 hours working on the lighting design for this project.
2
Made-to-measure lighting systems were supplied for the meeting rooms.
8 Weeks
From initial consultation through to delivery on site.
Products used in this project: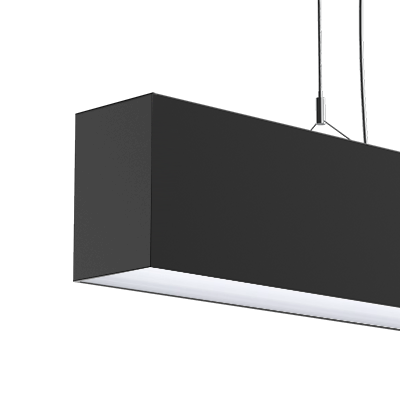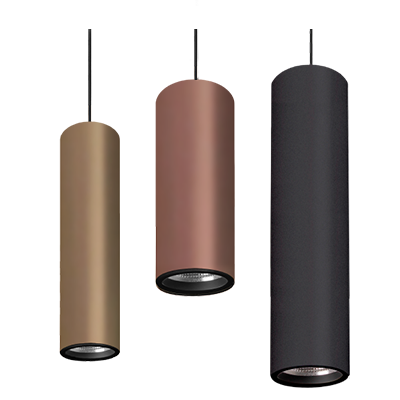 Similar projects:
Interested to find out more about workplace lighting design?
Sign up for our Workplace Lighting Design CPD!
Interested to find out more about workplace lighting design?
Sign up for our Workplace Lighting Design CPD!