20 Dering Street, London.
OFFICE LIGHTING FOR A HIGH-END PLUG & PLAY OFFICE SPACE.
20 dering street, london.
Project Summary:
Location: London
Sector: Office
Client: Legal & General
Architect: Suttonca
Main Contractor: OD Group
Consultant: Cundall
M&E Contractor: Paul Earl
Value: £26K
Duration: 5 months
Size: 7,927 sq. ft
Photography: courtesy of LEVY Real Estate
The very latest addition to Legal and General's growing network of Capsule workspaces, 20 Dering Street in London offers approximately 7,927 sq ft of contemporary ready to occupy flexible office accommodation. Good location is a key to all Capsule workspaces and 20 Dering Street can definitely boast excellent connectivity to Central London and all Mayfair has to offer.
The contemporary CAT A+ refurbishment scheme was designed by the young and dynamic London based architectural practice Suttonca who were tasked with repositioning the 1920's art deco style building into a ready to occupy work space. The internal refurbishment works were carried out by OD Group.
Unique in Great Britain, there is only one street named Dering Street. Situated metres from Oxford Street and a short distance to Bond Street and Liberties, 20 Dering Street occupies a prominent position at the junction of Dering Street and Tenterden Street.
ORIGINALLY BUILT IN 1927
With the aim of maximising the daylight and creating a comfortable place to work, the design brief was based on increasing the ceiling height by exposing all of the services. This allowed sufficient space for suspended lighting to be used throughout the entire fitout scheme and achieving the LG7 standard.
The design brief was driven by a subtle interplay of the original Art Deco style building and the large factory style perimeter windows. The objective was to create a contemporary workspace with an industrial look and feel, attractive to future tenants.
THE DESIGN BRIEF.
Meeting current lighting standards (the CIBSE Lighting guide) and compliance was only part of the story. The architect's vision was a simple, paired back interior scheme retaining as many original features as possible. The interior design is a fine tuned balance of exposed building fabric and services accentuated with soft hospitality style furnishing. The linear office lighting had to work with exposed services and the new interior design, enhancing the beautiful interplay between the exposed brickwork and services, large metal framed glass partitioning and contemporary furnishing, all framed in dark colours.
The scheme comprises the 2nd, 3rd and 4th floor of the building with the layout almost identical across the 3 floor plates. Each floor offers a waiting area, studio space, private meeting room, breakout area with a fully fitted kitchen.
To keep the exposed ceiling uncluttered and the interior design consistent across the entire scheme, the designer's favourite Rio Suspended Direct was used for the general office lighting. Rio is the ultimate performance driven linear lighting with a contemporary clean-cut design, instantly recognisable by its minimalist suspension kit. Proven and tested, it provides comfortable lighting for the user. The Rio linear profiles were specified in standard size and equipped with opal diffuser.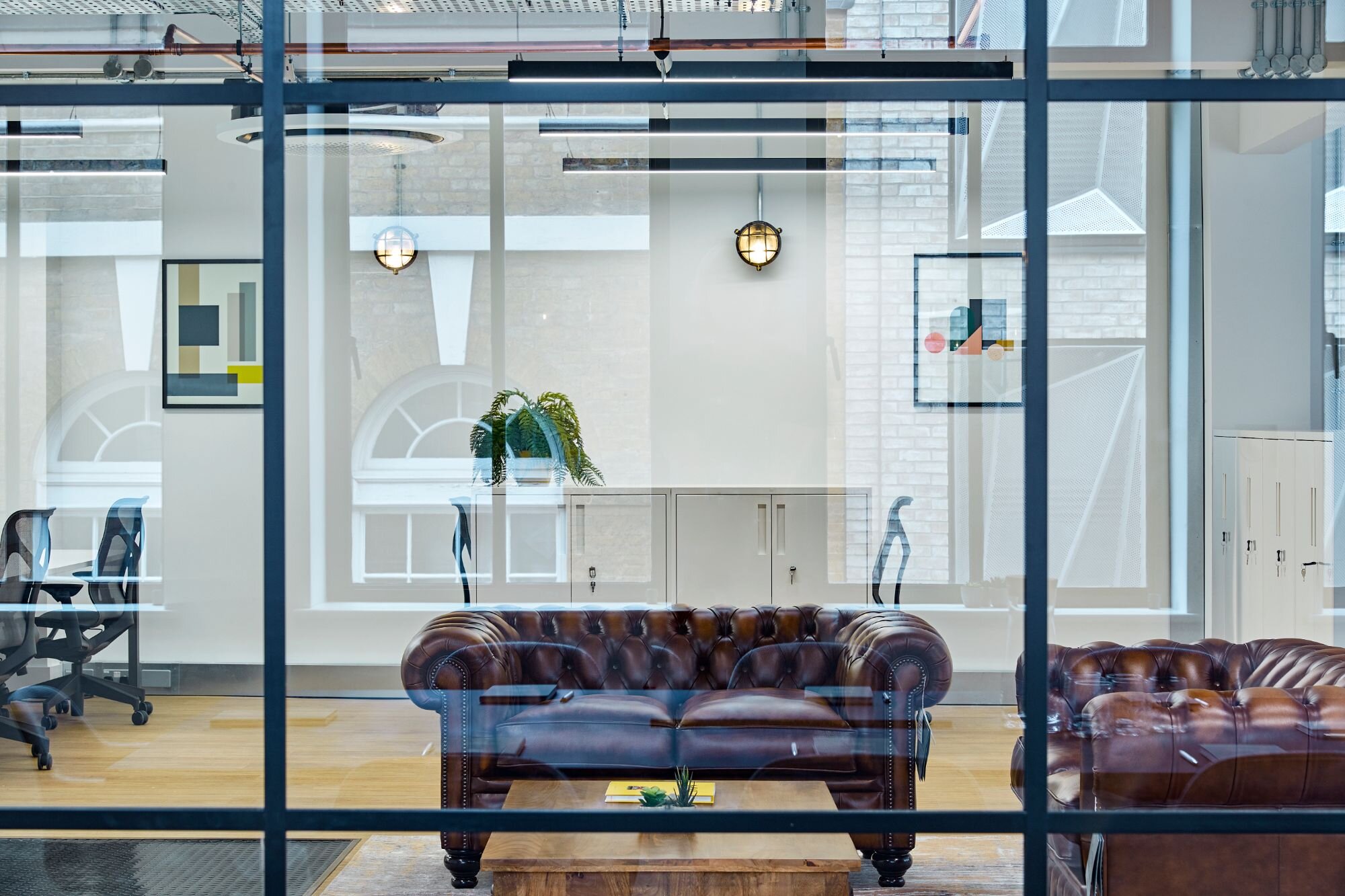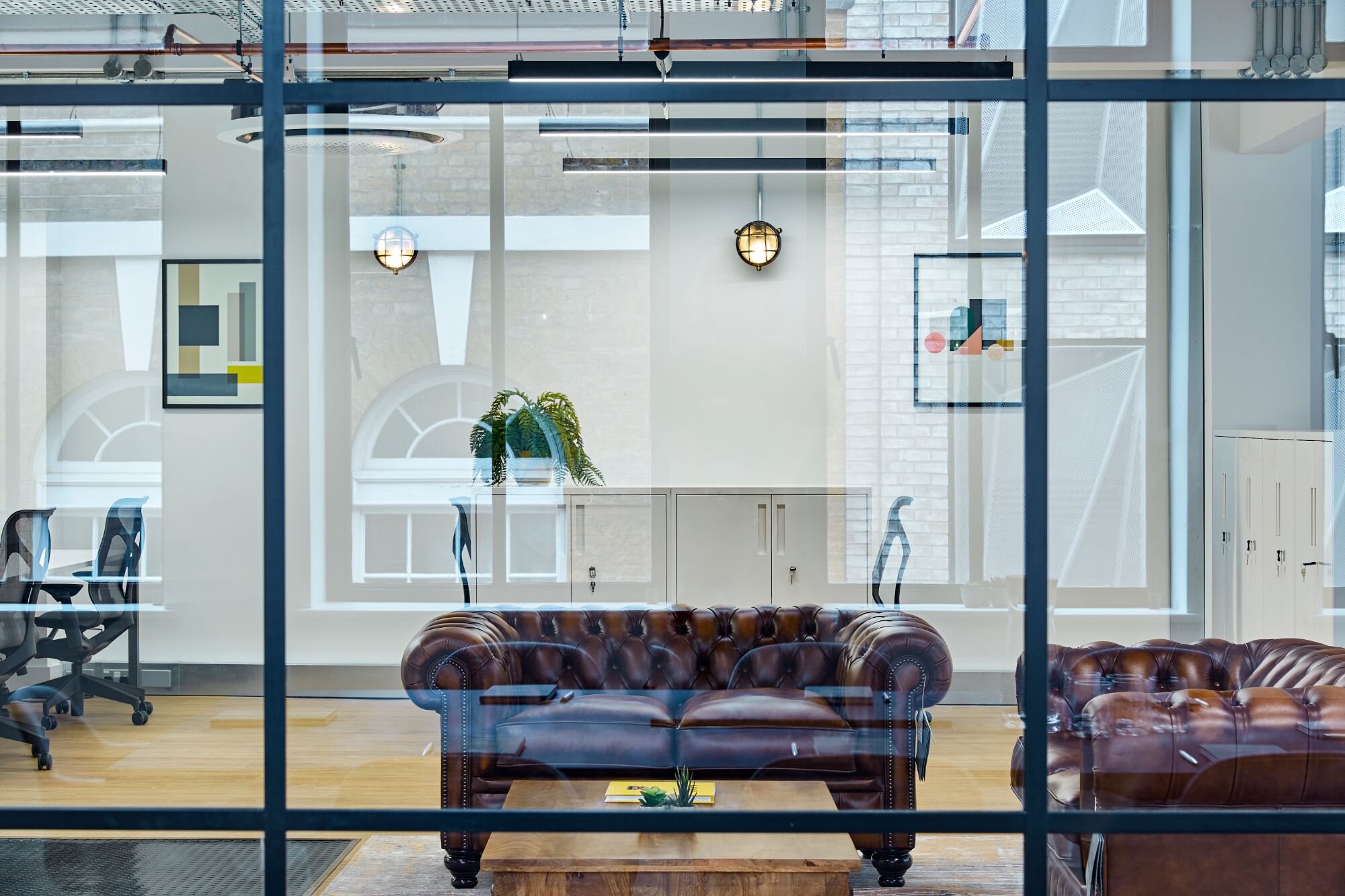 Chris Foote - Operations Director at Paul Earl Ltd.
In the waiting areas and private meeting rooms, the Rydal Suspended was used as a feature lighting. The 650 mm diameter pendants are substantial enough to create bold presence in space and add a visual interest to the design scheme. All suspended lighting was specified and supplied in a contemporary matte black finish, enhancing the contemporary dark colour scheme of the interior design.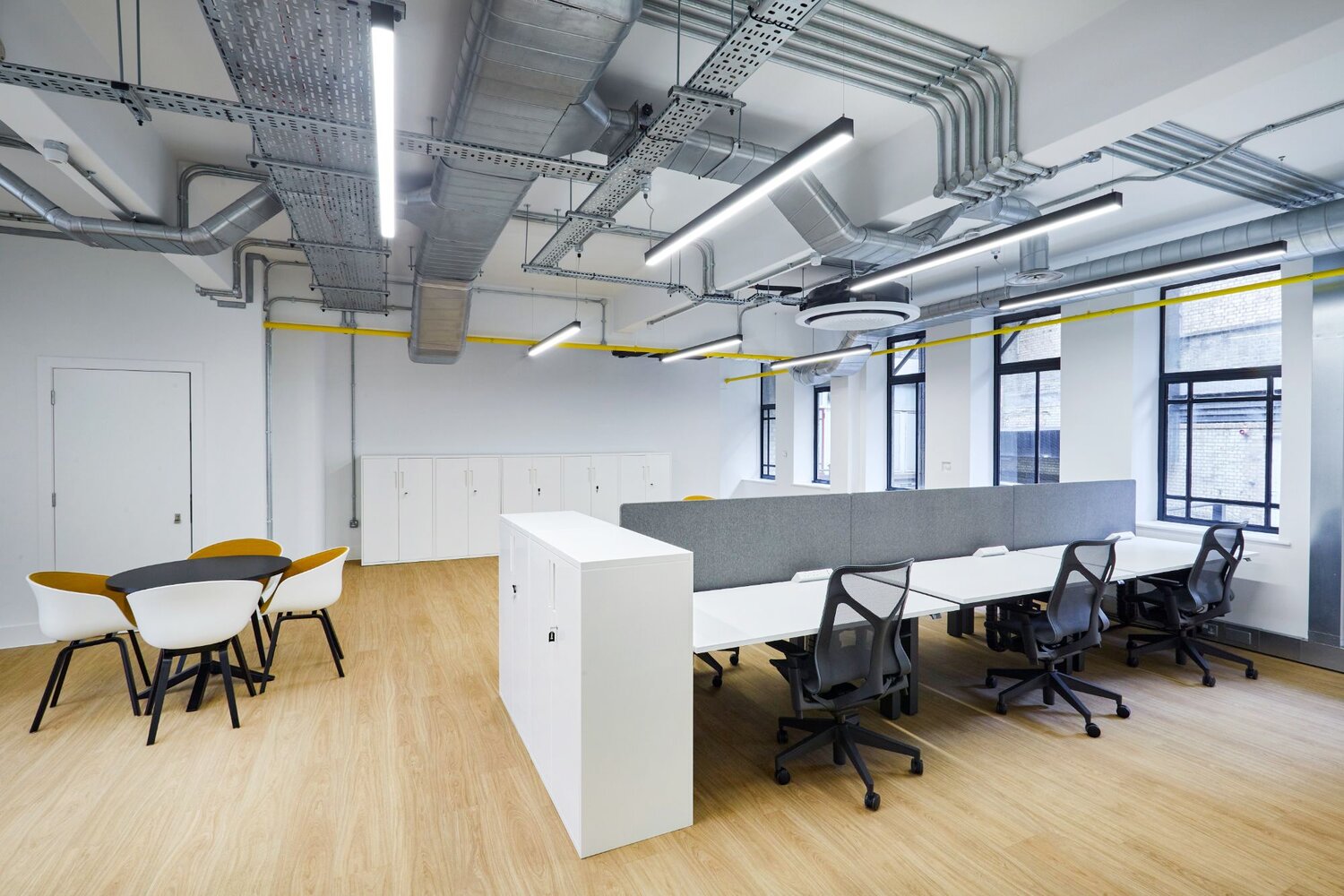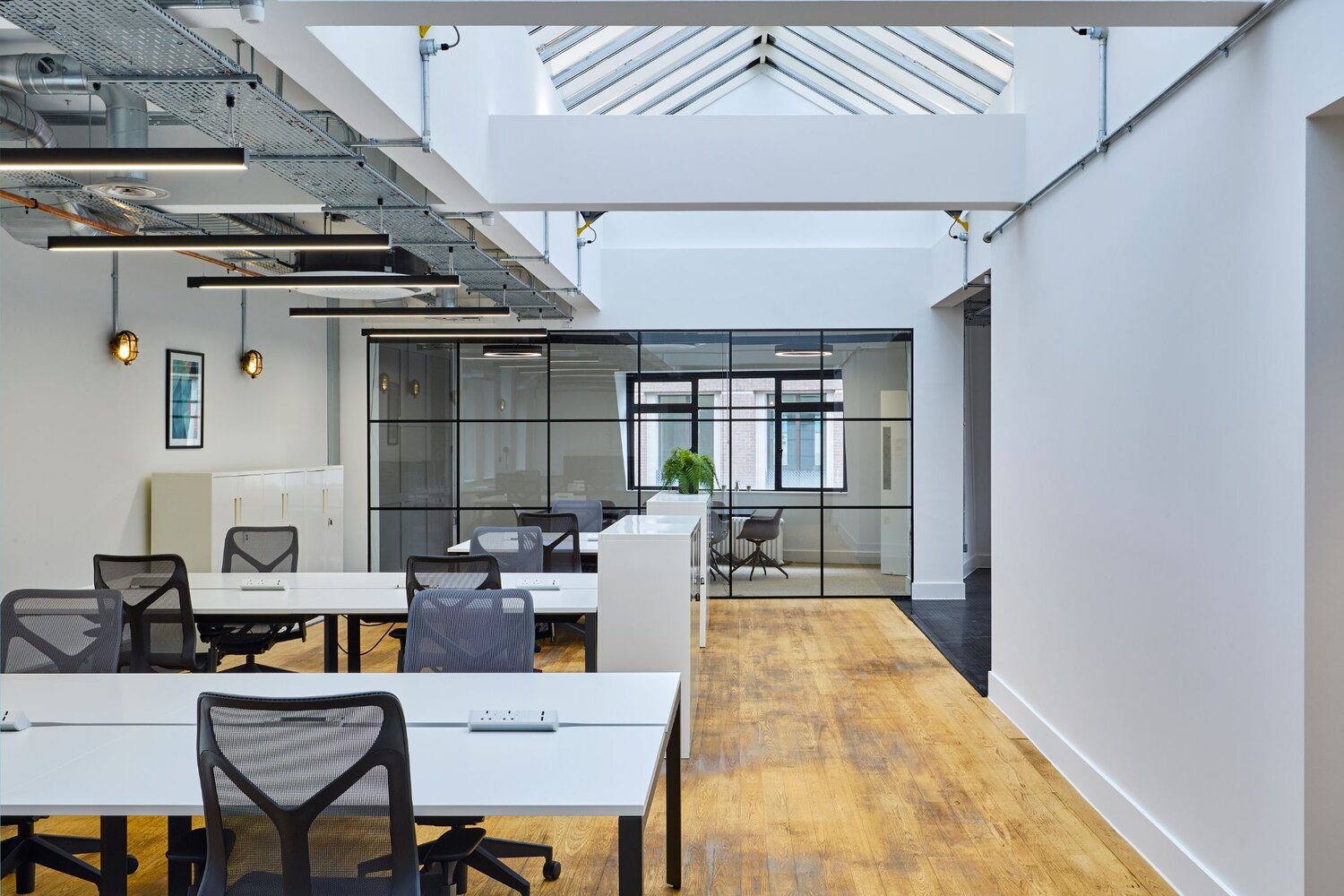 The Rio luminaires and Rydal pendants were supplied as DALI compatible control gear allowing the lighting to function with the lighting control system. Integrated emergency lighting was supplied in some luminaires following the emergency lighting design.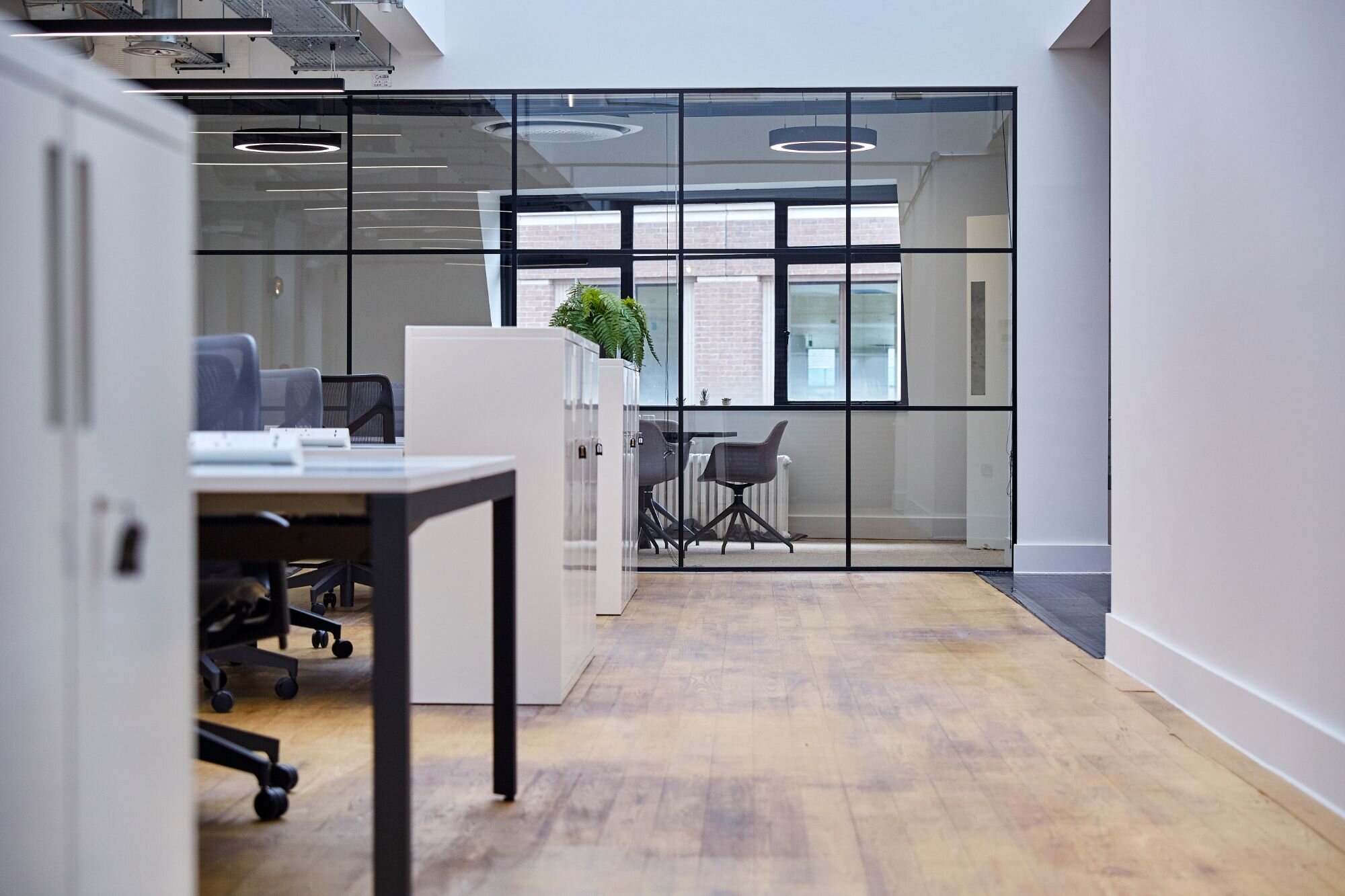 The final result is a distinctive ready to occupy CAT A+ workplace designed with attention to detail. The office lighting is part of the bold interior design, enhancing the architectural beauty and the fabric of the building. With the carefully curated colour scheme and paired back interior design, 20 Dering Street stands up to the brand promise of delivering a well located, contemporary capsule workspace attractive to tenants looking for flexible office accommodation.
Project in figures:
7,927 sq.ft
Dering Street offers approximately 7,927 sq. ft of contemporary office accommodation
5 Storey
Dering Street is a 5 storey art deco styled building.
5 Months
From initial project brief through to delivery.
Products used in this project: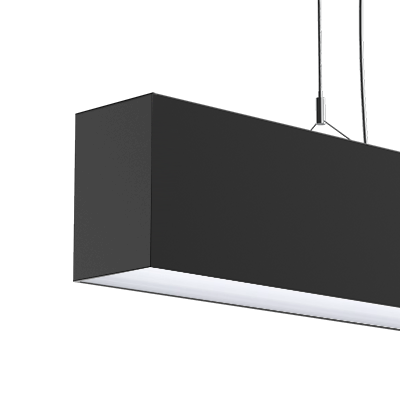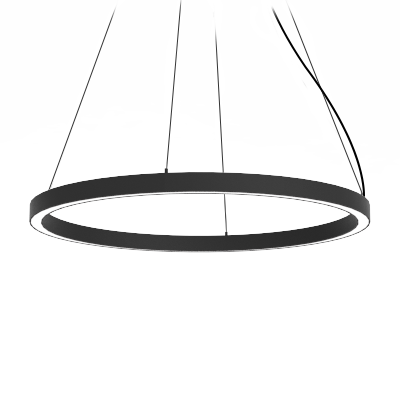 Similar projects:
Interested to find out more about workplace lighting design?
Sign up for our Workplace Lighting Design CPD!
Sign up for our Workplace Lighting Design CPD!
Sign up for our Workplace Lighting Design CPD!