Birchwood Building, Leatherhead, Surrey.
OFFICE LIGHTING FOR A STYLISH CAT A FITOUT.
BIRCHWOOD BUILDING, LEATHERHEAD, SURREY.
Project Summary:
Location: Leatherhead, Surrey
Sector: Office
Architect: Silver & Co
Consultant: Malcolm Hollis
Electrical Contractor: Sapphire
Value: £70K
Duration: 12 weeks
Size: 33,490 sq. ft
Photography: Silver & Co
The impressive transformation of the tired commercial property Chaucer House situated in Leatherhead Office park, sees not only a complete remodelling of the entire courtyard building but also its complete brand re-positioning. The new Birchwood Building offers 33,490 sq. ft of first class CAT A office space in a prestigious business park attracting large global brands and established businesses.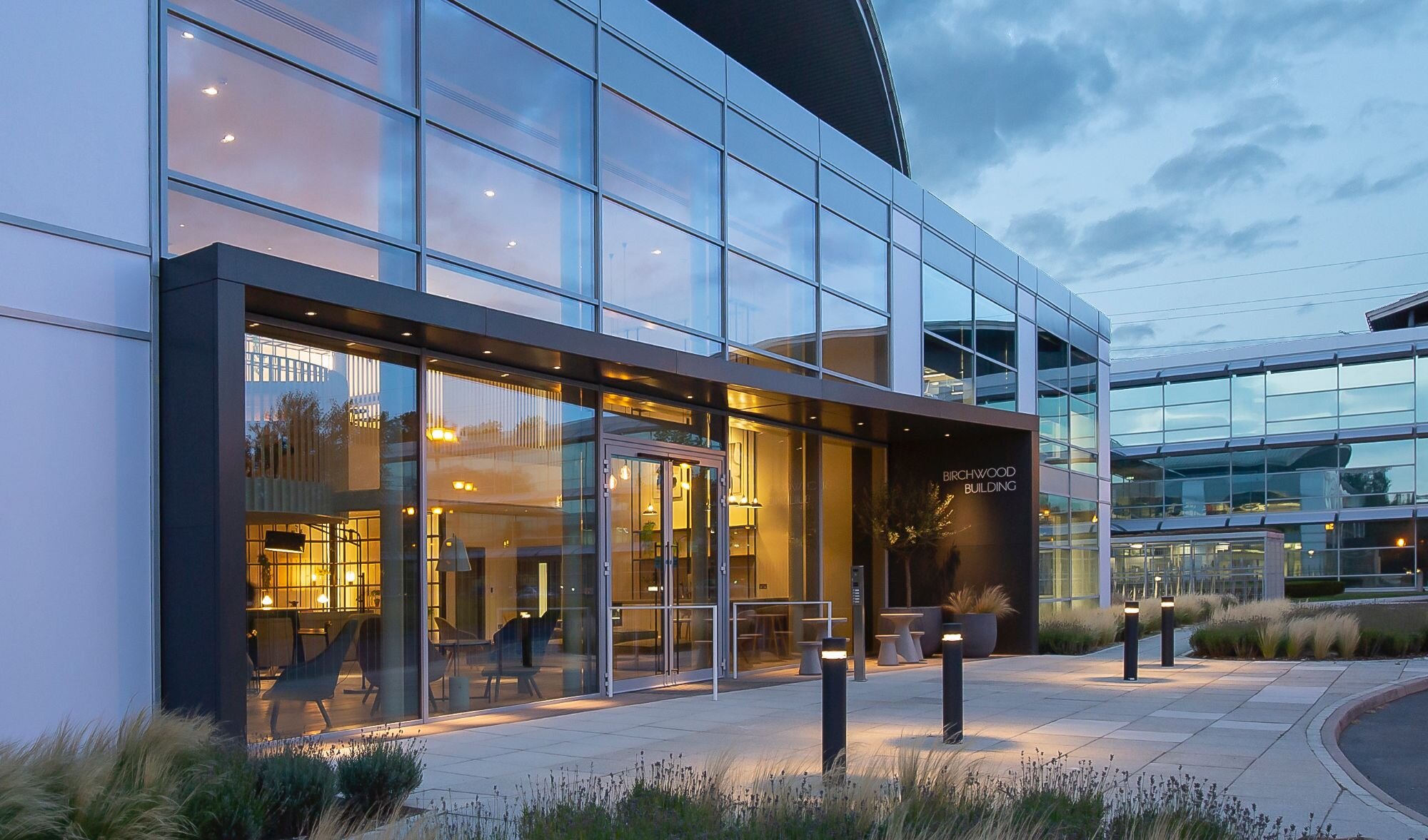 Completed in the Autumn of 2018 and offering units from 2,427 to 17,189 sq. ft of high spec office space over two floor plates, the Birchwood Building is a destination workplace with an informal residential feel.
The impactful scheme designed by interior architects - Silver & Co, was led by the client's design brief to re-position the site into a landmark building, leaving no stone un-turned. The concept sees a remodelled exterior entrance, refurbished reception area, reshaped common areas and landscaped exterior. All in a bid to recover a valuable space and create an outstanding contemporary workplace with a welcoming reception area, collaborative spaces and plenty of exterior areas to encourage social interaction.
Approached by the interior architects at Silver & Co in April 2018, our technical team was requested to create a contemporary looking lighting scheme for the general office lighting, corridors and the back of the house stairwell area. Fulfilling the client's desire to create a premium scheme, the specification created by the consultants at Malcolm Hollis was utilising suspended linear lighting. The interior architect and consultant liked the contemporary look and the performance of the Rio Suspended. To tie the lighting with the rest of the interior design, all suspended lighting was specified in a contemporary matte black finish and upgraded with DALI dimming.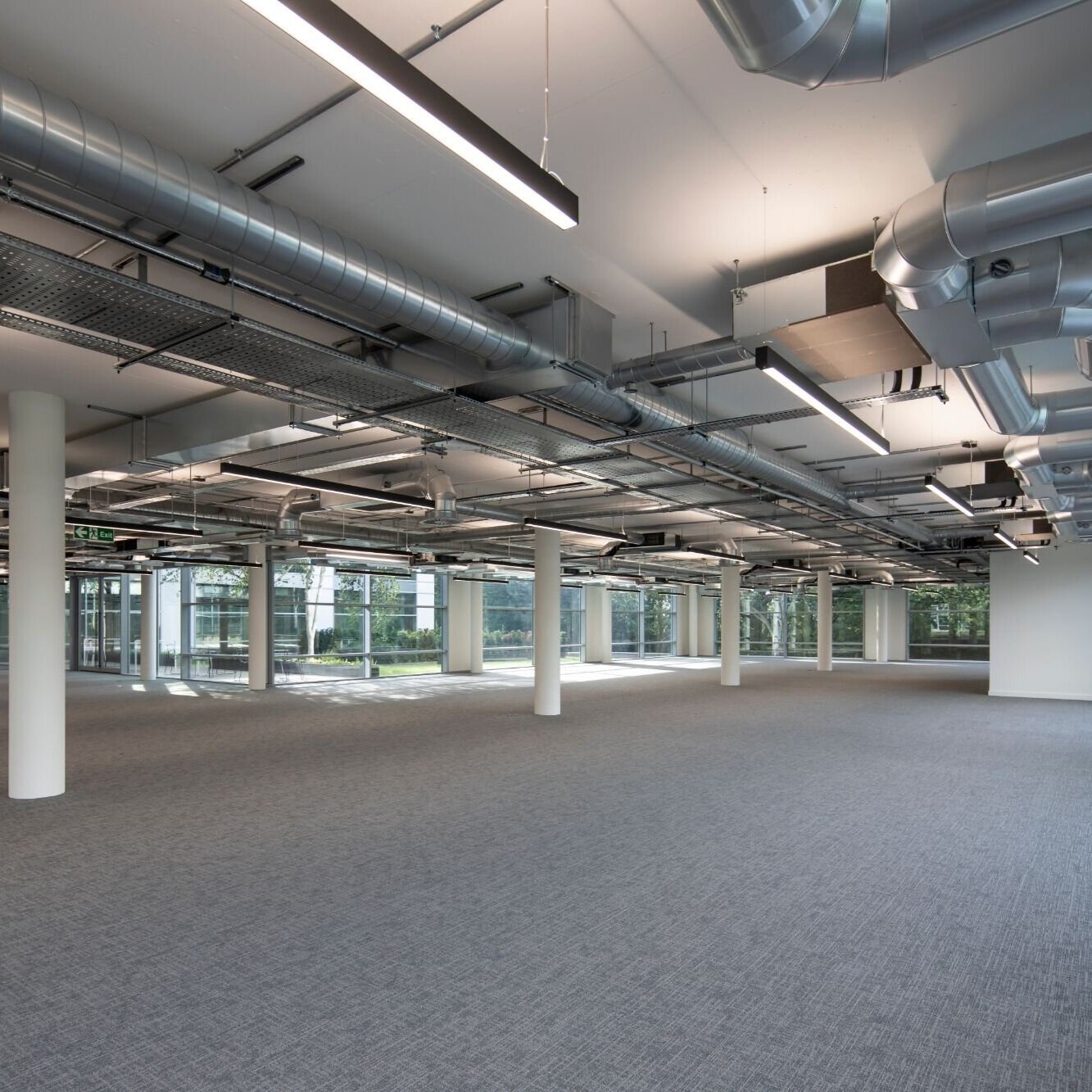 The 299 team conducted several site meetings followed by full office lighting design and calculations, making sure the correct lighting levels are achieved, meeting the BCO guidelines. The lighting scheme also includes integrated emergency lighting.
As the floor plan is fairly straightforward, 10 hours of lighting design were used to support this project.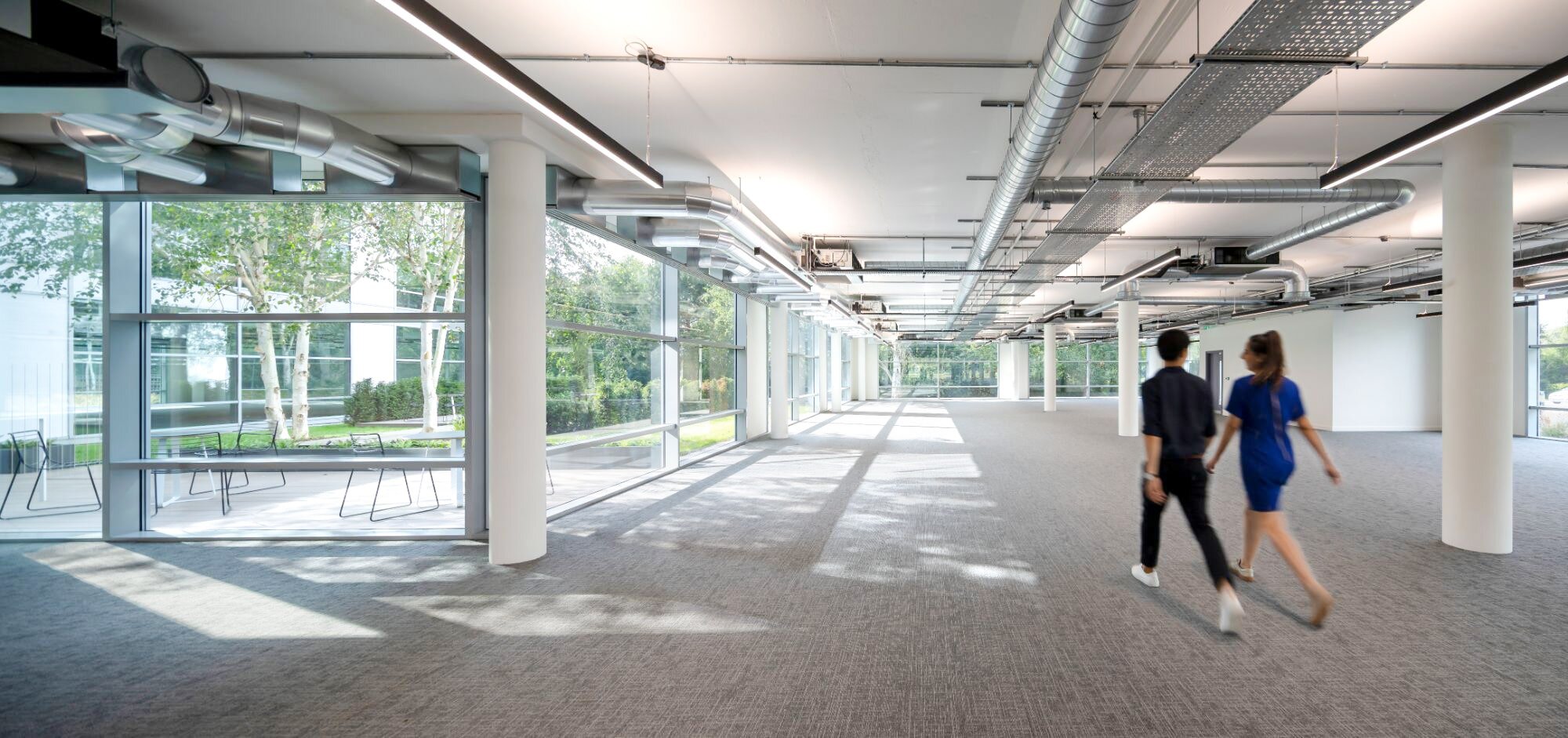 THE DESIGN BRIEF.
Re-positioning the building into a premium workplace was only part of this impressive CAT A refurbishment. The design brief was fuelled by the client's desire to create a new brand for the Birchwood Building. A contemporary workspace flooded with daylight, offering attractive breakouts spaces, beautifully landscaped courtyard to support social interaction and wellbeing of the tenants.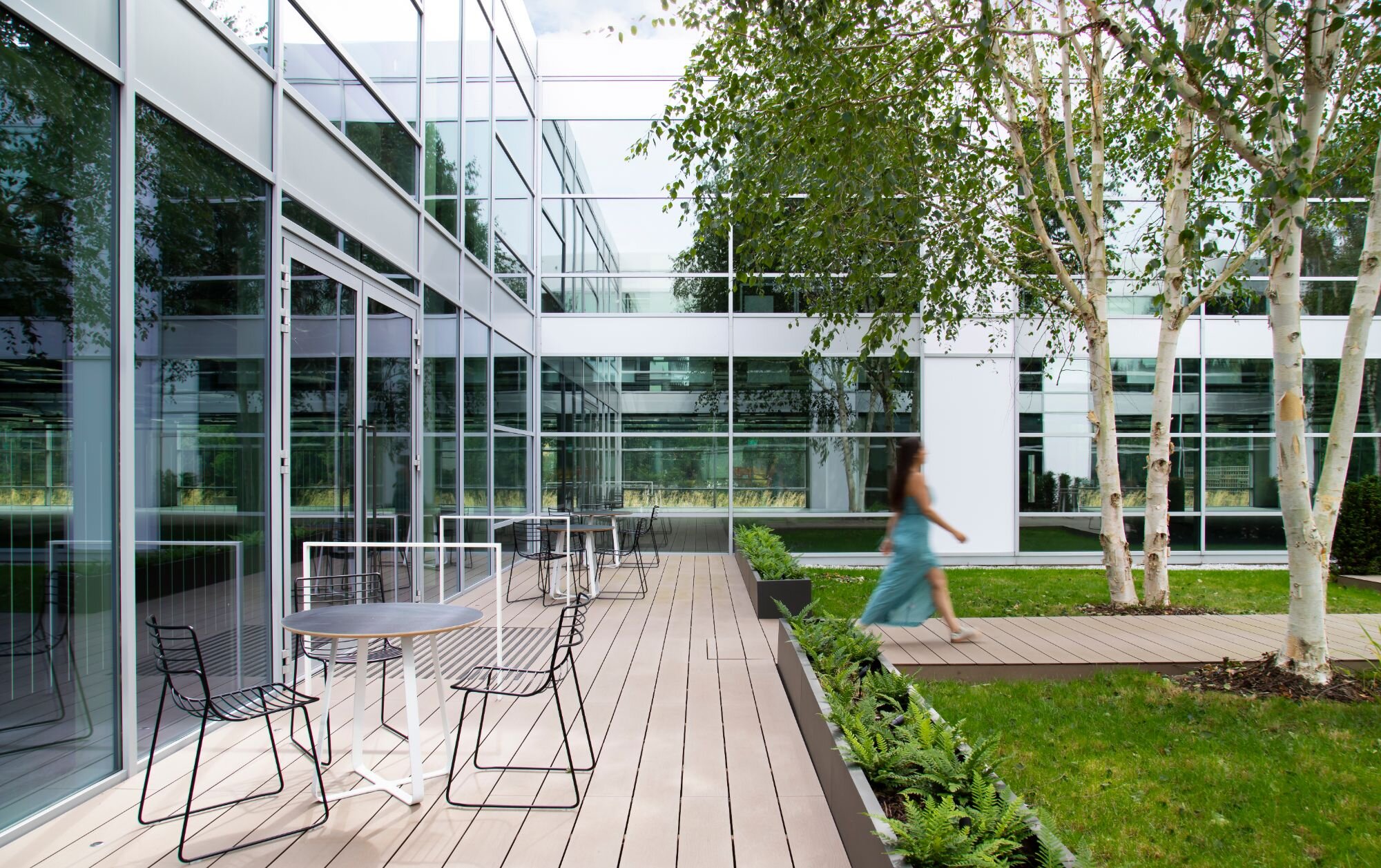 "299 were able to take our designs for Co-Space Reading and create a lighting plan that worked with the overall look and feel whilst achieving the relevant lux levels. We want to move away from a more traditional office lighting design and create a scheme that showcases our brand and the design-led elements of the space."
Across the two floor plates, the Rio Suspended direct/-indirect was used as the main luminaire for the general office lighting. Rio is the ultimate performance driven linear lighting with a clean-cut design, creating beautiful lines of light.
We delivered the new office lighting to the site within the 12 weeks program.
The result is a very stylish contemporary CAT A workplace flooded with daylight. It's a welcoming space with high functionality and comfortable office lighting, attractive to future tenants.
Project in figures:
10 Design hours
Approximately 10 design hours were dedicated to this project.
200 Rio Suspended's
200 Rio Suspended were installed across two floorplates.
6 Rio Wall's
6 Rio Wall's were installed in the stairwell area.
Products used in this project: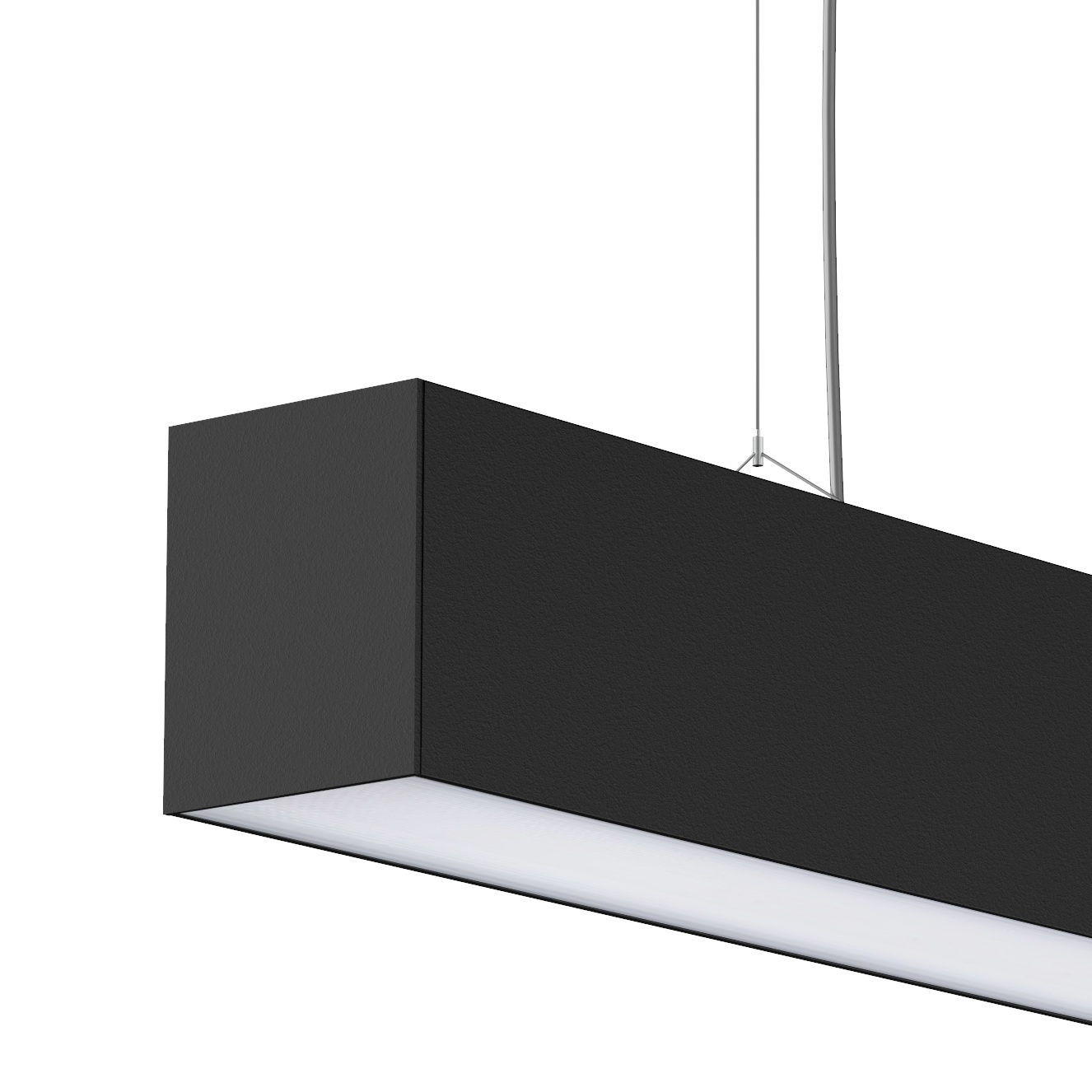 Similar projects:
Working on a modern CAT A project?
At 299, all your commercial lighting needs are taken care of, with standard linear available on a fast-turnaround basis.
Working on a modern CAT A project?
At 299, all your commercial lighting needs are taken care of, with standard linear available on a fast-turnaround basis.