78 Whitfield Street, London.
TENANT FOCUSED OFFICE FITOUT.
78 WHITFIELD STREET, LONDON.
Project Summary:
Location: London
Sector: Office
Value: £16K
Duration: 4 Months
Main Contractor: Thinking Space
Client: Bruce Henderson International
Architect: Bruce Henderson International
Located within walking distance of central London's major attractions and boasting excellent transport connections, this newly refurbished 1970s office development at 78 Whitfield Street offers a modern but understated workplace.
Thoughtfully re-crafted with attention to every detail, the new office space attracts with calm colours, warm textures and a mixture of open plan workspaces and generous meeting rooms. The 4th, 5th and 6th floors boast private terraces with some fine views of London.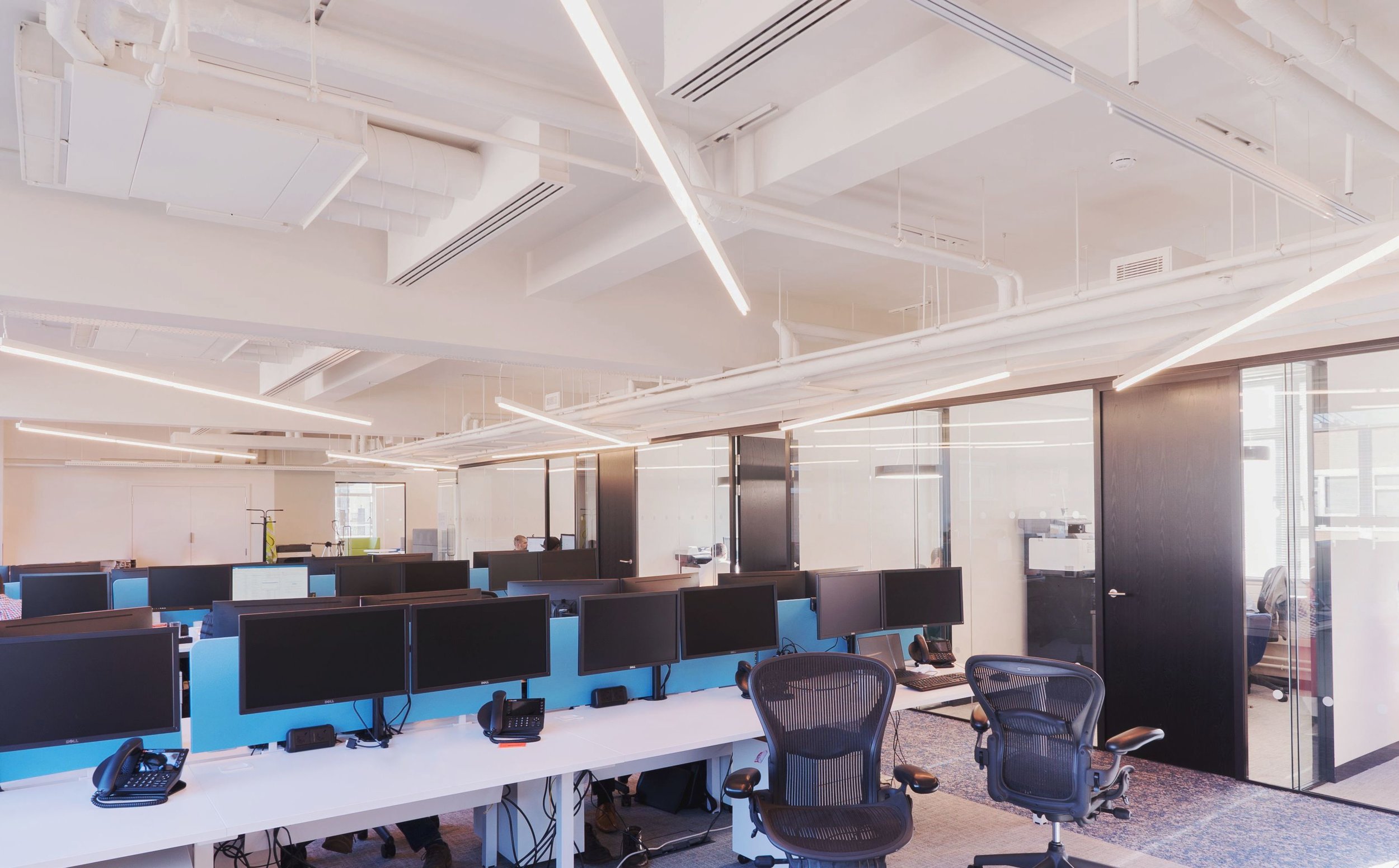 THE PROJECT.
The leading supplier of in-flight entertainment, Global Eagle occupies the 5th and 6th floor of the 78 Whitfield Street. Prior to moving into their new offices, the tenant approached Bruce Henderson International to transform the Cat A fit out into a modern office space reflective of a media company.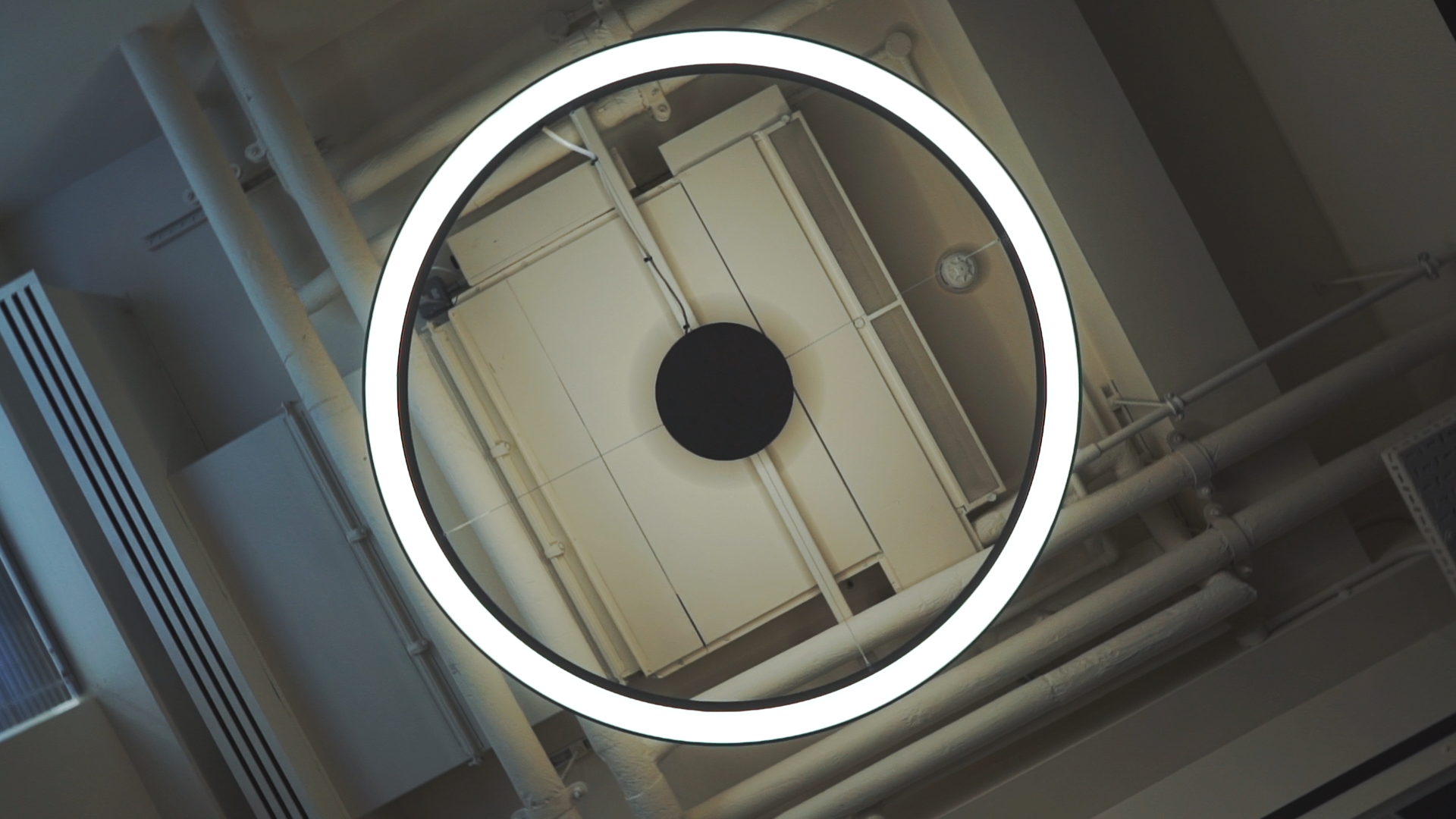 https://player.vimeo.com/video/356618203?app_id=122963&wmode=opaque

THE CHALLENGE.
The biggest challenges were the reconfiguration of existing lighting and incorporating new lighting. There are inherent challenges in fitting out these old London offices and the standard Cat A fit out does not always reflect the personality and ambition of a brand.
"The new Global Eagle offices on Whitfield Street in Central London are fantastic, they are a step changer from where we were before. Lots of light, lots of collaborative spaces, lots of meeting rooms, sort of providing the infrastructure that a modern media company needs. It's a great office, it is as simple as that. Lighting is great, it's on point. It's the natural daylight. Most feedback I have received from my team working here is that the whole place is flooded with light and the light flooding is conducive to a really, really cheery workplace. "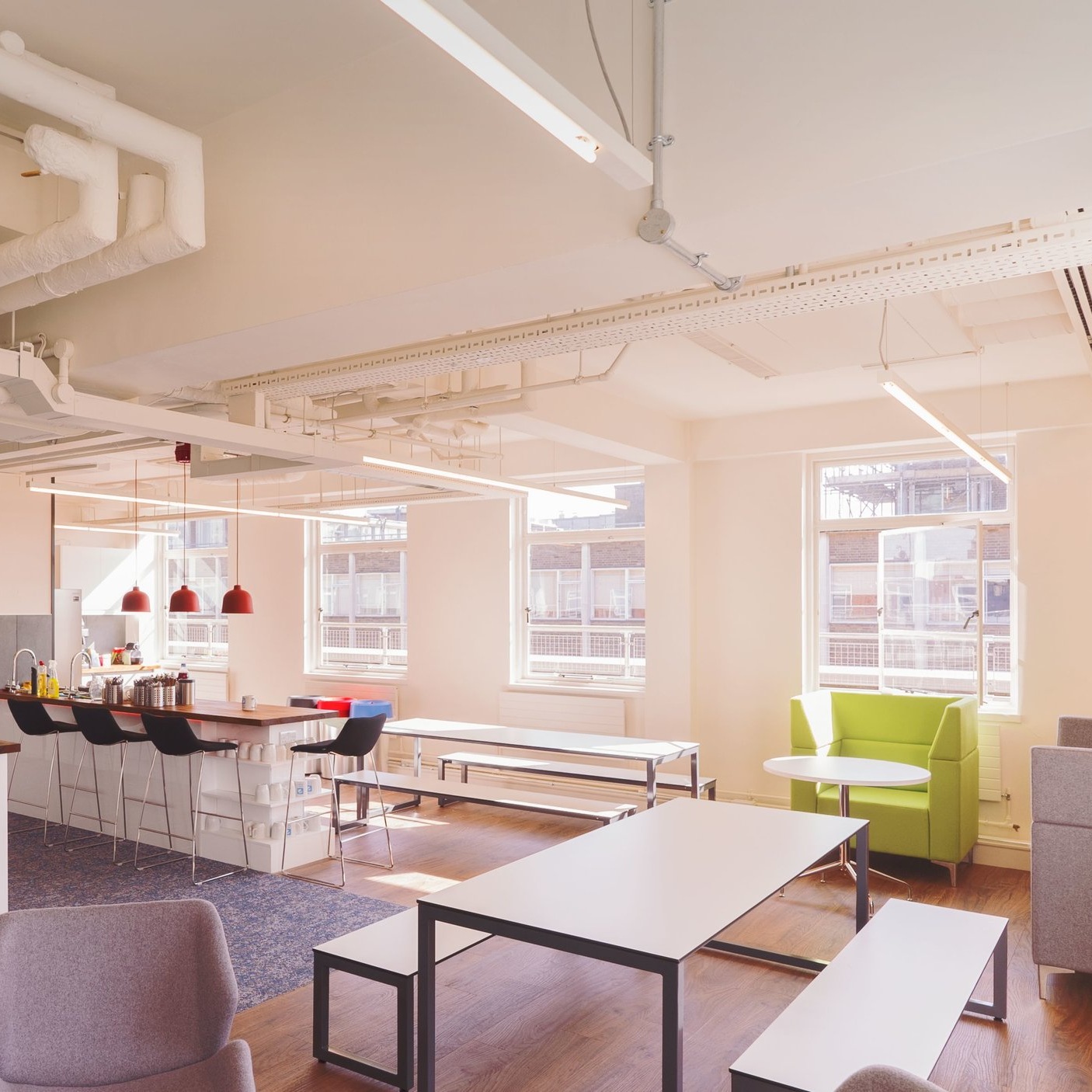 Architect - Bruce Henderson International
The brief for Global Eagle's new offices was to combine architectural lighting and suspended lighting with the aim of creating a visually attractive office space.
Our team assisted the architect with lighting design and by selecting the right products for the scheme. The tenant focused fit out was calling for some creative ideas for meeting rooms, circulation areas and breakout spaces. The scheme had to match the expectation and the budget of the tenant.
The existing office lighting has been reconfigured to create an arrow shape mirroring the arrow painted on the runaway. The new luminaire layout is creative and reflects the brand.
SLIM LINEAR PROFILED LECK.
As you walk through the building, you will come across a branded corridor with meeting rooms named after major airports. Slim linear profiled Leck was installed at an angle bringing a visual impact to the corridor.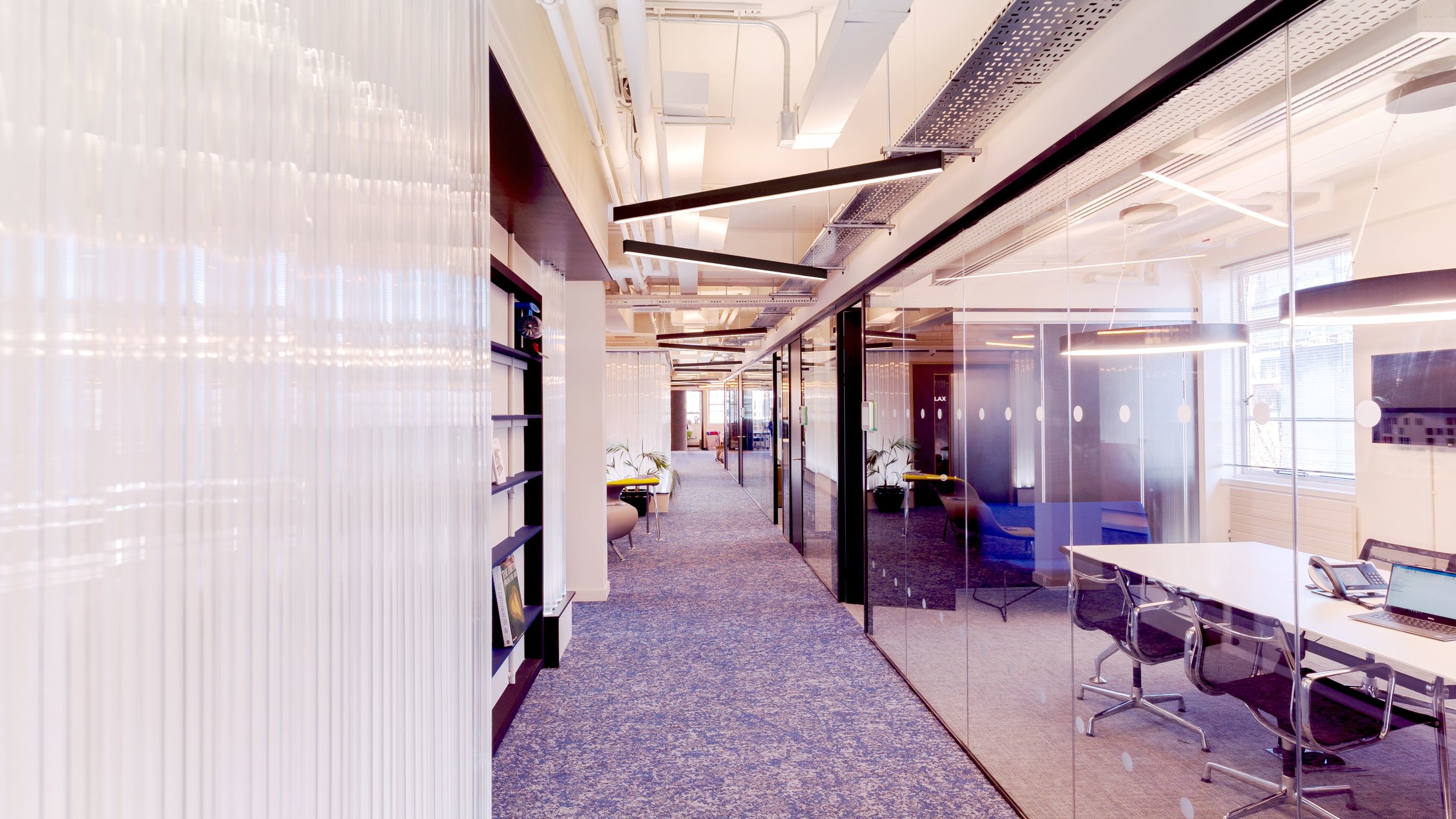 The terminal style meeting rooms were fitted with ring shaped suspended luminaires, Ouse. The 1m diameter fitting is substantial enough to make an impact, yet compact enough to be used as feature lighting for smaller meeting rooms. The ring shaped lighting makes an abstract connection with the Global Eagle company logo and completes the office design as a feature space. The unique infinity diffuser can be admired from any angle, adding an almost tactile 3D dimension to the space and distributing comfortable lighting. The matte black finish of the Ouse luminaires is very bold and contemporary.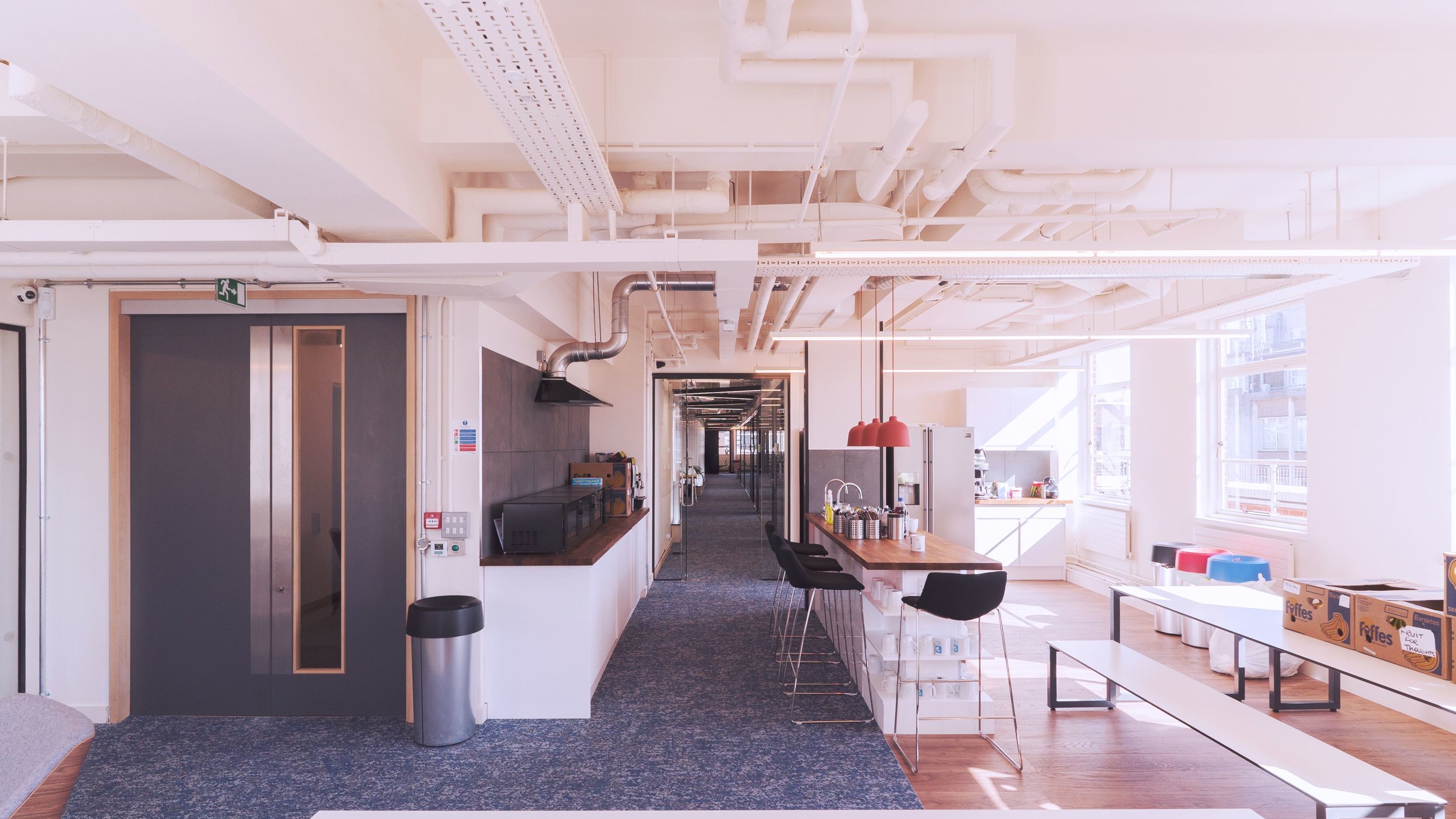 The lighting for the tenant focused office fit out was supplied in time and to the satisfaction of both the architect and tenant, as per their testimonies below.
"Working with 299 Lighting was great. Not only did we get the technical support and support on site, we also received general advice. I've worked with 299 Lighting previously and they provided a complete solution in terms of services, the quality of their products and the way they manufactured for our client. The products and the ranges that they have are quite unique and they really help us to push our design as architects. It was an absolute pleasure to work with 299 and they have done a great job here. "
Project in figures:
24,668 sq ft.
Whitfield Street has a total of 24,668 sq ft. office space!
3 floors
299 Lighting's office lighting stretches over 3 floors.
3 Months
From initial project brief through to delivery.
Products used in this project: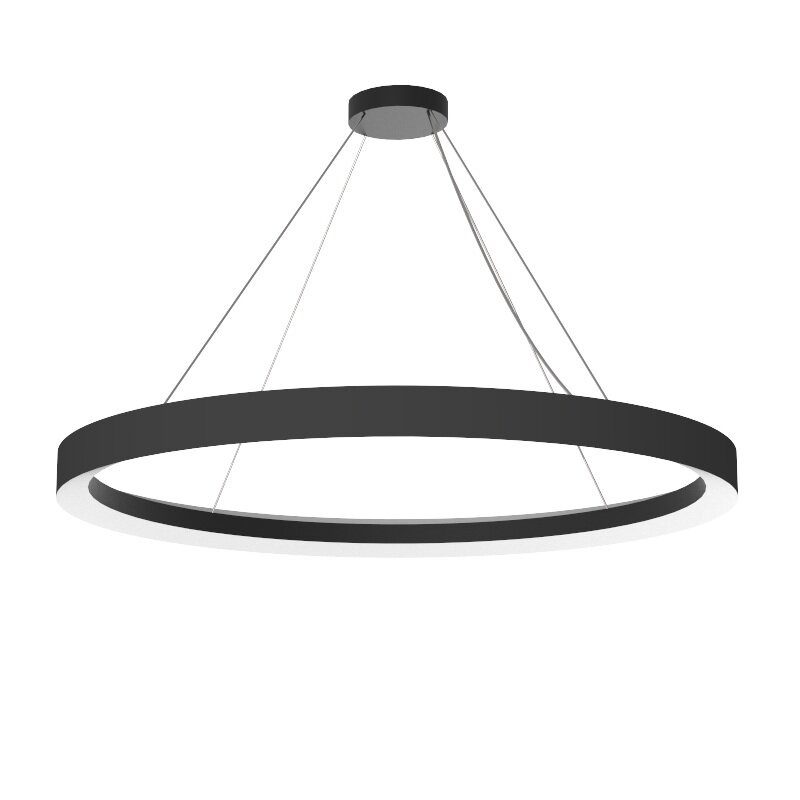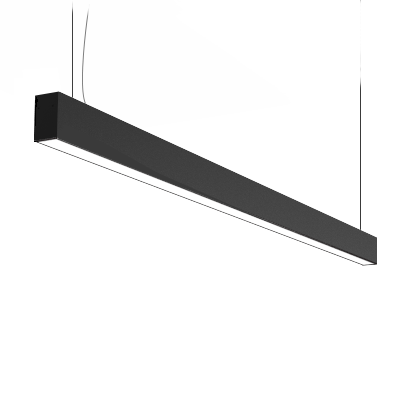 Similar projects:
If you're working on an office fitout, contact our team today!
If you're working on an office fitout, contact our team today!