Energy efficiency requirements.
Lighting should be designed to meet the lighting requirements of a particular task or space in an energy efficient way. It is important not to compromise the visual aspect of a lighting installation simply to reduce energy consumption.
Light levels set in BS EN 12464-1:2021 are minimum average illuminance values. Energy saving can be made by linking daylight with electric light, making full use of lighting controls and sensors to monitor occupancy.

The basis of energy efficient lighting installation is to provide the right amount of light, in the right place, at the right time.

The right amount of light
The SLL Code gives guidance on recommended illumination levels for each particular task or activity. The general rule is that the more detailed tasks require higher light levels. It is advisable to use presence sensors and lighting controls to avoid lighting spaces when they are not being used.

Lighting Levels- Light in the right place
The lighting requirements for each individual industry are listed in the Code ( chapter 3,4 and 5). The task areas in the indoor workplace are relatively small- think an office desk with a required illuminance of 500 lux. The area immediately surrounding the desk (0.5m wide) will need to be lit to 300 lux. The wider area surrounding the desk ( 3m) will be used as circulation area and an illuminance of 100 lux would be appropriate. As visual communication in the office is important, the cylindrical illuminance can be set up to a default of 150 lux. Additional illumination is required for walls and ceilings. ( The situation in outdoor workplaces is slightly more complex).
It is tempting to light the space to 500 lux everywhere on a plane parallel to the floor at desk height. But this approach is highly wasteful and also, it doesn't create a visually stimulating environment.

The correct approach to lighting is to provide a basic level of lighting for circulation areas with 100 lux. 150 lux should be achieved for visual communication, then add some localised lighting for desk-based tasks and rely on spill light to provide illuminance for immediate surrounding areas.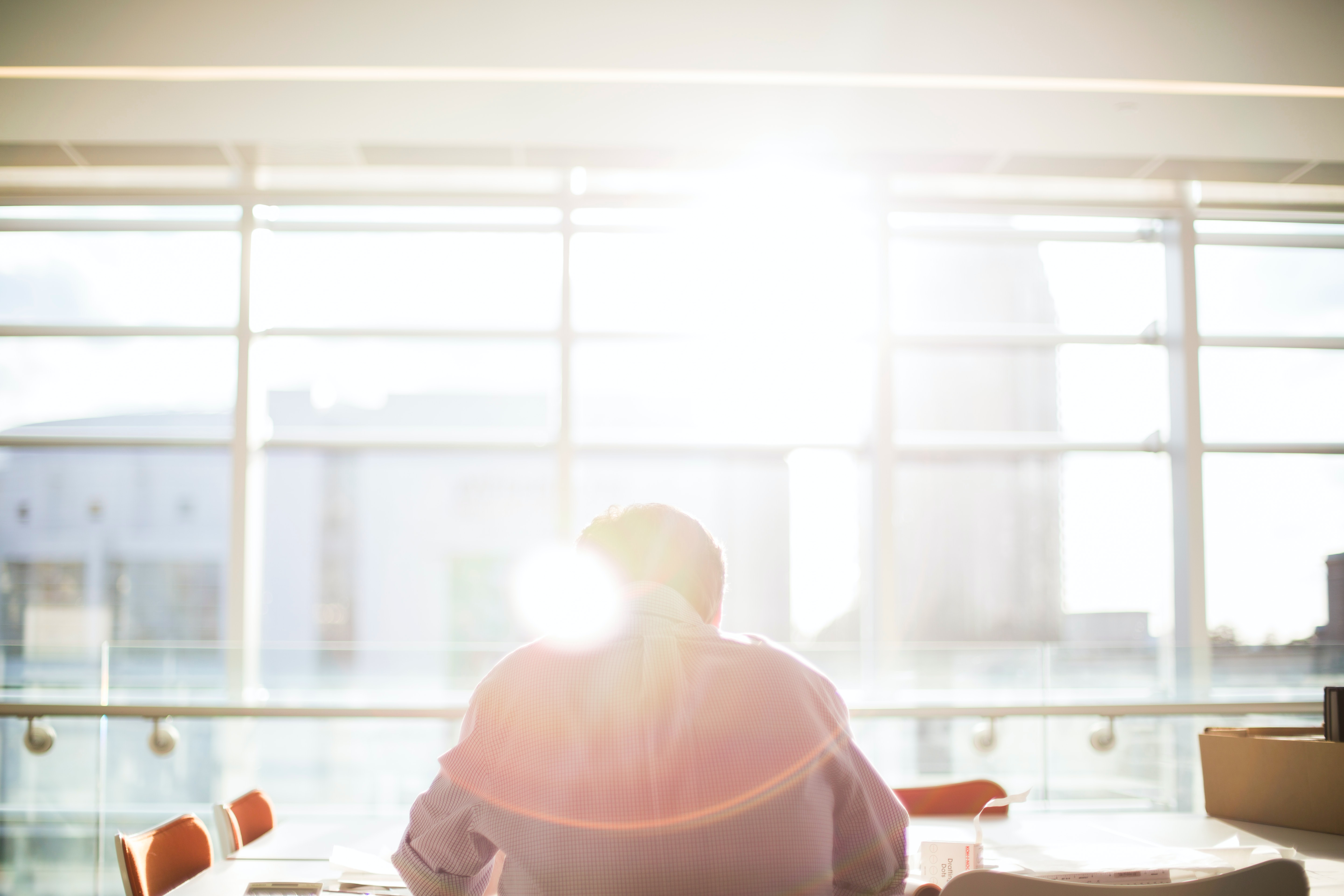 Light at the right time
It's important for the lights to be switched off or dimmed when no one is using them or if there is enough daylight available. It is advisable to use automatic control systems to ensure light is on when necessary. At the same time, it is important to ensure that the users of the space accept these and know how to use the system. Ideally, individuals should have controls over their task lighting. Alternatively, the open plan areas might have lighting divided into sections so that, in the areas that are not being used, lights can be switched off ( manually or automatically).
The right lighting equipment
The choices of lighting equipment ( luminaires, control systems and so on) depends on the lighting needs of an individual installation. It is very important to take controllability of the lighting into account. The efficiency figures on a dimmable luminaire might be marginally lower at full output than the ones on a luminaire that might be just switched on and off. However, if the full output is not needed, the dimmable luminaire might provide the amount of light needed while using less energy than the non-dimmable luminaire.

Energy regulations and standards - non domestic buildings

There are three sets of regulations for energy use by indoor lighting relevant to the UK.

According to the 2021 Approved Document for England, Volume 2L Building other than dwellings, buildings should meet the recommended minimum standards:

Any fixed lighting should achieve levels of illumination appropriate to the activity in the space. Spaces should not be over-lit. Lighting should be designed following the CIBSE SLL Lighting Handbook or an equivalent design guide.

Lighting should observe following:
General lighting should have an average luminaire efficacy of 95 luminaire lumens per circuit-watt and observe the LENI method, following Appendix B

Display lighting should have an average light source efficacy of 80 lighting source lumens per circuit-watt and a rated power usage no greater than 0.3W/m2 in each space

The LENI method, following Appendix B - High excitation purity light light source, an average light source efficacy of 65 light source lumens per circuit-watt
Claim a free consultation with one of our Lighting Engineers.
We make it our business to know all about the most current lighting design regulations. You can claim your free 2 hour session using the link below to see how we can help you.