The demand is anticipated to grow as business moves to full cloud.
There are reportedly more than 7 million data centres worldwide. As the world moves towards digital future, practically every business stores their data on full cloud or some hybrid models. Despite London being the most mature data centre Hub in Europe, it continues to be one of the fastest growing.
Unique challenges. Proper solutions.
Modern data centers consist of several types of facilities, all requiring uninterruptible power supplies. From large plant rooms, often with high ambient temperature and humidity, through server ailses which can alternate between hot and cold, all the way to external roof tops, control rooms, offices and canteens. Most of the data center facilities are classed as high risk areas. Power, cooling and security are the most significant challenges when it comes to designing lighting for data centres.
It takes experience to get it right - we have it.
Data centre architecture and requirements can differ significantly. Each data centre comes with their own specifics and challenges, depending on the age of the building. One such challenge that is common for all data centres is the ambient temperature. As these facilities are energy hungry and generate a lot of heat, lighting has to be selected carefully. Luminaires need to be tested and certified to withstand high temperatures and have the requirement of maintaining efficiency and reliability.
Emergency lighting that holds up.
Some areas of data centres are classified as high risk, which require additional emergency lighting. Due to the high ambient temperature, data centres can present challenges to the batteries in emergency fittings, which degrade faster. Due to the sheer size of the data halls, manual testing would be very inefficient, so gathering and reporting must take place from a central location. As experts in designing emergency lighting for commercial properties, we can take care of this element.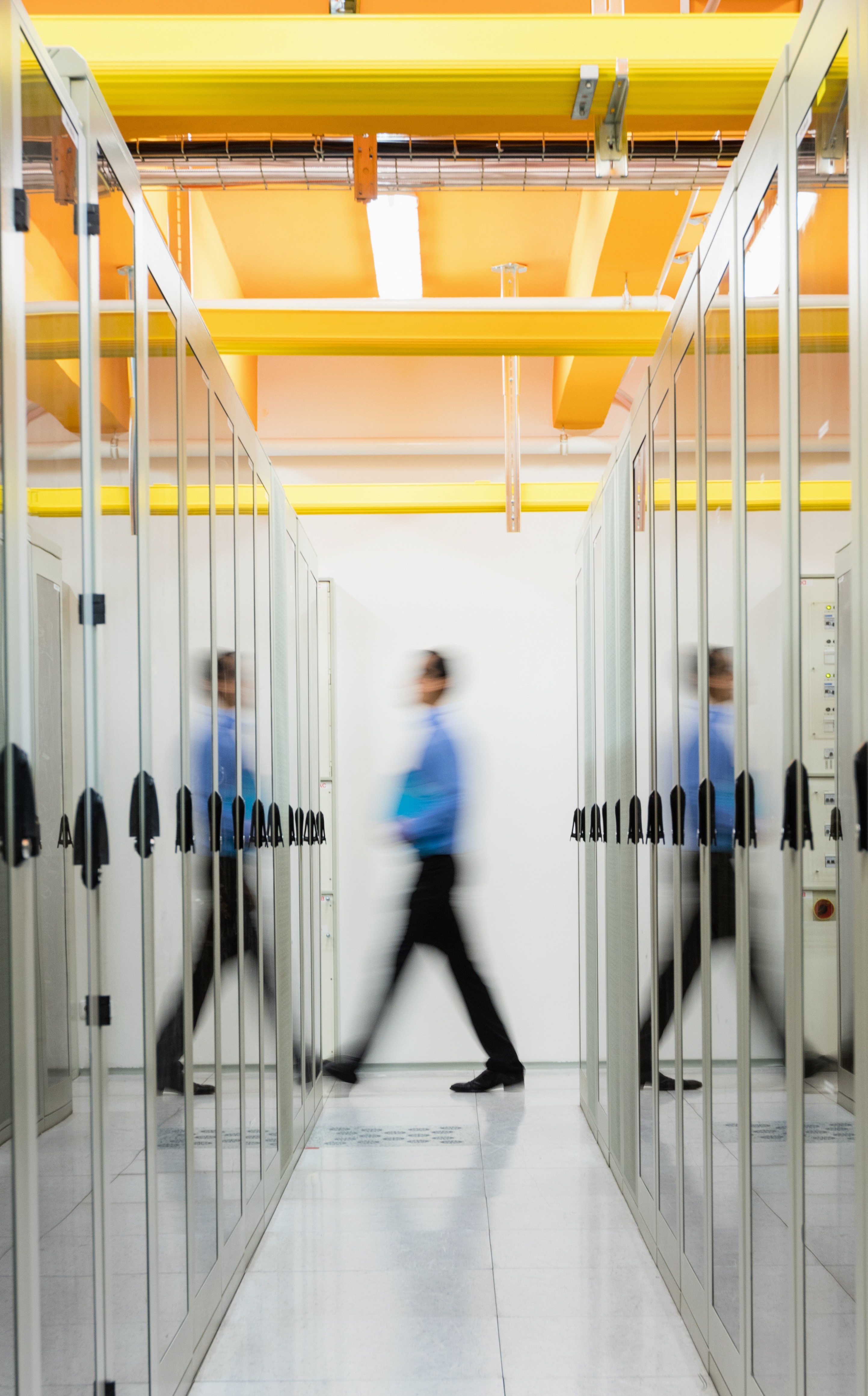 We are the data centre lighting experts.
With more than 55% office workers globally working remotely or from home and the dramatic increase in personal use of social media, gaming and online streaming, there is a growing demand for more power, innovative data storage solutions and connectivity. At the same time, the investors and users are questioning the providers about their sustainability goals.
Over recent years, we have worked on several high-profile data centre sites in London, Dublin and Amsterdam. Some of these sites required custom lighting made to fit the Gordon Grid ceilings. Our team have the experience necessary to deliver lighting design and supply for large data centres in the UK and in Europe.