Dialux 11 Evo Is Here. What Benefits Can It Offer You?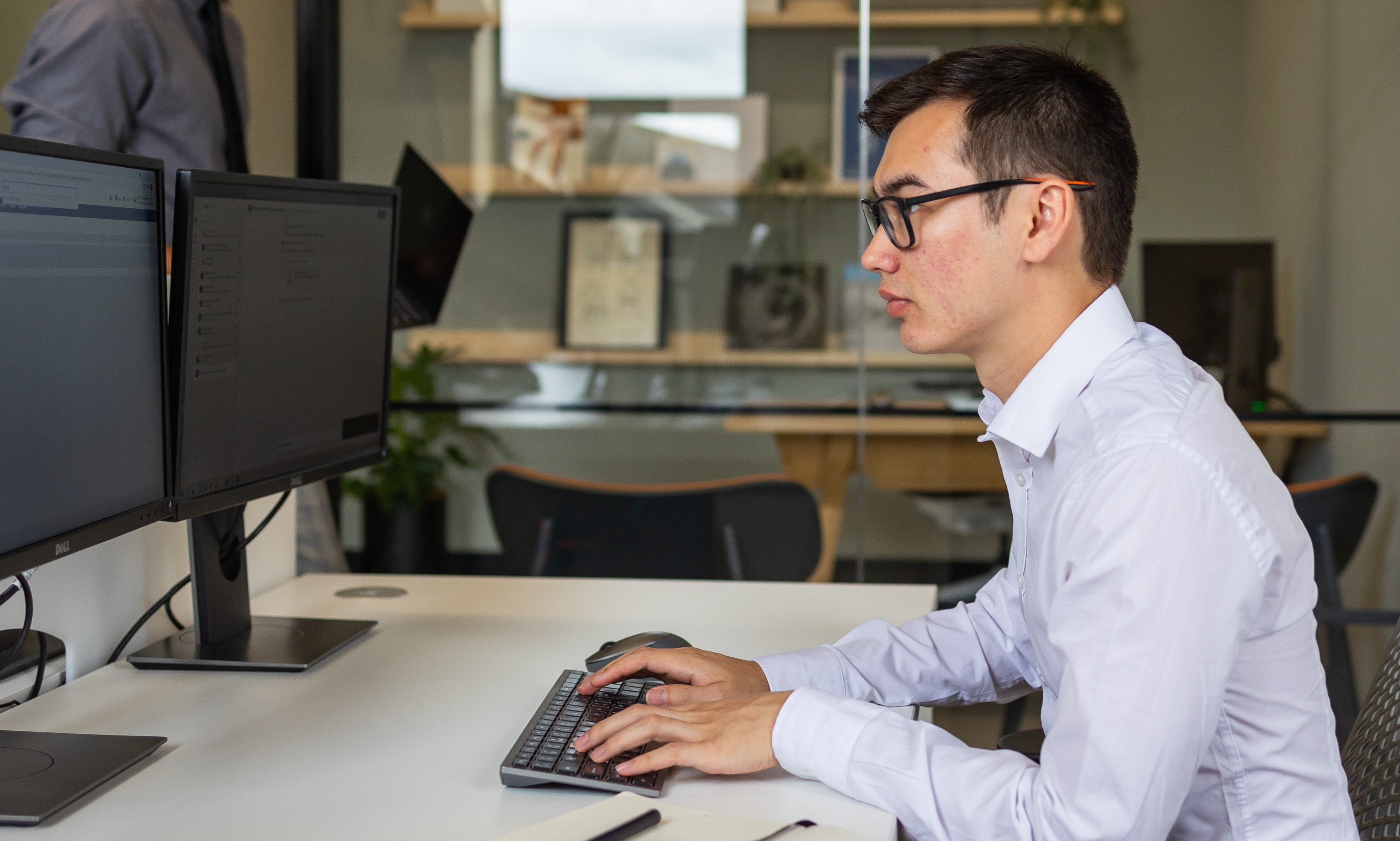 In October 2022, the global lighting design software DIALux brought out its latest update- the DiaLux evo 11. For the majority of lighting designers DIALux is their go-to software for lighting calculations. (For your information, DIALux no longer maintains the Dialux 4.13 and you can no longer download this version). The main selling feature of the latest release is measuring energy consumption of a scheme. As usual, we've put the latest version through its paces and here is our review.
A bit of history.
The DiaLux evo 9 offered the last big update featuring faster calculations, more practical placement of luminaires and more attractive and useful documentation, ultimately making the program more efficient and faster to use. The 2021 update Dialux evo 10 was all about including emergency lighting feature. You can recap on our review here.
Say goodbye to manual adding up.
Up until now, in order to establish whether your scheme is efficient or not, a lighting designer would have had to manually add up all the lumens, outputs, and wattages as proof of an efficiently designed lighting scheme. ( Or use the LENI calculation, which is a rather complex process.)
This is now a music of the past, as with the new DiaLux evo 11 release, you can calculate the energy demand. As soon as you place a luminaire into your design and run the calculation, an energy tachometer appears on your screen, showing the current energy demand and the estimated saving potential. This is a visually very nice tool, specially useful for clients and consultants.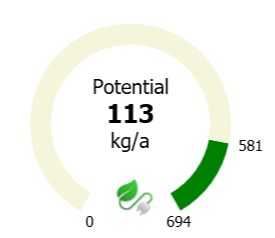 The all-new green button.
There is a brand new button ( the green leaf), that you need to click in order to start the energy consumption calculation.
Although the calculation is based on an hourly calculation method ( there are 8760 hours in the year), each project can have their operating hours adjusted. The calculation only takes account of the indoor areas and what is really exciting, is that room shapes and geometry are taken into account. And not only that, details like windows, building orientation and positioning can be added into the checklist, in order to achieve more precise results.

We played around with the settings, to see how much a location of a project would affect the daylight data, for example. We wondered how much daylight would the Father Christmas office in Finland have in a comparison with a sunny office space in Abu Dhabi.
As DiaLux offers the choice of major cities, we identified the closest big city to the Arctic circle as Oslo and ran our calculations.
Abu Dhabi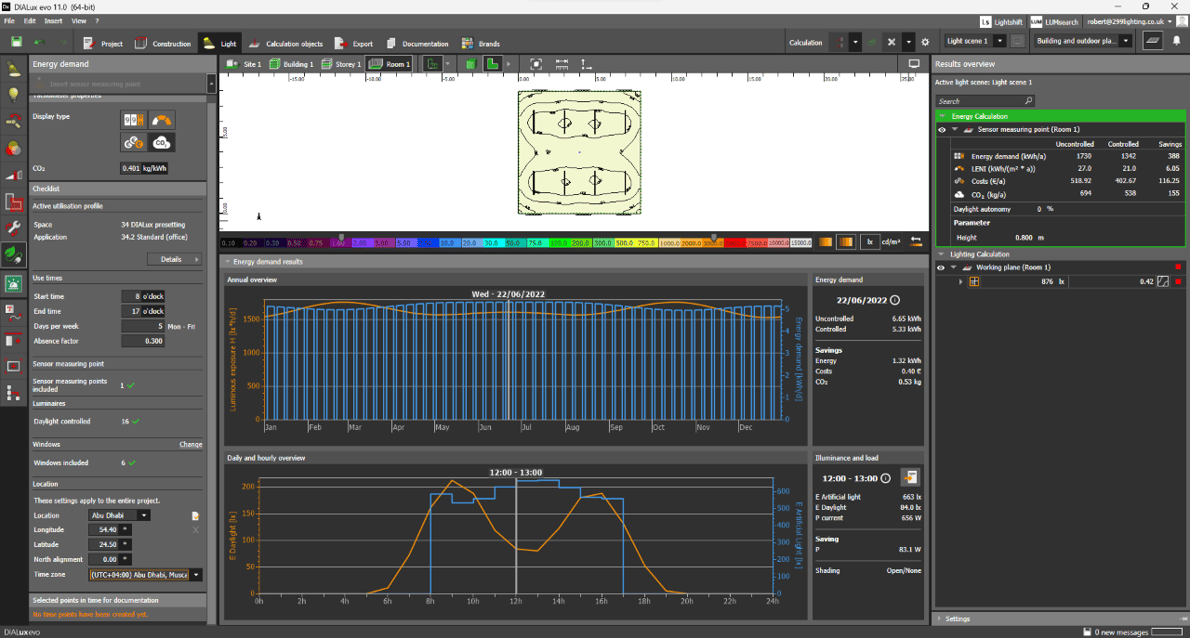 Oslo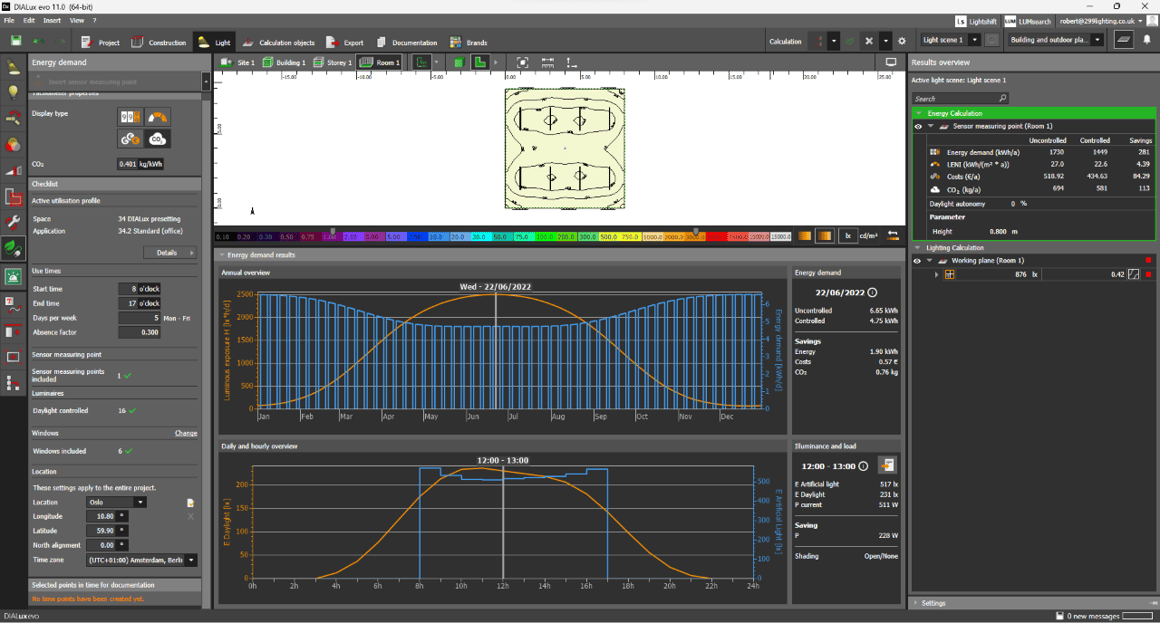 We think this is very interesting because a London-based designer might not necessarily have local knowledge about daylight fluctuation in Abu Dhabi or Oslo for example.
Seeing the comparison in controlled and uncontrolled energy situations is actually a great tool for convincing clients to use daylight controls on their project.
Choose which standard you would like to work with.
You can now choose which version of the standard would you like to work with. ( EN 12464-1:2021 or 2011) the previous version from 2011 and the new one from 2021. The calculation is pretty fast, showing you results for the energy consumption and CO2 savings in kg for the entire year. With the new tool, you can see the illumination levels and consumption on pretty much any given day in a year.
The results are then nicely transferred into your documentation. This is a nice feature for the clients and consultants, giving them a piece of mind that their project has been designed in an energy-efficient way.
Furniture files and other objects.
DiaLux has been offering basic furniture files for their calculations for a while now. The furniture used to be very generic. You can now upload your own furniture files with the actual size, shape, and surface. This is all very useful for getting a true representation of how lighting bounces off the surfaces. This is a great feature mainly for CAT B project, where the designers specified furniture and any other interior design objects.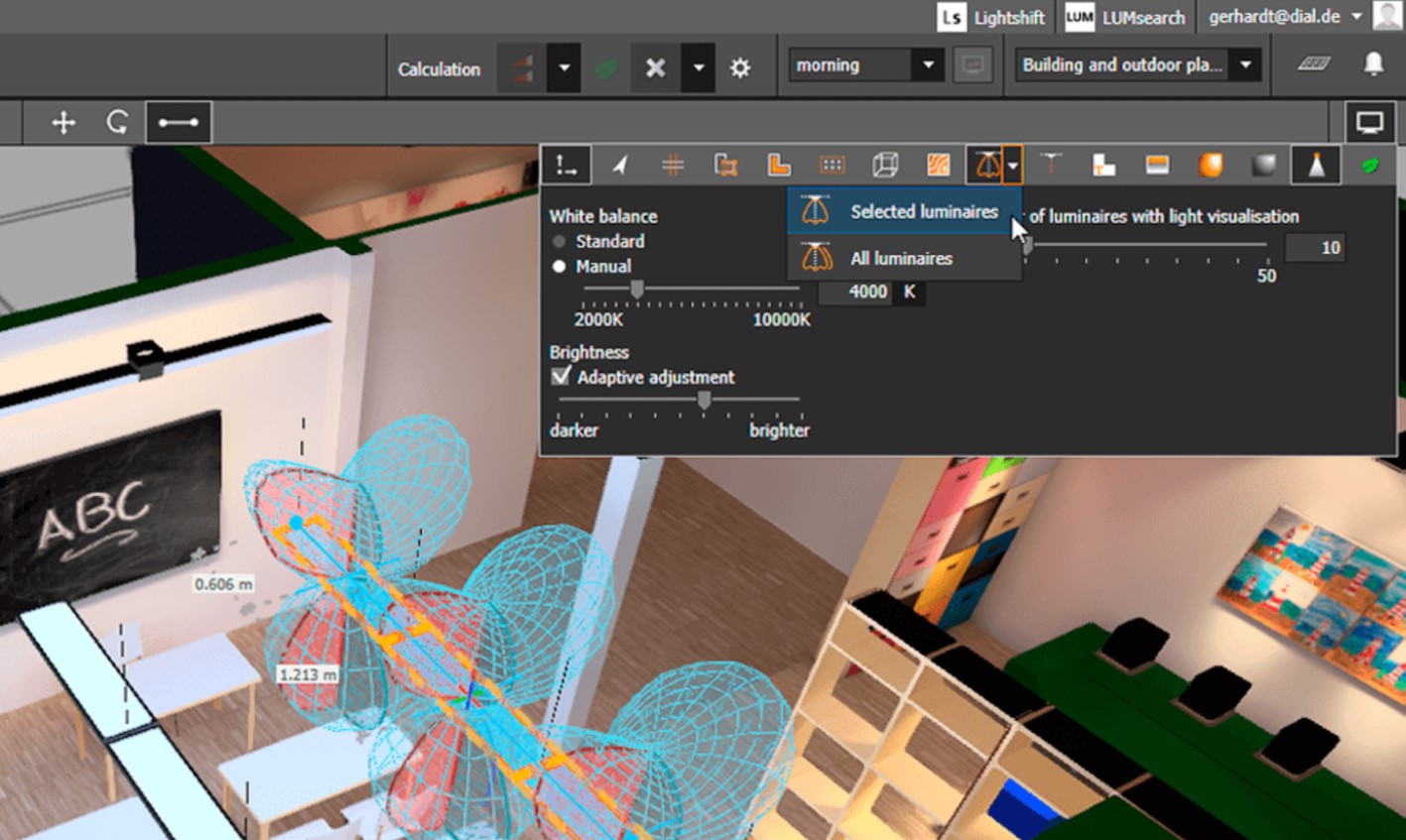 (Photography credit to DIAlux)
The documentation of dimming and control values is back.
Up to now, DiaLux would show you the floor layout and would list the light fittings on a layout. If a fitting was dimmed, DiaLux would be giving you a numerical value of dimming. But with the latest evo 11 update, the dimming will be displayed in a more visual way. Most importantly, for each control group there is a plan in which all associated luminaires are marked. This way, you can see easily which luminaires are controlled/dimmed together.
Dialux ID.
This is another new feature in evo 11. You can only use the software once you created your DiaLux ID.
Bugfixes.
In this release, DiaLux have fixed a long list of bugs, and this one is one we are particularly happy about about:
An error when changing reflectance levels
This one has a direct impact on the lighting report. If your reflectance is wrong, your lighting results are going to be wrong.
So how is the new Dialux evo 11?
Overall, the latest release is a great and much needed upgrade to DIALux Evo. Now we played with it a little while, we are ready to start putting it into practice and can't wait to start using the new energy consumption feature for our clients.
We also hope that we will see more exciting features in the next update. We are still waiting for the Locking certain layers of design and stair case calculators.