Embodied and operational energy and carbon.
The amount of energy consumed by an office lighting installation is significant. There are two types of energy:
1. Energy used once a lighting installation is operational
2. Embodied energy (energy used in manufacturing and transport process)
Generally for the UK office sector, lighting is the second highest consumer of energy in an office environment, when assessing the operational energy use. The embodied energy of a luminaire can be found in the luminaire's Environmental Product Declaration (EPD).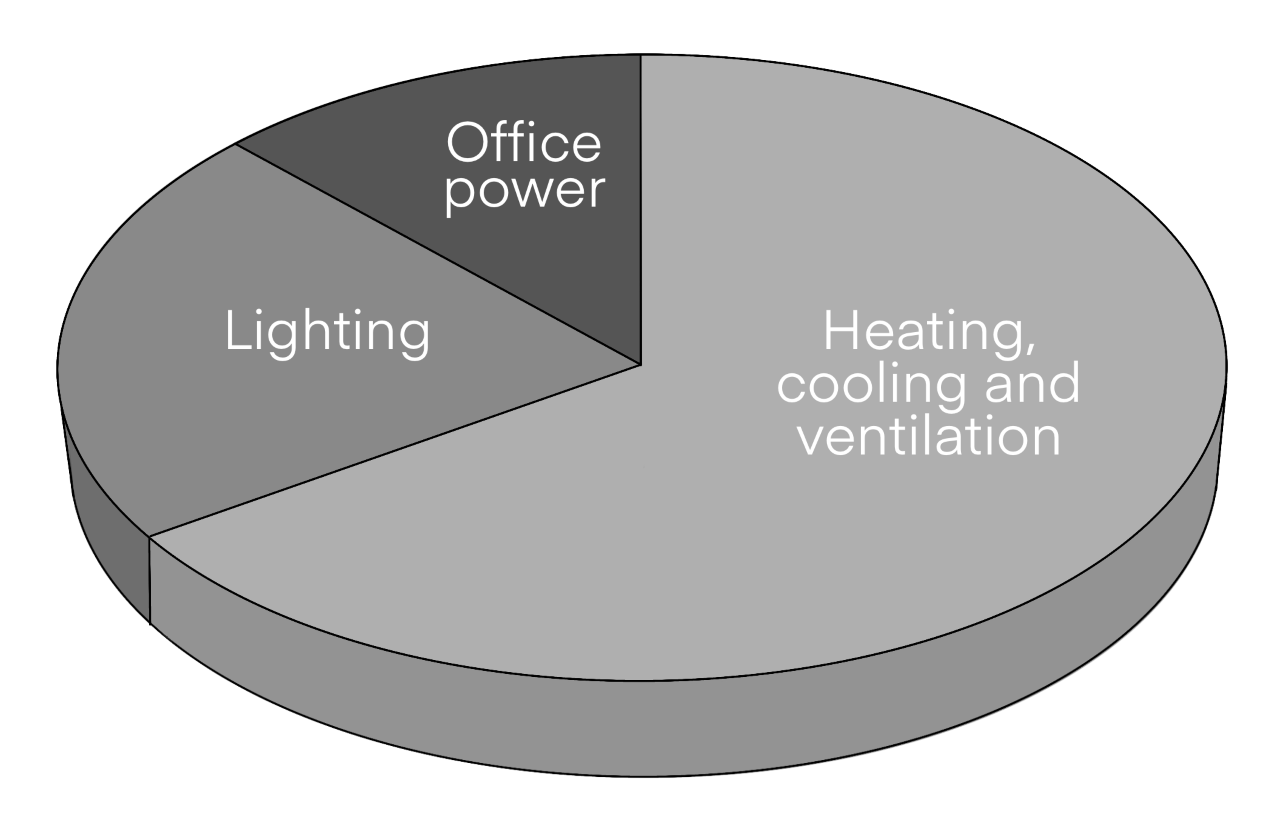 The impact of the energy use must be considered when designing an office lighting scheme. Various Building regulations across the UK require that the energy used by a building must be controlled within specific energy targets. In addition, many tenants insist that the building they occupy has an environmental rating such as BREEAM or LEED.

Things to consider:
First step in minimising energy is to avoid over-specifying and selecting energy efficient luminaires. This can be achieved with a competent lighting design. The energy consumed by lighting can be reduced by limiting the use of fittings when they are actually needed. This is best achieved by using daylight and lighting controls.

Luminaire efficiency is made up of a number of elements. Light output ratio ( LOR) is the measure of light leaving a luminaire in percentage terms. A higher LOR indicates a more efficient luminaire.

There are two recognised ways of determining the efficiency of a lighting installation.
1. The efficiency of each LED given in luminaire lumens per circuit watt.
Luminaire lumens per circuit watt are defined as the lamp lumens multiplied by the light output ratio (LOR) of the luminaire and then divided by the local circuit watts for the luminaire.

To achieve a high figure, you need a combination of efficient lamps, efficient luminaire optics with a high LOR and low energy consumption.

The previous version of Dialux evo would produce this calculation- giving you a total power consumption on your scheme, it would also give you the total number of luminaires of your scheme.

2. The second method is the LENI calculation
LENI looks at the lighting installation as a whole and considers its use. It takes factors such as automatic daylight dimming and automatic control systems into account.

As a way to measure the actual performance of a scheme, LENI calculation was introduced in April 2014. The Lighting Energy Numeric Indicator (LENI) features within EN 15193, which specifies the calculation methodology and introduces LENI for certification purposes. In England, the UK Government includes a form of LENI in the Non- domestic building services compliance guide for Part L of the Building Regulations. LENI is also used in WELL standard v2.

The LENI calculation is quite complex. Following the new Dialux evo 11 update, Dialux would produce the LENI calculation as part of the lighting design process.

Energy vs well designed lighting - Finding balance
Whilst energy efficiency is a driver for both new and refurbished buildings, a balance needs to be struck between good quality lighting and energy use. Office lighting can have a detrimental effect on the occupant's health and productivity if not designed properly.

In addition to legislative requirements for the reduction of energy, it is now common for building owners or developers to use an external environmental assessment method to determine the impact of their building on the environment.
Popular assessment methods in the UK are:
BREEAM
LEED
SKA Rating
Control of Lighting
The most basic form of lighting control is the manual light switch. It can be effective if the occupants of a space are diligent in switching off lighting when it is not required. In large offices, however, this is not an effective method of controlling lighting. The perception of lighting levels differs between people and is very subjective. The cost of energy is also not seen by individuals and so there is no initiative to switch lighting off when it is not needed.

Building Regulations in the UK encourage the use of automatic controls, including the automatic controls of dimming above daylight threshold and for presence and absence detection.

When the level of illumination from daylight in an office is sufficient to allow the whole part of the electric lighting to be dimmed or switched off, daylight linking allows a control system to dim or switch off lighting when appropriate.

The cost of an automatic control system can present a significant proportion of the lighting installation cost. The operation of automatic control systems needs to be considered from the outset of a project.

Our Workplace Lighting Design CPD has everything you need to know.
A comprehensive guide to workplace lighting design packaged neatly into a one hour slot? Sounds too good to be true, but it's not. Our Workplace Lighting Design CPD is accredited by CIBSE and The CPD Accreditation Service, and includes everything you need to know about the subject.