Linear Lighting: The Guide to Specification.
Slim Lines. Bold Lines. Chunky Lines.
One's Fascination With Lines Can Never Diminish.
---
Linear architectural lighting demands creative input from the specifier. A simple arrangement of lines of light can completely transform the atmosphere of a commercial property. Organised and orderly, or scattered and energetic, the continuous lines of light play a huge part of contemporary architecture.
Bold or subtle, any design is possible using the correct linear profile. Creative lighting schemes can be achieved using standard size products, but if you wished to put your own mark on the design, bespoke linear schemes are the way forward.

LINEAR LIGHTING: A GUIDE TO SPECIFICATION.
---
The idea of continuous linear lighting has been used in architecture since the invention of fluorescent lamps. The development of LED technology and gradual replacement of fluorescent lighting took linear LED lighting schemes to a whole new level, allowing contemporary architects to create seamless and clean continuous lines of light.
Big boned and muscular or lean and slim, or something in-between. Versatile and flexible with a potential for custom shapes, the choice of the linear profile depends on your design brief and how dramatic you would like your scheme to be. Large contemporary spaces might call for bold muscular lines that guide through space. Slim lines can be used to accentuate walls, structures, and surfaces. Abstract designs incorporating micro-linear profiles can create an experience rather than drawing attention to the luminaires.
The character of the line can be further enhanced by the mounting type, diffuser and suspension. Using profiles of different width or trim will determine the final look and feel of your design.
1# SUSPENDED LINEAR LIGHTING.
---
Floating in the space, suspended linear lighting offers a flexible approach to architectural and office lighting. Some projects benefiting from a lot of natural day light might only require direct light distribution, others will need a boost in the form of direct/-indirect distribution. Every project needs to be approached in a unique fashion, depending on what the designer is wishing to highlight.
When specified with direct/indirect light distribution, suspended linear LED lighting is a popular choice for LG7 office schemes. Suspended linear profiles can also enhance the raw industrial look and feel of a commercial space when used with exposed ceilings and services.
Unique angles, intersections and continuous lines can be created to your exact design specification. Suspended at an angle, linear profiles can turn into a bold visual feature.
The Forge had a design brief to stand out from the crowd and create a forward-thinking space with people at it's heart; our suspended linear fittings were the perfect fit; you can read more about how and why here.
2# SURFACE LINEAR LIGHTING.
---
Traditionally used as a practical solution for low or vaulted ceilings, surface mounted lighting may have been tarnished with a bit of an utilitarian design label, but thanks to technological and design advancement of surface materials and lighting, unique and inspiring schemes can be created using surface mounted linear lighting or systems. Positioned horizontally, vertically, in a symmetrical pattern or scattered in a random fashion, the choices are almost unlimited.
Designed as a part of joinery detail or a bespoke ceiling acoustic structure, led linear lighting can bring a playful feature into contemporary commercial interiors.
For more inspiration how surface-mounted linear lighting could be used in your design scheme, check out our case study at Beacon Tower, Bristol.
3# RECESSED LINEAR LIGHTING.
---
The most demanding but also most rewarding schemes are achieved through a meticulous design and planning process. With the advancement of new ceiling types, recessed LED linear lighting is finding its place on the quality end of the specification. A true part of architecture, trimless linear lighting can create clean invisible lines or shapes of light and blend in seamlessly with the ceiling or wall surfaces, putting the proverbial cherry on top in contemporary architecture.
Practical reasons like the scale of the projects and timeline might steer the projects towards the recessed trim version of a luminaire and this can be used as an opportunity to infuse some colour into the space.
4# WALL LINEAR LIGHTING.
---
Linear wall lighting is a practical solution to lighting circulation areas, staircases and commercial spaces with low ceiling height or restricted access. With listed buildings, wall mounted lighting might be the only option of lighting certain spaces. Linear light fixtures are generally easy to install and increasingly becoming a more popular choice for commercial interiors.
With a bit of imagination, wall mounted linear lighting can turn into a feature that can visually enhance architecture. Repetitive pattern and symmetry or irregularity and seemingly scattered lines, the choice is yours. There are plenty of ways to integrate wall mounted linear lighting into bespoke joinery details.
5# LINES ARE NOT JUST STRAIGHT ANYMORE. CURVED LINES, ANYONE?
---
The curved linear profiles are hot on trend and allow you to push design boundaries even further, lending themselves to more daring design schemes. Combined with a linear profile, curved linear profiles add a new dimension to a space. There are no limits to your design!
The advancement of technology is allowing for truly bespoke shapes and compositions. It's no longer just T shapes, limited selection of angles. It's X crosses, curved lines combined with linear lines, and so much more.
For the latest in lighting trends click here. If you would like to explore curved linear profiles, please contact our project team.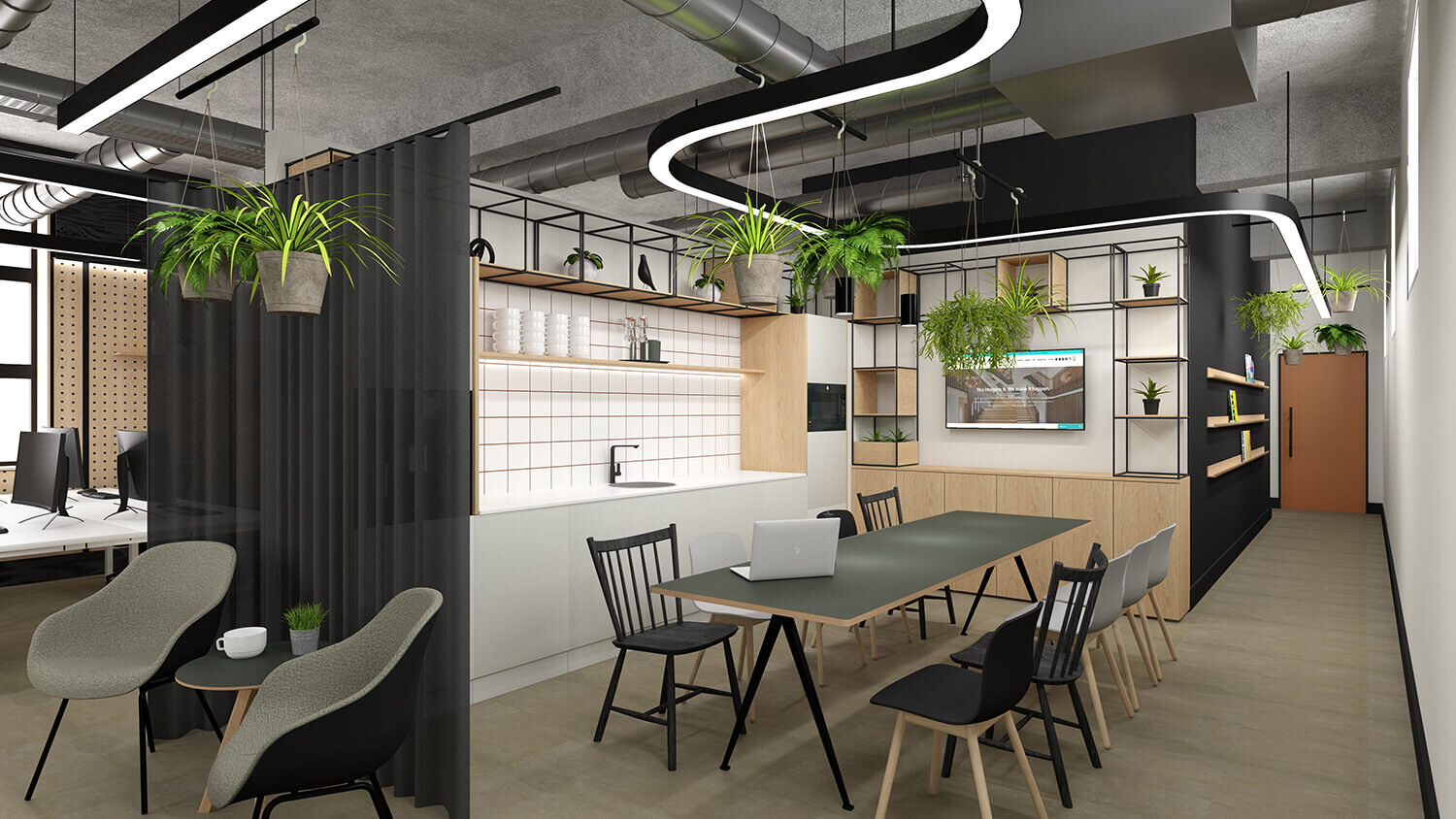 6# GEOMETRIC RANGE.
---
If hearing the word bespoke lighting makes you immediately think too expensive, fear not. We created a range of geometric shapes in several standard sizes. This way, we can supply exciting lighting systems in the shape of basic geometrical objects at a sensible cost. The range consists of triangles, squares, rectangles, hexagons, cross shapes and more.
What to know more about our geometric collection? View the full range here.

7# INDIRECT LINEAR LIGHTING.
---
For the schemes looking to achieve high visual comfort, linear office lighting with indirect light distribution can be used as general workplace lighting very effectively. It definitely adds a visual interest to the space and it is a great talking point!
At the first glance, the indirect suspended profile, ERIE does not look like a luminaire at all. Thanks to its uniquely shaped diffuser, the ERIE is a pioneering lighting system that produces comfortable low glare lighting, specially designed to be used in offices with a restricted ceiling height. The Data Science Hub for ONS in Newport is the largest office space we have worked on to date, using indirect light only.
8# MICRO LINEAR PROFILES.
---
Although, these are not features in much depth on our website, we regularly supply micro linear profiles on many of our projects. These can range from basic LED tape to micro linear profiles in aluminium channels, installed in a joinery detail. Our broad supply chain allows to tap into several product options when it comes to micro linear lighting, so talk to us about a specific requirement.
9# S IS FOR SUSTAINABILITY.
---
With the increasing demand for sustainability, we have created a new range of linear lighting, CLYDE. Designed and manufactured in the UK, the Clyde is a great product option for projects looking to use Made in Britain certified products. Advanced internal coating applied to the gear tray delivered increased luminaire performance. Visual comfort can be enhanced by specifying the new Quadrilateral prismatic diffuser.
With its variation in mounting styles, performance options and optics, and an option to integrate emergency modules and sensors, it is a perfect example of flexible linear LED lighting. A true all-rounder, it is equally at home in an office and as linear architectural lighting. And the best thing about the CLYDE is the short lead times of 2-3 weeks.
---
The 299 Linear Profile collection continues to grow and improve, allowing you to create lines of sight and truly push your design.
Want to see the full range? See our Linear Collection here.