Recessed Lighting - A Guide to Specification
Seamlessly blending into architecture, recessed lighting appears weightlessly crisp and exciting. But there are two sides to this coin. One end of the spectrum presents a creative, daring and bold approach to lighting and interior design in modern offices and architecture. The other side of the spectrum represents practicality. Which one will you choose?
Recessed lighting is often used in commercial fit out for its minimalist look and feel, space-saving capacity and its practicality. The two main aspects dictating the product choice of recessed lighting are the ceiling type and ceiling void. Recessed lighting is best installed into new ceilings, but can be also retrofitted into existing ceilings.
Linears are the most fun.
Creating crisp clean lines of light through a plasterboard, the recessed linear lighting embodies the perfection of contemporary architecture. And it's most fun from the design point of view, as recessed linear lighting is not just simple lines or curves. It can be entire complex linear systems to the level when recessed profile would continue down a wall and copy the corners of the building.
Like with all minimalist design features, the devil is in the detail. When installed with care, one would pause and admire the craftsmanship of beautifully installed lines of light.
Due to it's labour intensive nature, recessed linear lighting is as not as commonly used as suspended profiles. So seeing recessed linear luminaires on a project is a very good indication of the quality of a fit out.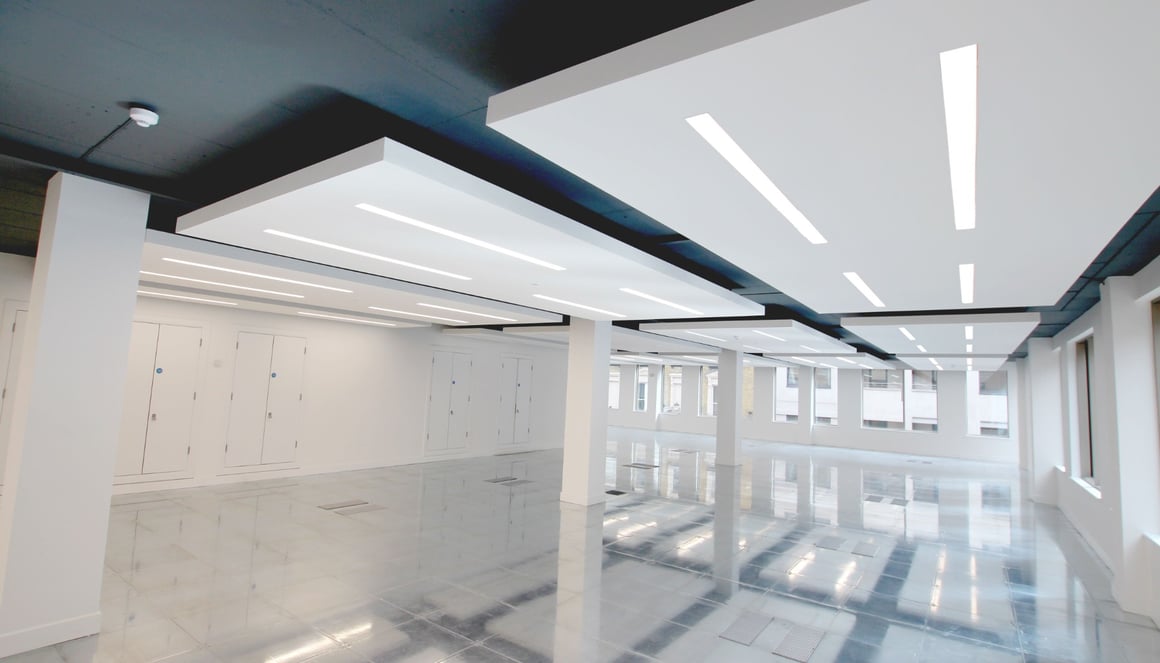 Stand out from the crowd.
Whether you are using slimline, medium size or wide profiles, recessed linear lighting can be used as single stand-alone units in a repetitive style or a cluster of 'invisible lines"' at different angles, creating a bold visual statement.
Part of the design scheme.
Recessed linear lighting is not only found in plasterboard ceilings. Quality fit out schemes use joinery details in staircases, acoustic furniture, feature walls. These would be usually the slimmer versions of profiles.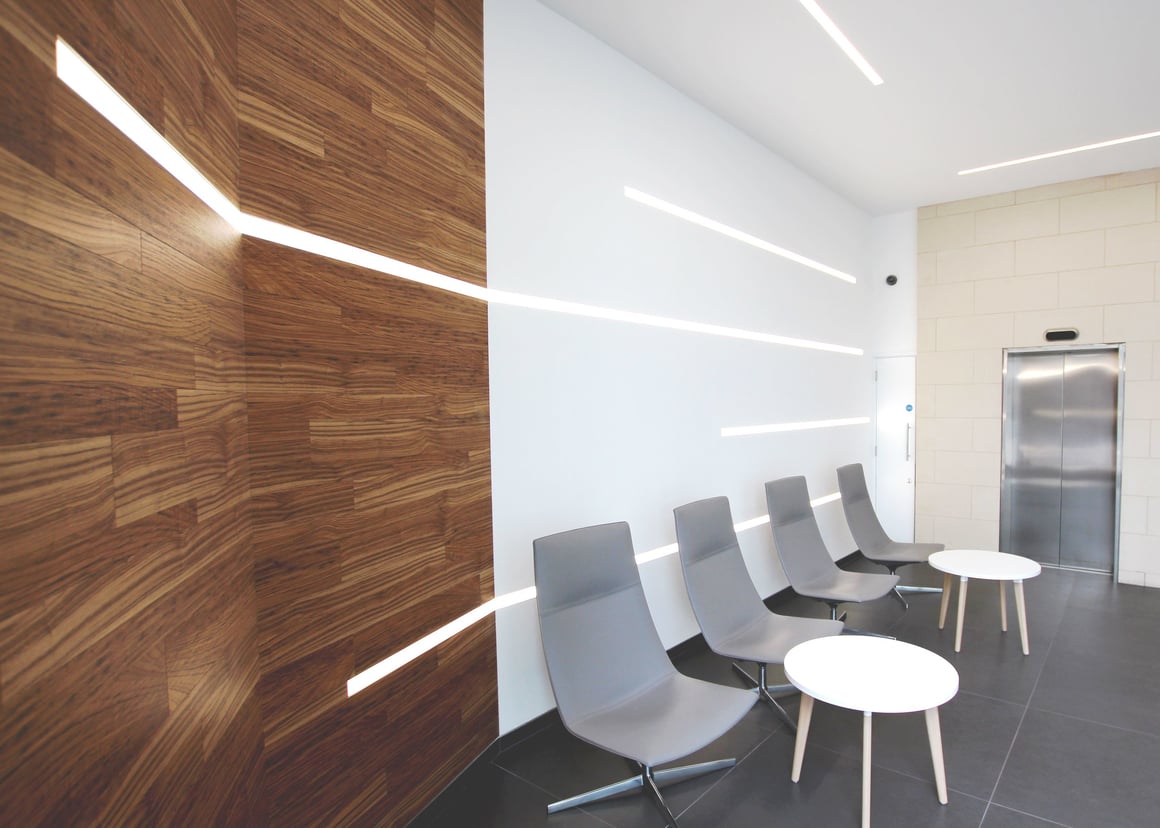 Recessed LED panels.
Although they are not the most exciting of products, there is time and place for LED panels. Be it budget or time constrains, specific ceiling types, the list of reasons to use recessed panels goes on. LED panels have historically evolved from the 600 x 600 mm (housing the fluorescent lamps) to pretty much any square or rectangle size. We work with several UK manufacturers to provide bespoke LED panels for most types of ceilings, like the SAS ceilings.
Although the market is flooded with cheap LED panels, there are still projects where the quality panels are being specified. You can spot the cheap option by the LED running in the middle of the fitting, with the gull wing reflectors bouncing the light back on the floor. The more advanced version would be a square LED board with a microprismatic diffuser. These would also have a capability of housing integrated energy modules and sensors. They are also much lighter and thinner than the cheaper options.
Talking from our own experience, recessed LED panels are popular choice for data centres. We supplied several CyrusOne data centres with bespoke panels to fit the Gordon Grid ceilings.
Despite their dull nature, there are ways of making recessed panels look less sterile. A simple timber structure around the fittings adds a visual interest to the space, see the example of the Sanofi office in Reading.
By batting several panels together, the designers can achieve a fake skylight effect. By choosing a contrast colour frame, the skylight can turn into a contemporary feature. We use the Sanofi office in Reading as a great reference.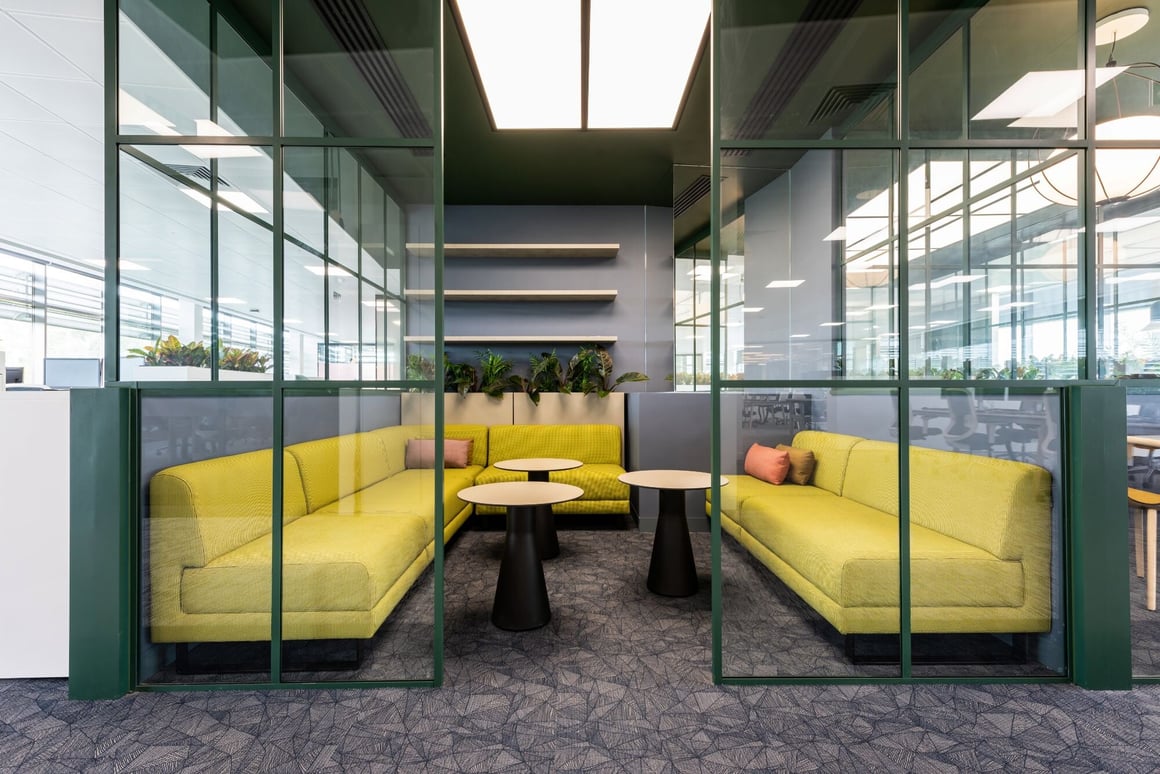 Recessed spot lights.
Recessed downlights are a popular way of lighting back of the house areas, changing rooms, bathrooms and utility areas. They would often have integrated emergency lighting modules, which is important for the compliance with emergency lighting regulations. There are literally thousands of recessed downlights available to choose from, from the budget versions all the way to the high end professional end of the market. The basic versions would use COB technology, meaning several little LED chips to build up the light source. The more advanced options would be using reflectors, frosted diffusers, and they would have options for being adjustable, dimmable and emergency mode. They would also offer a high CRI of 90+ as an option. To a naked eye, the LED source would look like a single point LED chip.
The reason the quality downlights cost more is that the professional end of the market is reliable, offering high built quality and light quality. If you looking for a visual alternative to downlights, the mono and multioptic linear downlights offer an attractive option.
Recessed adjustable downlights.
Very similar to recessed spot lights, the adjustable options offer more freedom. With all the works in the ceilings, usually the lamp would stick out a bit, so it could be moved around and offer a more targeted and lower glare illumination. With the advancement in technology, the manufacturers can offer a wide selection or shapes, sizes and reflector colours, ranging from silver, gold to black.
Inground recessed lighting
These are usually used to uplight the feature indoors or exterior walls. We worked on several projects highlighting large moss feature walls, for example. Watch out for the IP and IK rating on these fittings. We would recommend using products with the 10 IK rating to make sure, the luminaires would withstand people walking or running over them and dropping items on them.
Although we don't have currently any inground lighting products listed in our product range, we can supply inground recessed lighting. Most of the time, these would be supplied in standard sizes.
Recessed track lighting
Although track lighting is widely used in commercial spaces, hospitality and retail, it can sometimes look a bit too busy. For projects aiming for more minimalist look, we would recommend using recessed track lighting. This means a hidden track channel, with the visible track heads. These types of recessed track fittings can add a surprise element and drama to any contemporary space.


With plenty of options to choose from, most types of recessed lighting are a good choice for lighting commercial properties. The recessed spotlights have firmly putting their mark on the CAT A specification, mainly for the practicality and easy installation.