The Importance of Breakout Spaces in the Workplace
Take a pause and let's reframe.

Breakout spaces have evolved from a few sofas at the back of a canteen to a whole new concept that is literally the heart of any workplace. The breakout is where we take a moment away from our desk, make phone calls, come up with new ideas and interact with each other away from our desks.
---
Mindfulness.
Sometimes getting away from your desk and gather some thoughts is what is needed after you have been staring at a screen for too long. Even 20 minutes away from your desk makes a huge difference to your productivity. Breakout can offer a quiet place for mindfulness, or some thought gathering before a meeting.
---
Sense of community.
Sometimes referred to as "the third space", the breakout space are a perfect vehicle for strengthening sense of community and balancing out social class and background. Breakout can be a fantastic place for social events, after work beers or a yoga workshop. Designed well, breakout can be an a valuable extension of the office space and brand culture.
---
Drawing employees in.
Many people would view the office as their second home, and having some degree of home feel is proving to be increasing people's productivity. Spaces with varied interior are being used differently throughout the day, supporting unique roles and working styles of people.
In the post covid world, the role of office is changing. Office is becoming a destination, where people choose to come in and interact with their colleagues.
---
Brand building.
As we spent so much time at work, people expect their workplace to be as attractive as their domestic counterparts. Seeing a well design space as a prospective employee gives you confidence that the business thinks of their team and invests into their wellbeing.
We have been fortunate to work on some great projects over the years and some of them had some pretty amazing breakout spaces. From intimate and cosy, through impressively slick, all the way to contemporary clean, we thought we share the best breakout designs for some inspiration.
One Causeway Park, Staines.
Some breakout spaces are a close extension of the reception areas. The breakout area at One Causeway Park in Staines is all about the first impression. The made to measure halo luminaires Rydal are spaced in a random pattern across the large reception area and range from 1200 mm diameter to an impressive 5000mm diameter.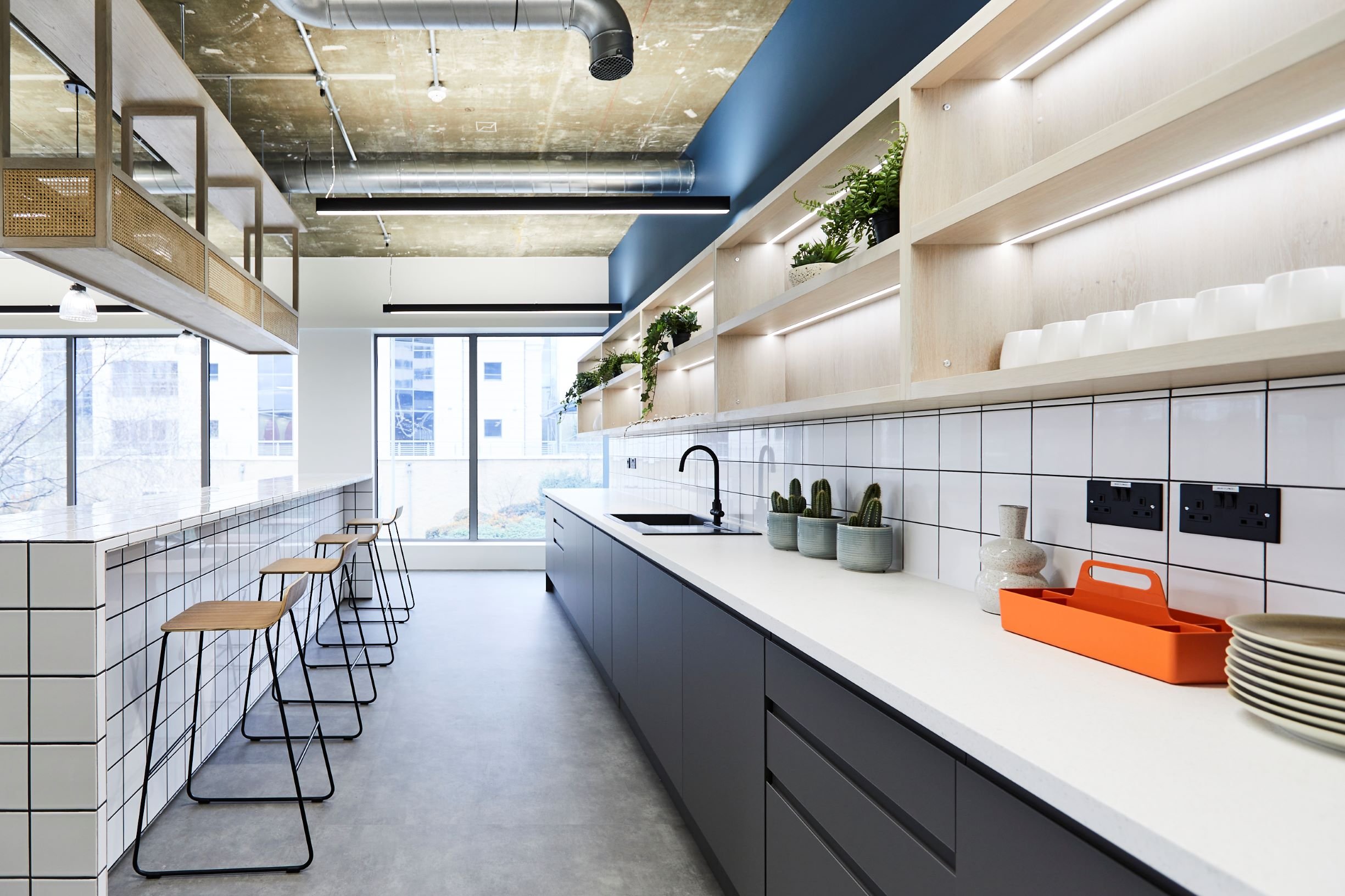 The Forge, Woking.
​​Beautifully contemporary design of the Forge is complemented by their stunning breakouts. Flooded in daylight, the large sofas, recliners and swings are all calling to be sat on and enjoyed. Lighting used in these open and airy breakout spaces is linear, all tied in with the no fuss Forge branding. As the breakouts are mostly positioned in the airy atrium, the linear made to measure lighting can be admired from any of these chillout zones.
Co-Space Stevenage, and Co-Space Reading.
Designed by Waistcoat and Badger, the interior design of the Co-Space destinations is all about style, vibrant colours of furniture against contemporary greys and maximum comfort for tenants. In their breakout areas, they like creating a striking mix of industrial style fittings with soft glow of decorative luminaires and infuse a feeling of cosiness. Their properties would often have exposed concrete ceilings and the decorative lighting fittings would bring softness and to the space.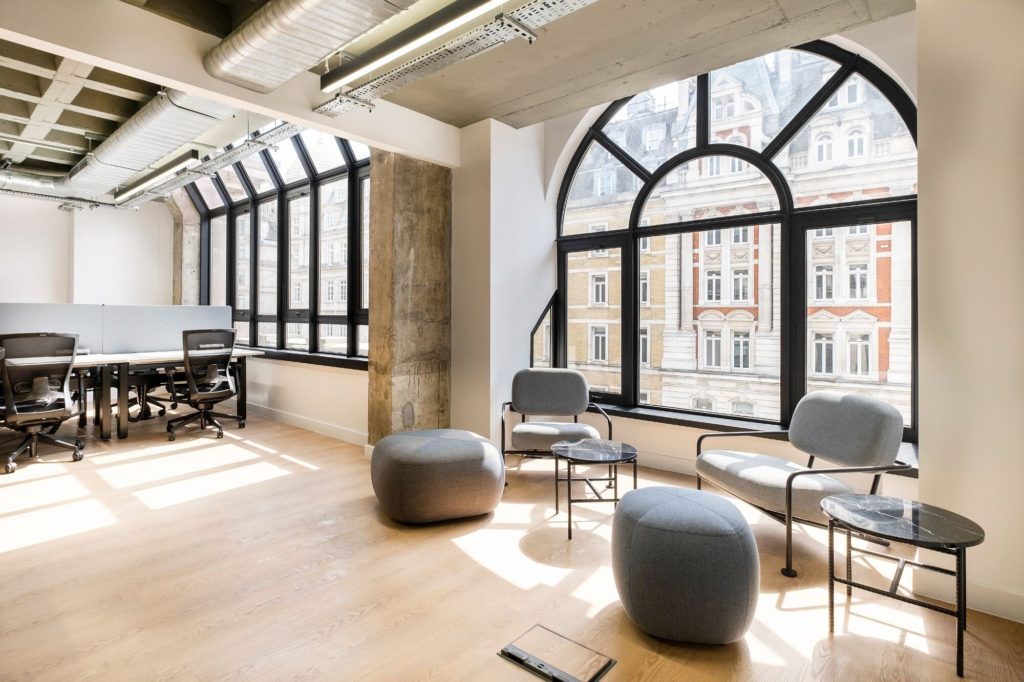 390 Strand, London.
The 1970's brutalist style building with concrete potted ceilings throughout has a clean contemporary design, flooded in daylight. All wrapped in soft hues of grey and framed by black metal, the space creates a perfect blank canvas for the tenants. The no thrills design uses suspended linear lighting as the main source of light for their breakout areas.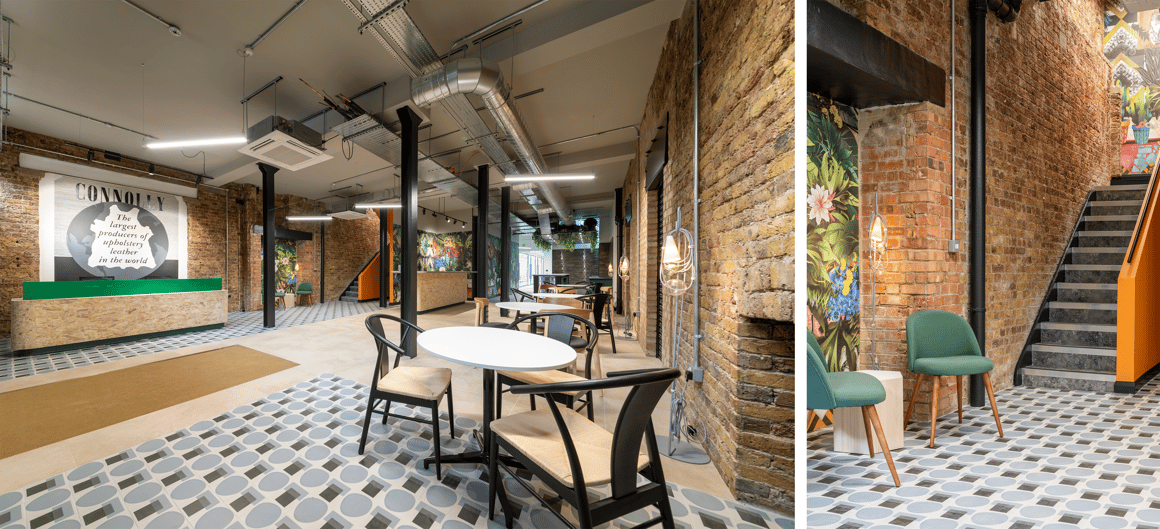 The Connolly Works, London.
The vibrant Boutique Workspace location offers an exciting kitchen /breakout space that doubles up as an event space. There is a mixture of linear lighting for general illumination, track lighting for a bit of drama and biophilia display for visual effect.
20 Dering Street, London.
The Legal and General Plug & Play CAT A + scheme comprises of almost identical design on the 2nd, 3rd and 4th floor of the building. Each floor offers a waiting area, studio space, private meeting room, breakout area with a fully fitted kitchen. The breakout is small, but inviting, offering a comfortable seating away from desk. The industrial style wall mounted fittings are a nice addition to the interior design.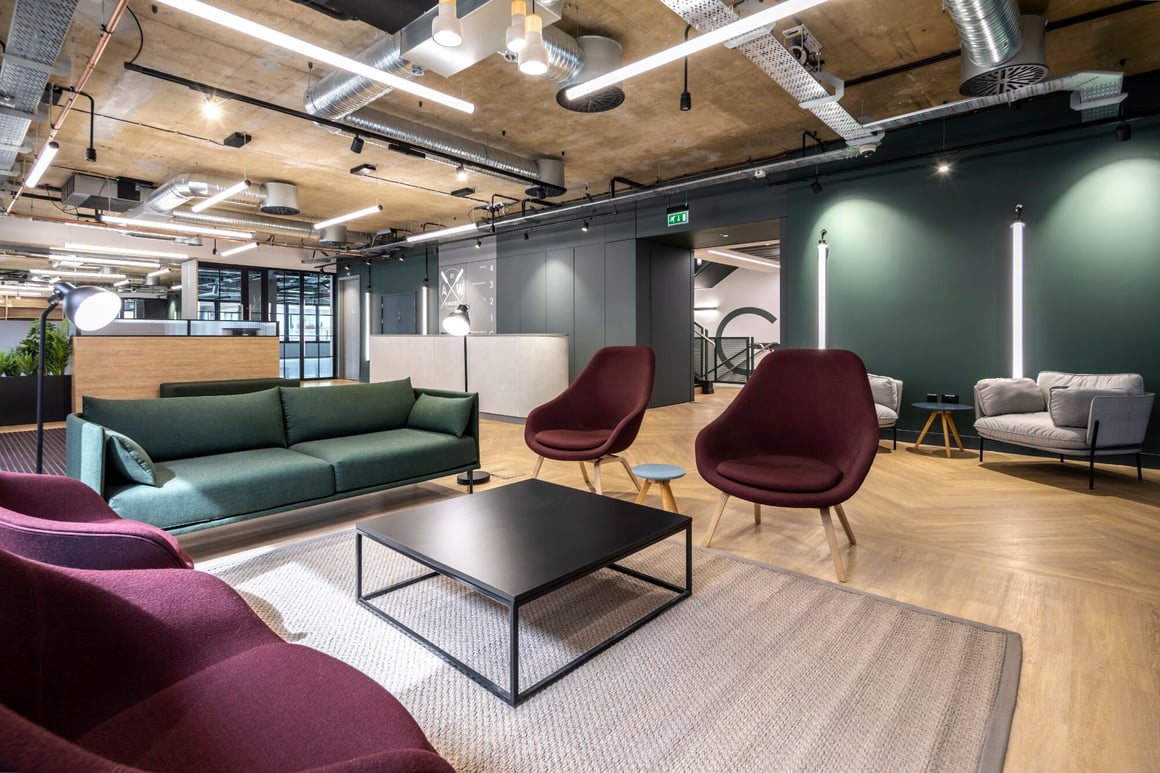 Abbey Wharf
In the reception area and breakout of Abbey Wharf, the Nile suspended was specified and used for main illumination. The smooth finish of the tubular Nile and soft lighting emitted from the luminaries creates comfortable lighting and good contrast with the concrete ceilings. The same fittings were used in the breakout space. Installed in a symmetrical pattern, the tubular luminaries are enhancing the contemporary design of the space.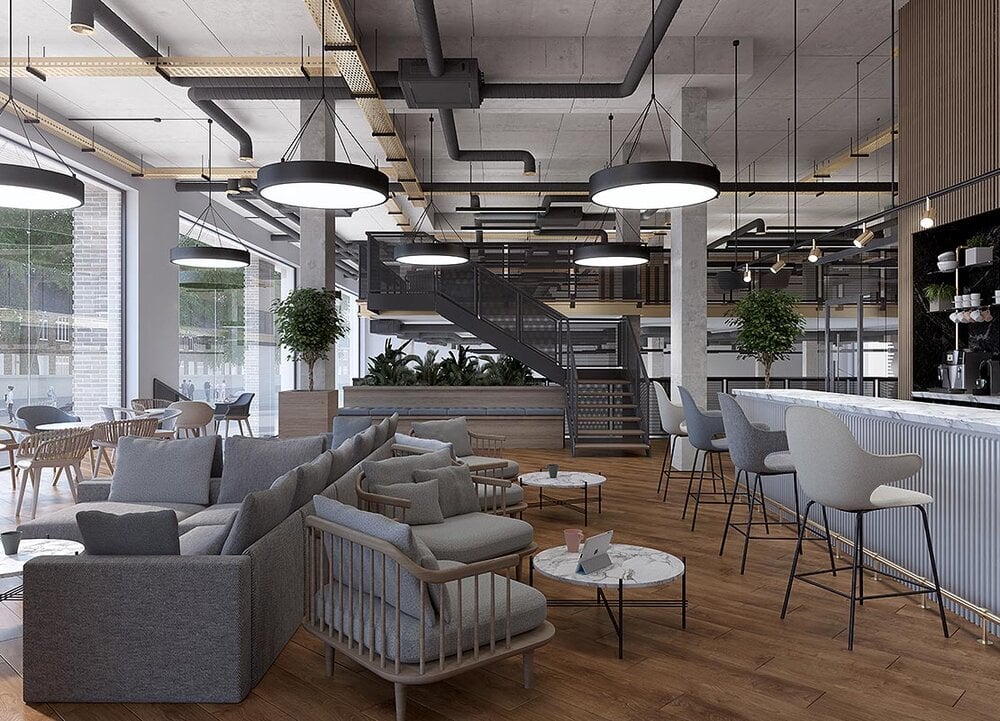 Cally Yard, London.
The large CAT A development stretched over several buildings offers plenty of varied space, suitable for creating nice breakout zones. Lit by suspended ring shape pendants and linear lighting, the contemporary building offers a blank canvas for the future tenants to claim as their own and put their own mark on.
For information on lighting for all other areas of the office, visit our Guide to Office Lighting.
2C Flowers Hill, Bristol.
The breakout space at the 299 office in Bristol can be described as intimate and cosy. Our aim was to create a quiet place for thoughts gathering and quiet chats, away from the lively kitchen area. The space is lit by a decorative circular pendant Circ from Grok. The soft ambient lighting is created by the soft microlinear profiles, built into the wooden panelling.
---
Flexibility is key.
The importance of breakout areas in the modern workspace is undeniable. It's not just in their welcoming looks and relaxed atmosphere. It is their functionality that truly sets them apart. With the use of wireless controls, the breakout space can be used exactly to client's needs, allowing the space to be used as an informal meeting room, event space or simply as a space to put your feet up and unwind.
---
We hope you enjoyed our tour of breakout spaces and found some inspiration. Please talk to our team if you would like to put together a unique lighting scheme for your project. For more information on getting great lighting for your office project, read our Guide to Office Lighting.
---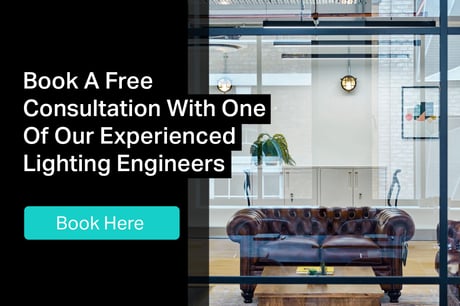 Read Next.
---