Best Lighting Ideas for Office Kitchens.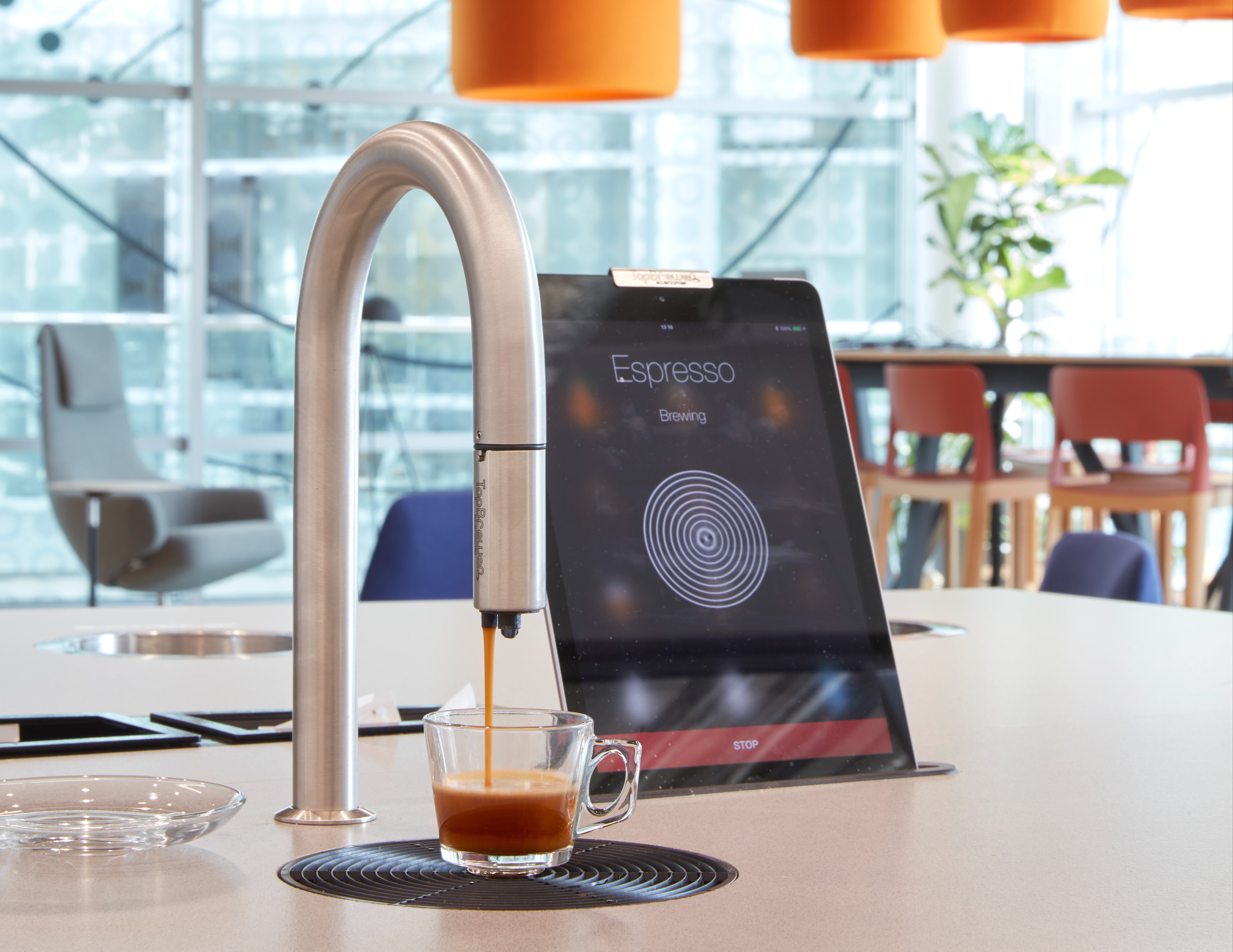 Coffee, anyone?
Workplace kitchens have evolved over the last twenty years. From well hidden utilitarian space where you could just about make a cup of tea and heat up some food to the focal point of the office. The kitchen is where we share food, celebrate success and interact with each other away from our desks, on a neutral ground.
---
Flexibility.
As we spent so much time at work, kitchen areas have the same significance as their domestic counterparts. Sometimes, it is the quick informal catch up whilst making a cup of tea, impromptu team meeting over a cake that someone just brough in, or supplier meeting when all other meeting rooms are booked up. A great event space to host a product launch. The versatility is endless.
---
Amplified Branding.
Kitchen in CAT A fitout are left to occupier's imagination, whereas the landlords really push the boundaries on a CAT A + fitout. With a CAT B, the client would have the entire space designed around them and their way of working.
From fully functioning kitchens to spaces with drink fridges, fancy coffee machines and tech gadgets. Nicely fitted kitchen says a thousand words about your business.

We have been fortunate to work on some great projects over the years and some of them had fantastic kitchen areas. So we thought we share the best kitchen designs for some inspiration.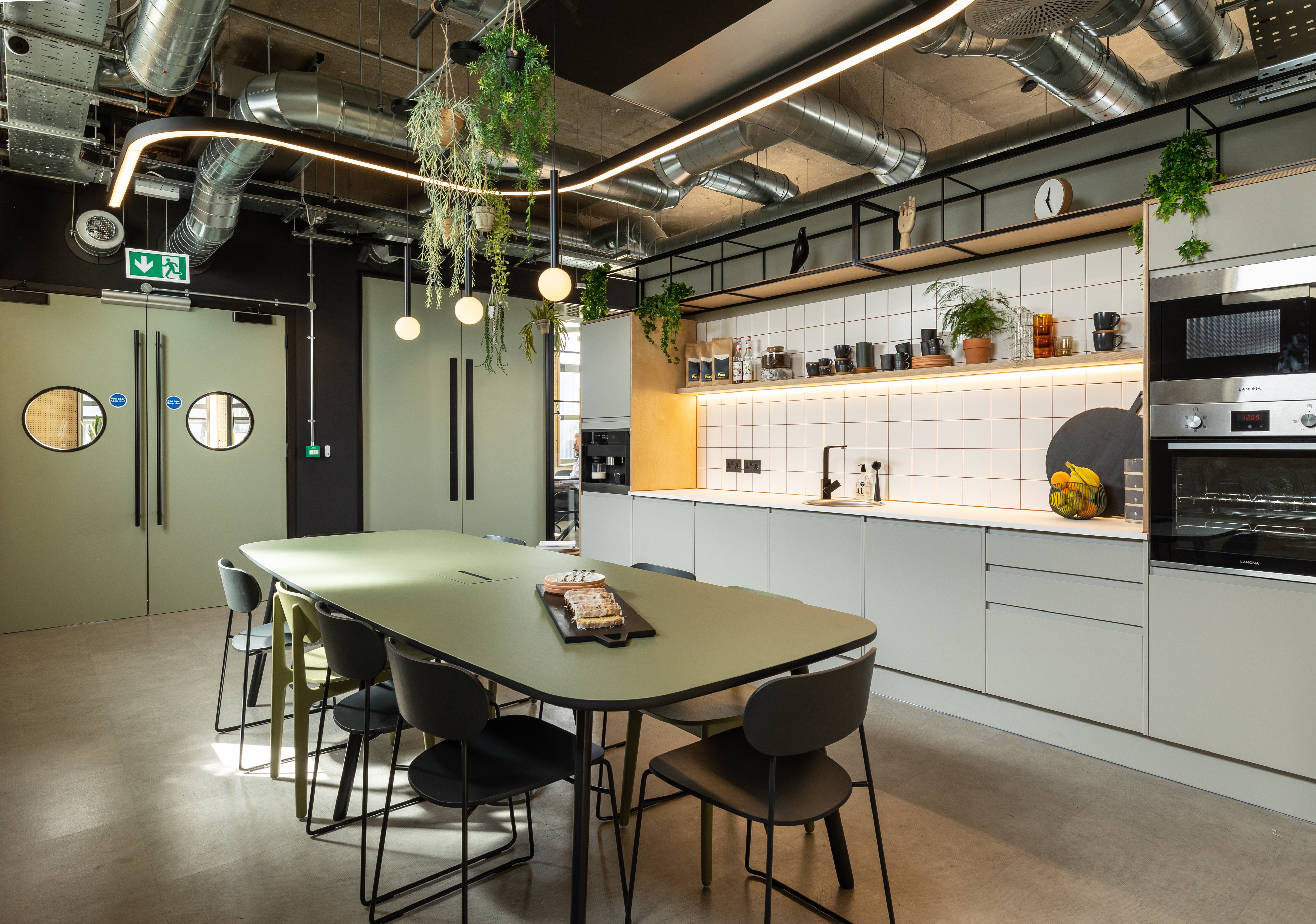 The 299 Lighting Office Kitchen.
Home is where the cake is.

As a lighting supplier, we really wanted to show the lighting off and create a vow effect as people walk in. Lit by the stunning 15.2m long made to measure linear system Lena, the kitchen is where you experience the 299 company culture most. Lena is a new flexible linear luminaire that can be designed using curves and lines, creating a totally bespoke linear system to your interior design.
Above the large dining table, we used 3 frosted glass decorative pendants Mist from leds-c4 range. They give the space a soft glow and a welcoming feel. The micro linear profiles used in the shelving add additional soft accent lighting in the kitchen.
Co-Space Stevenage, and Co-Space Reading.
Co-Space brand is all about stylish design, colours and maximum comfort for tenants. In their designs, they like mixing industrial style fittings with soft glow of decorative luminaires. Their properties would often have exposed ceilings and the decorative lighting fittings would bring the softness to the space.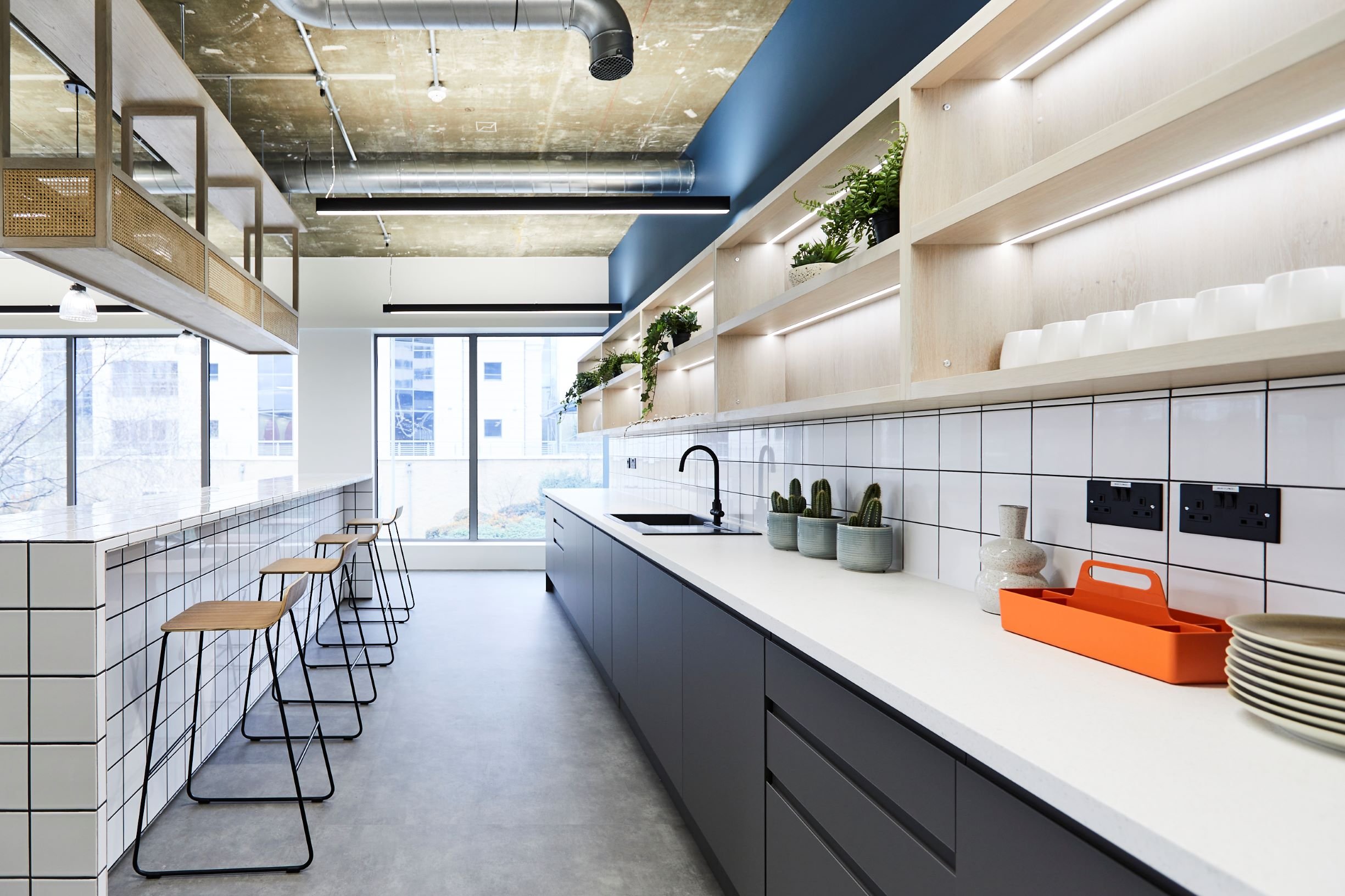 The Forge, Woking.
Beautifully contemporary design of the Forge is complemented by their contemporary kitchens. The lines in the design are further enhanced by the use of suspended linear lighting. A no fuss design that compliments the Forge branding. The microlinear profiles installed in the cabinetry of the kitchen bring a little touch of sophisticated luxury.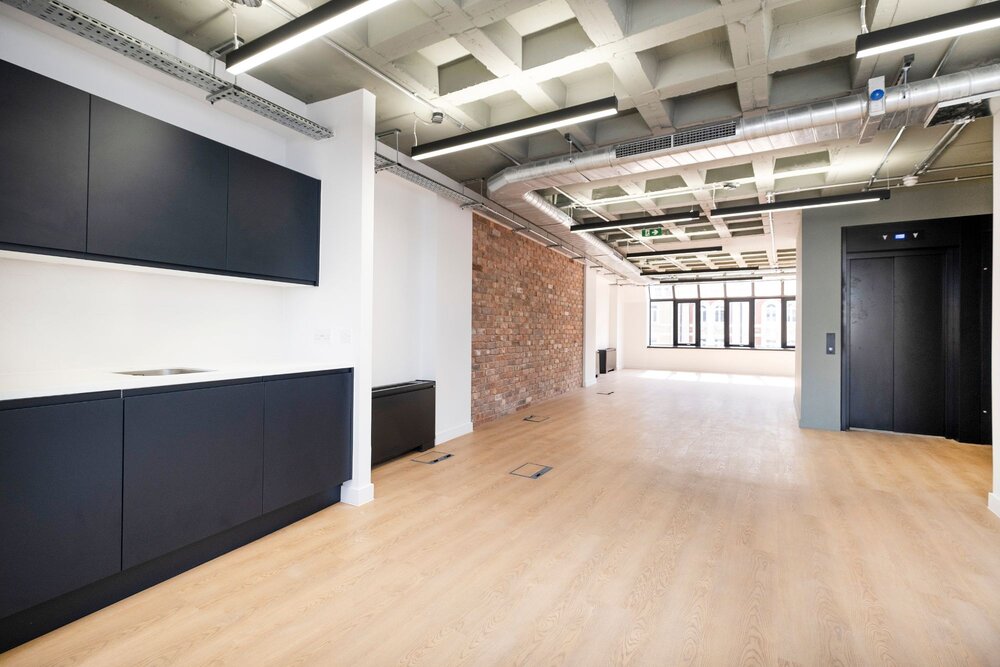 390 Strand, London.
The 1970's brutalist style building with concrete potted ceilings throughout has a clean contemporary design. The kitchen mirrors that and creates a perfect blank canvas for the tenants. The design is using suspended linear lighting, as in the rest of the space, but with a bit of imagination, the space can be personalised and fitted to match the client's brand.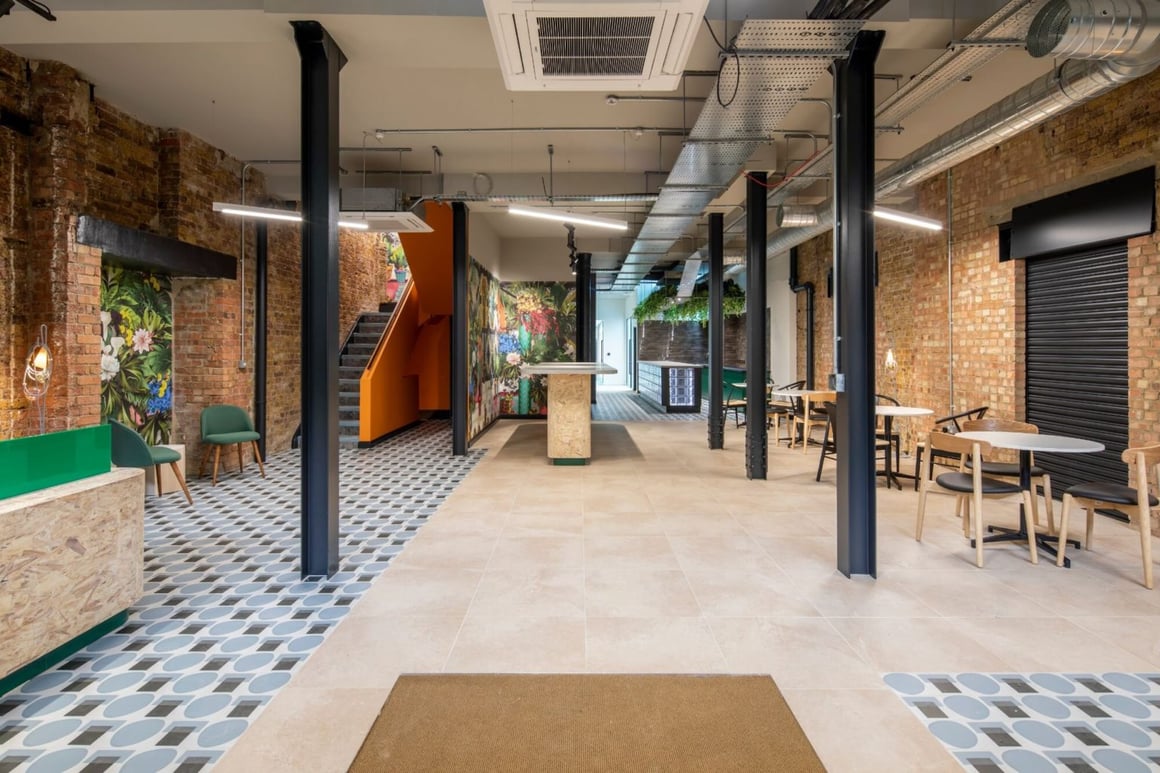 The Connolly Works, London.
The vibrant Boutique Workspace location offers an exciting kitchen space that doubles up as an event space. There is a mixture of linear lighting for general illumination, track lighting for a bit of drama and biophilia display for visual effect. It's a beautiful space full of energy.
For more information about great lighting for offices, take a look at our Guide to Office Lighting.
80 Holborn, Labs House, London.
This was a very unique project for the 299 team, as the entire Labs House was lit with the Globo decorative pendant from VISO. The design brief was to move away from a typical office lighting and create a more boutique look. The hand-made glass pendants were fitted on track channels to increase the flexibility of the space. And that means a whopping 299 glass pendants installed over 9 floors.
Sanofi, Reading.
This project is all about understated luxury. Although we used a fair amount of LED panels in this space, they were all installed in a visually interesting way. The panels in the kitchen sit behind a contemporary timber structure, creating a softer and more informal atmosphere. The project also uses LED downlights in the plasterboard. A simple, timeless look, very on brand for a pharmaceutical company.
100 Brook Drive, Reading.
One of the techiest kitchens we have ever worked on, this kitchen has some nice gadgets and mirrors Nvidia's technology brand. The clean contemporary interior design is enhanced by a rich variation of lighting. Over 20 unique suspended linear lighting system were installed throughout this space. Dotted inbetween the acoustic panels, there are tubular Bellart suspended. Mixed with vibrant decorative lighting, this is a beautiful scheme.
---
Flexibility is key.
The importance of kitchen areas in the modern workspace is undeniable. It's not just in their welcoming looks and relaxed atmosphere. It is their functionality that truly sets them apart. With the use of wireless controls, the kitchen space can be used exactly to client's needs, allowing the space to be used as a meeting room, event space.


---
We hope you enjoyed our tour of office kitchens and found some inspiration. Please talk to our team if you would like to put together a unique lighting scheme for your project.
---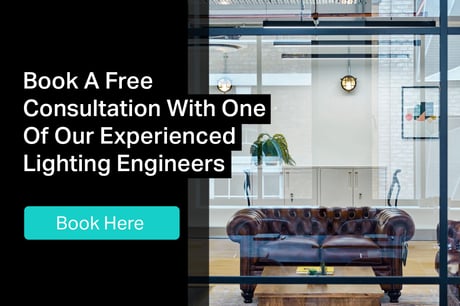 Read Next.
---