What's The Difference Between CAT A and CAT B Fitouts?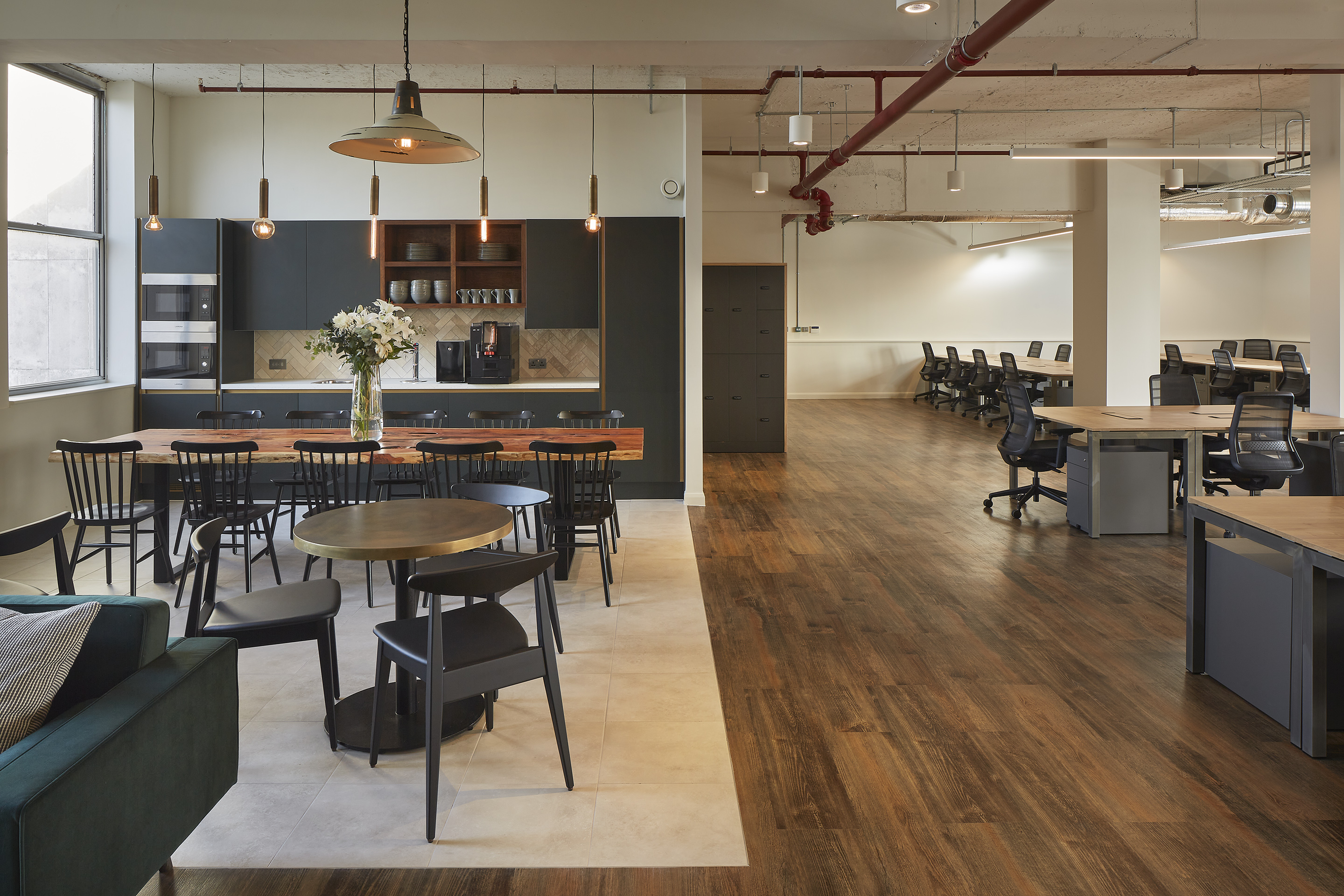 From basic shell to fancy office space. Or anything in between.

When signing a new lease, or appointing a fit out company to refurbish and fit out your workspace, it's important to understand what the different levels of fit out are.

Office fit out is a process of making the internal space suitable for occupation. As there is still no industry standard definition of what the different types of fit out are, it's important to confirm with your landlord or fit out what will be included in your new office space. This will affect the type of lighting your new workplace is likely to have.
---

Types of fit out.

In the UK, a space will be marketed by the developer or letting agent as either a Shell and Core or a CAT A fit out, with an option for the tenants to create the final 'working' space through a CAT B fit out.
There are 4 different types of fit out:
Shell + Core

Cat A

Cat A+

Cat B
---
Shell and Core - the framework of the building.
Although from the outside, the building would look complete, on the inside, it will be an empty shell. This finish will include only basic mechanical and electrical services and no lighting. Lighting will be only provided in common areas/lobbies. This space would also include loading bays, lifts and communal toilets. In some cases, a building reception will be included.

Often, a building has to be taken to shell and core stage before the refurbishment process can commence. This was the case of refurbishing our own property at 2c Flowers Hill in Bristol. We stripped the building to its original fabric, before we appointed the project team.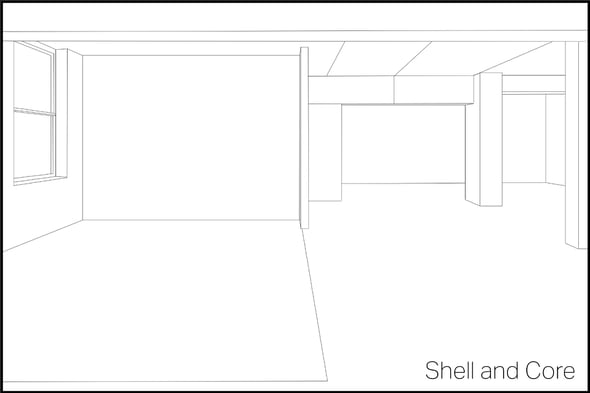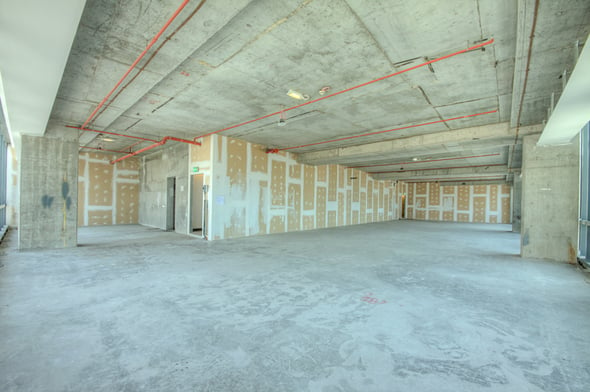 What Lighting to Expect With Shell + Core
In general, no office lighting is included in shell and core fit out, other than temporary lighting in main areas and LED downlights in communal areas, like the toilets. Shell and core would include internal and external lighting in loading areas, which is most likely to be high bays.
---
CAT A - the (Basic) Landlord Fit Out.
A step up from the Shell and Core, a CAT A fit out is a basic level of finish, which may include raised floors, suspended ceilings along with basic mechanical and electrical services. Some fit out projects will be completed to quite a basic standard, where others will be designed and built to the highest standard. These upper end market type of offices would be referred to as Grade A spaces. This creates a "two tier market", where the Grade A space operates in a completely different space to the rest of the office market.

According to the latest figures published by Savills, 91 per cent of all newly leased space in the City of London for the year to June was grade-A compared with a 67 per cent long-term average pre-pandemic.
*Investor Chronicle September 2022

We have worked on numerous prestigious CAT A type fit out projects, like the Cally Yard in London or The Forge in Woking, to name a few.
The Standard CAT A Fit Out Will Include:
Lighting

Toilets

Air conditioning

Raised access flooring

Grid ceilings

Basic fire detection systems

Plumbing services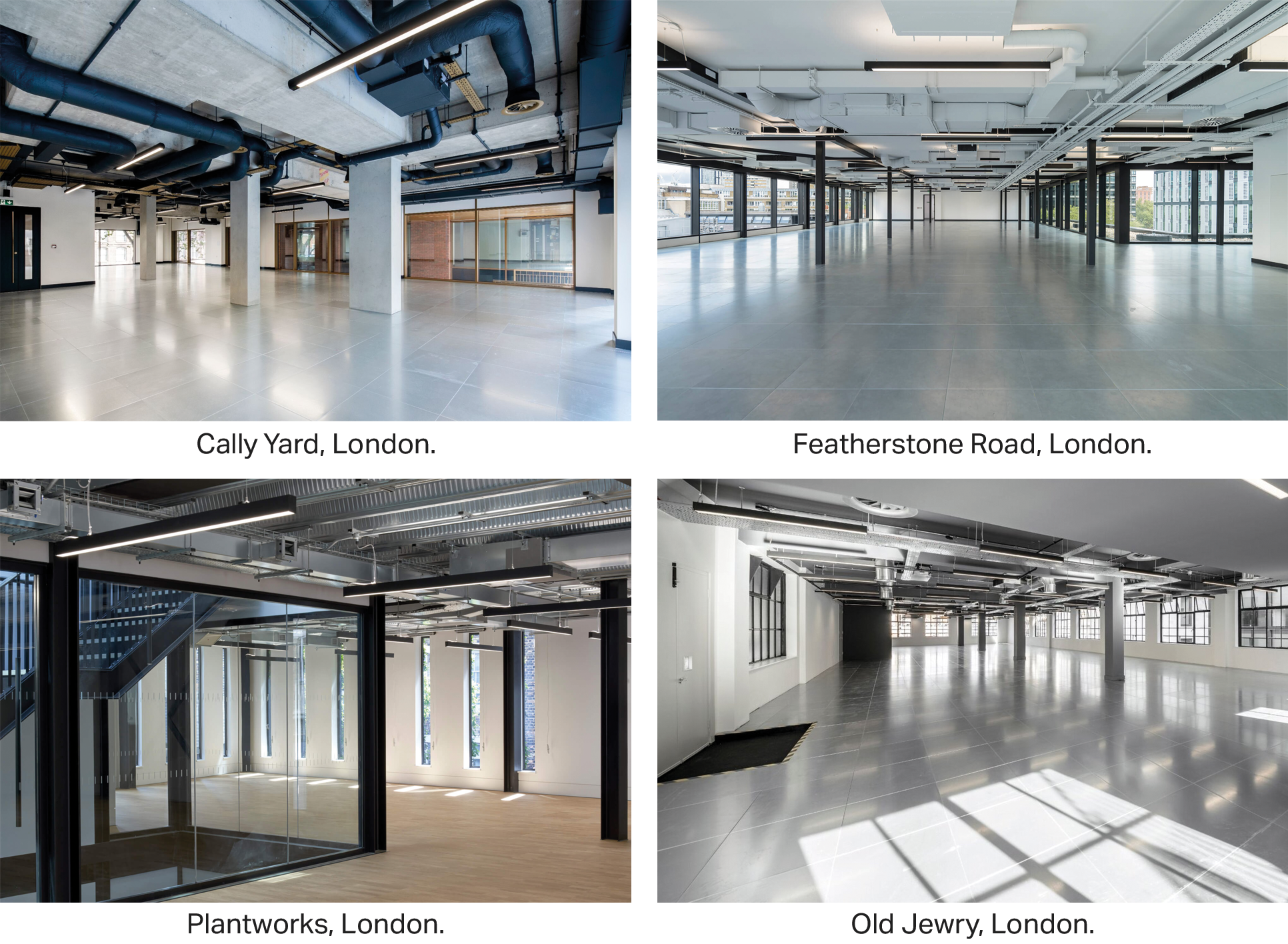 What Lighting To Expect With CAT A.
Typically, a CAT A spaces would have a generic layout, that works for any furniture orientation, and as such, most of the CAT A fit out projects would have suspended linear lighting. Some project would only use fittings with direct light distributions, others might invest into more sophisticated lighting with direct/-indirect lighting distribution. A CAT A fitout would also have emergency lighting, as it needs to comply regulations.
Depending on the quality of the fitout, there dimmable options with wireless controls may or may not be included.
CAT A fit out would have an attractive reception area lit by architectural feature lighting. Depending on the scale, quality of the fitout and a budget, the scale of feature lighting varies hugely.

The Grade A CAT A fit out projects would also have numerous breakout spaces, auditoriums and cafe facilities, where some additional lighting type would be introduced. There will be ambient lighting, micro linear profiles, track lighting and decorative lighting. As the Grade A spaces would be aiming to achieve BREEAM or WELL certification, further requirements for lighting will be introduced and more attention will be paid to light quality, energy efficiency and sustainability of each luminaire types.
---
CAT A+ - The New Kid On The Block.
As the expectation of tenants rises and landlord are coming with more innovative options for leasing the space, we are seeing a new type of fit out, often referred to as Plug and Play workplace.
A midway point between a CAT A and CAT B fitout, the CAT A + would include meeting rooms, furnished breakout spaces, fitted kitchens with coffee machines, all ready for the tenant to move in. They would be designed in a contemporary style, making it an attractive proposition to many businesses, large and small.

We have worked on several of the CAT A+ project- several sites for the co-working brand Co-Space and several Legal and General Capsule workspaces, like the 43 Eagle Street in London.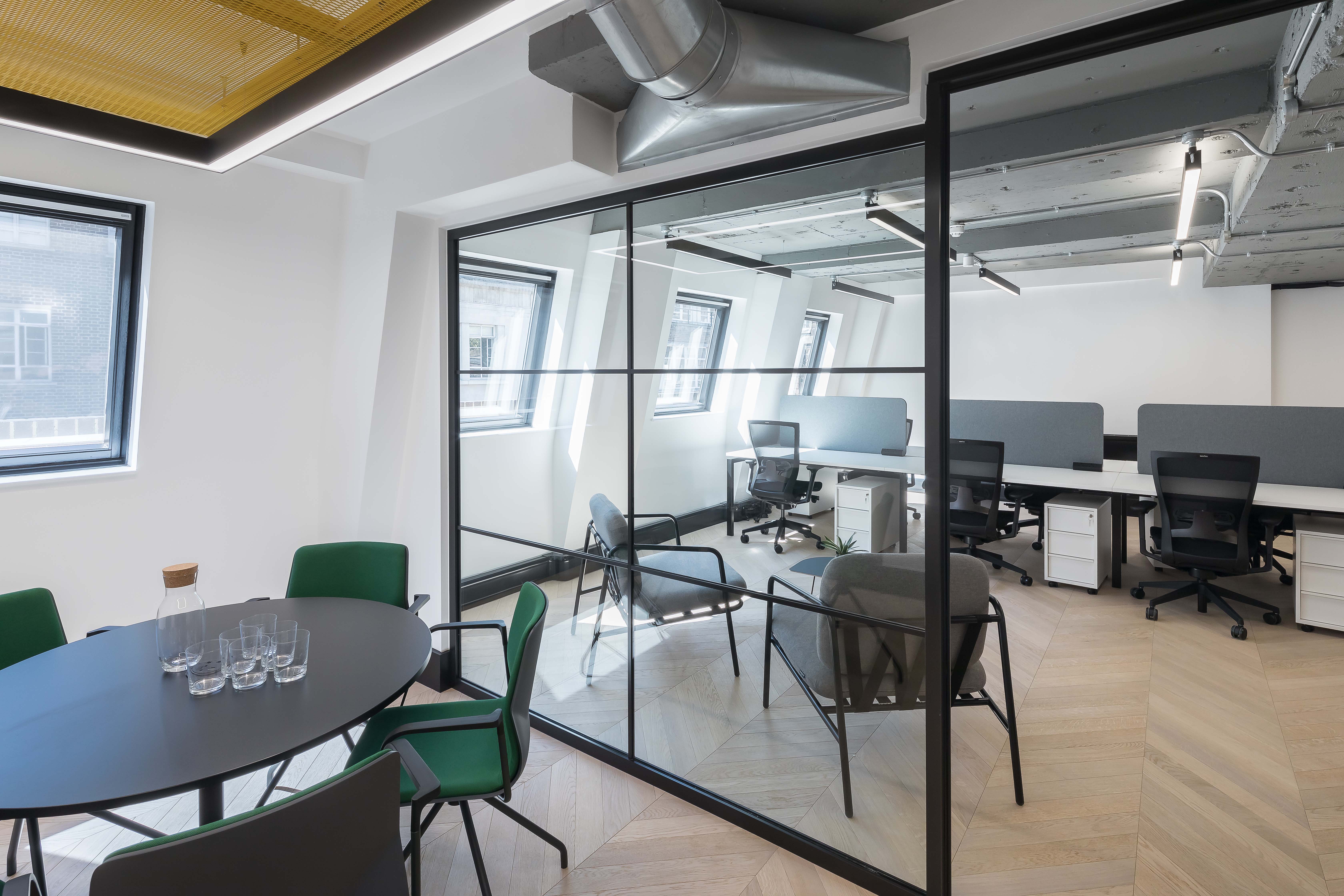 What Lighting To Expect With CAT A+
Lighting for this type of fit out would be linear office lighting with feature lighting, all compliant to the current regulations. It will also include ambient lighting and decorative fittings to bring a more character and style.
---
CAT B - all tailored around you.
The CAT B fit out is often referred to as the tenant fitout and is completely tailored around the tenant and their type of business. The client would work closely with an architect, fit out experts or D&B contractor to ensure the space is designed around their needs and the way they work.


CAT B Would Include:
Partitions and doors

Floor finishes

Feature lighting, architectural lighting, ambient lighting

Café, tea point, kitchen

Furniture

Branded items

IT and visual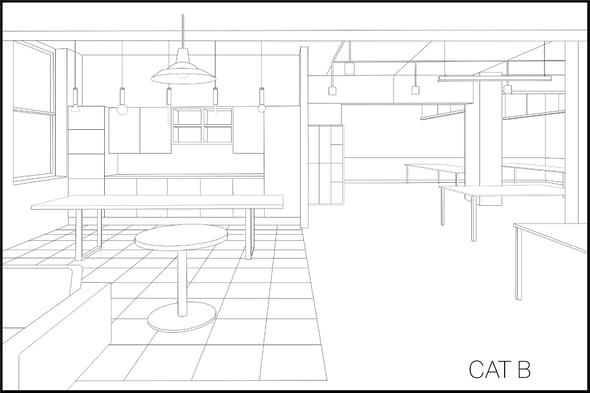 What Lighting To Expect With CAT B.
The sky is the limit with this type of fit out, as it the budget spent on lighting depends on each individual business. This could be bespoke size halo pendants, made to measure architectural feature lighting in geometrical shapes, all the way to impressive hand made glass chandeliers. The choice is there.

There are several routes to CAT B fitout, with the most common one being a CAT A fit out brought to a CAT B standard. The client might wish to retain the original lighting from the CAT A fit out and maybe change the spacing or position of the luminaires to fit their space layout and add some feature luminaires or acoustic lighting. In some cases, the CAT B part of the project would be happening alongside a CAT A fit out.
In other cases, a client would purchase their own property and strip it to the bare bone before any design work can commence. This was the case of the refurbishment of our own office space in Bristol.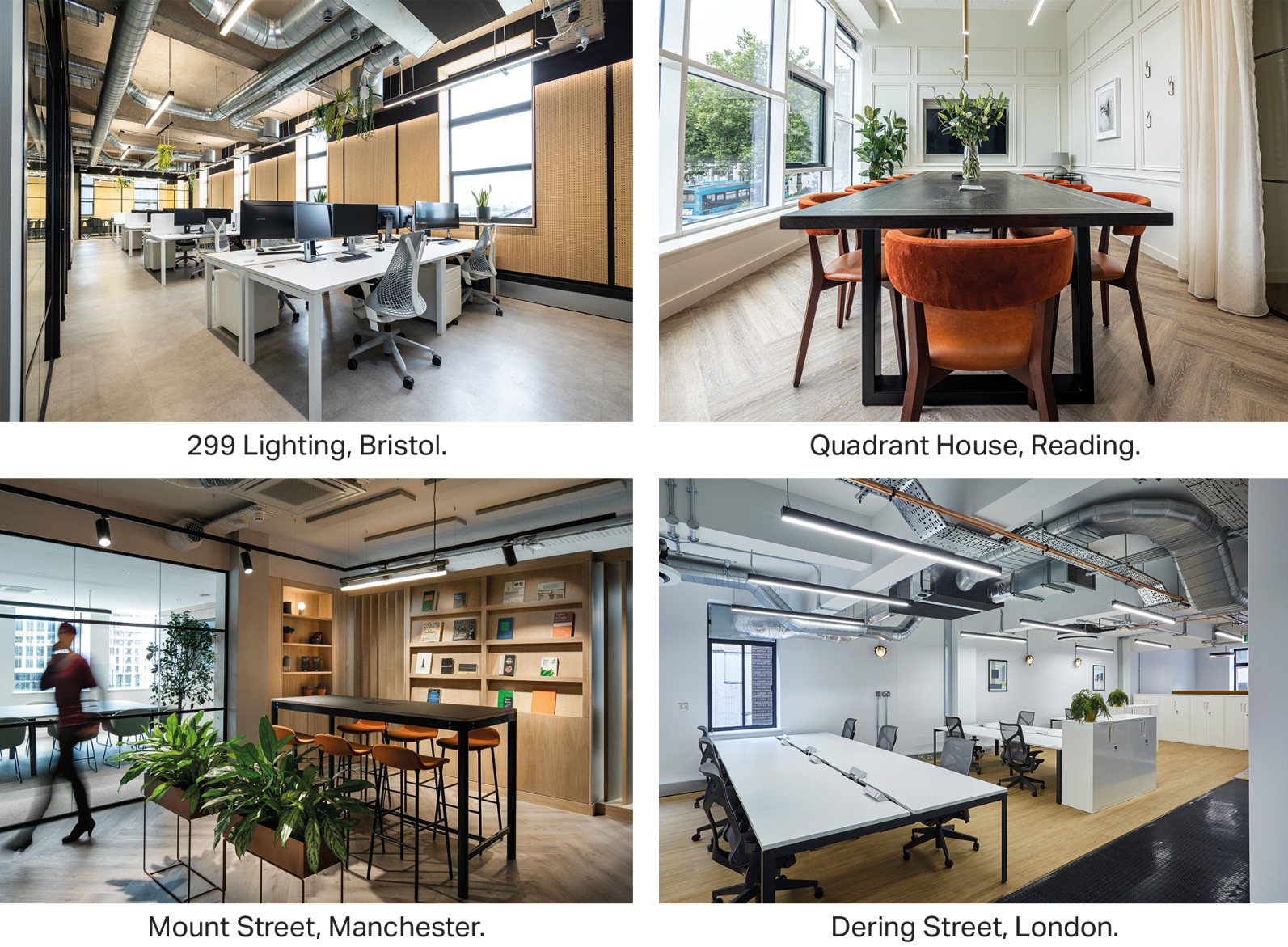 ---
For more information on how to get great lighting for your office fit out, visit our Guide to Office Lighting.
---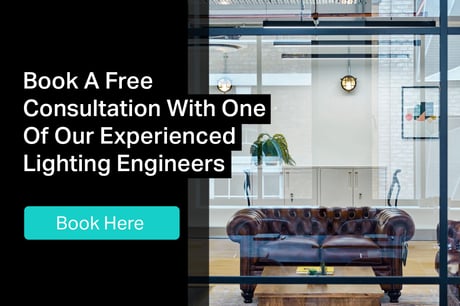 Read Next.
---