How Lighting Design Influences Culture in the Office.
As many companies are embracing hybrid working, it's time to rethink the office space and its meaning for the workplace culture. Office is becoming a destination enabling the team to innovate, whilst we choose to carry out the more focused work at home.

Every workplace is different and as such, it is soaked in it's unique atmosphere. You can sense it as soon as you set your foot in. Some places are stark and clinical with not much personality, some are shabby and rather neglected. Others have a woft of excitement and great atmosphere about them. Whatever it is, it's catching.
---
A brand with strong values.

Work culture can be defined as the overall set of beliefs and attitudes that a group of people have within the company. The last 18 months have highlighted many problems in the workplace and wellbeing and mental health is being talked about now more than ever.

Wellbeing of their staff first and with that comes investing into a positive work environment. Active use of innovative technology is also a great way of attracting young talent to join your business. And of course, with the use of social media, it's virtually impossible to be a successful business without a positive work environment that reflects your brand.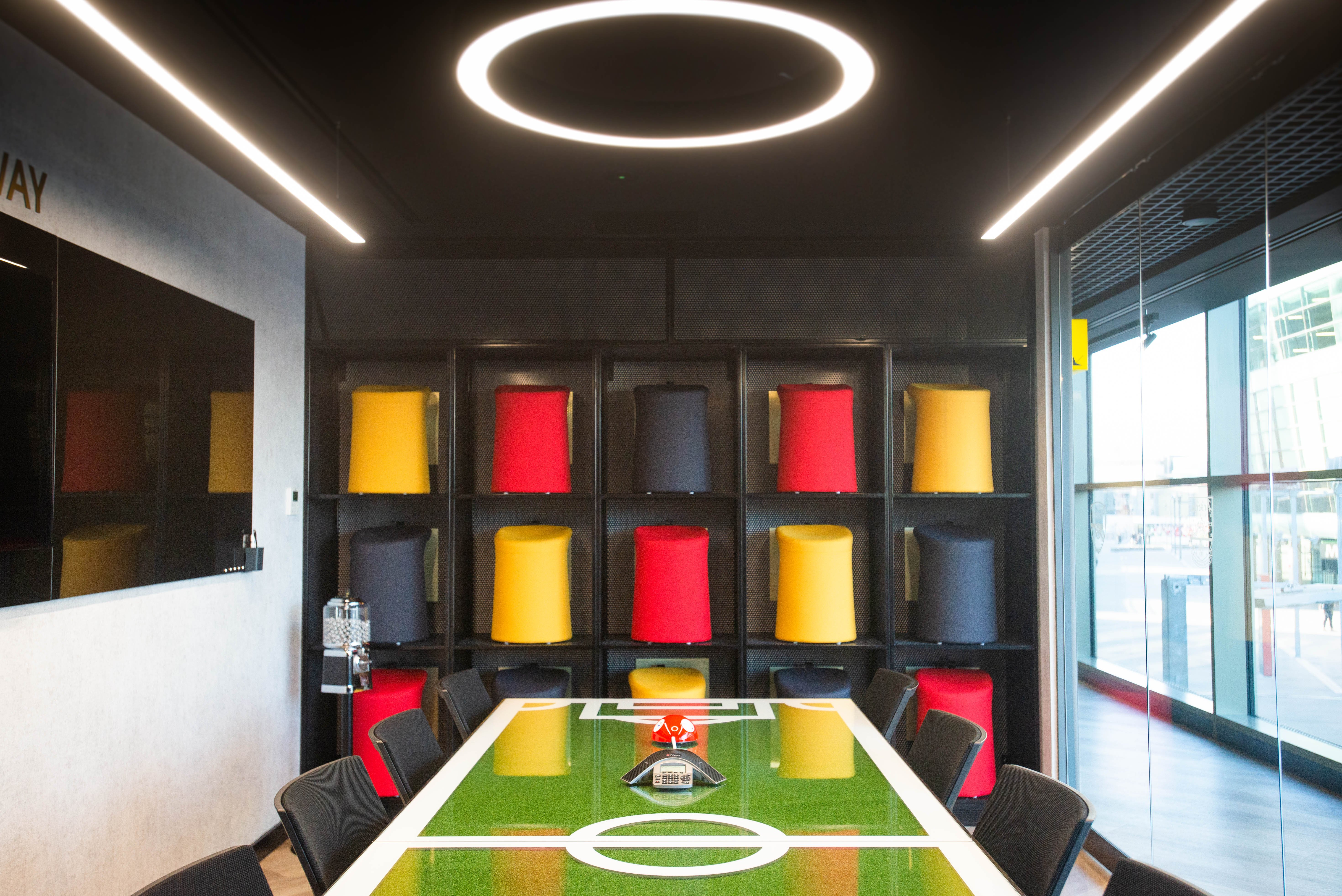 So how is workplace culture created?
As we join a team, we all hold some responsibility for the workplace culture, but there is something that has to come from within the beating heart of the business. The founders and the management have a huge impact in creating a better and more successful environment for workers. And quite frankly it's in their best interest to ensure that it's the best it can possibly be. Here's why... The research by Deloitte has shown that 94% of executives and 88% of employees believe a distinct corporate culture is important to a business' success. Not only that but having a stressful work environment is shown to have detrimental impact on our health, resulting in more sick days for employees.

Disengagement can be costly. When you're surrounded by a poor environment it's no wonder you don't feel uninspired or unproductive. A poll made by marketing company Reboot Online of 865 office workers discovered that there are 122 minutes of our working day where we are not working! Now, this could be anything- trying to fix your IT issues, adjusting your office chair or trying to find an angle where your computer screen is not flooded in glare. If you then have to operate in an inspiring environment with a disengaged work culture, the results are just not good!
How can a brand transmit their message through design?
Your brand values can and should be transmitted through the design of your workplace. Great interior design including space planning and creative use of colours and materials are the most obvious ways. A well-designed office can energise the team and really push the brand image up the ladder. But design is not just how things look. It's also how things work.
---
More than a buzzword.

Sustainability is the greatest buzzword in the office fit-out industry. You can encourage people to cycle to work, to use less paper, to recycle or switch your car fleet to electric. You can upgrade your lighting to LED technology and ditch the old fluorescent lamps that are still knocking about in some places. But there is more. Lighting controls are just one way of instantly improving the sustainability of your lighting scheme. PIR sensors will save you money and save you energy. This is great for the office space but also for applications such as hallways, bathrooms and back of the house areas. A winning example of where a workplace pulled out all the stops to achieve sustainability and uphold their brand's values was Eagle House in Bristol. Our largest project to date in Bristol and also the winner of South of England & South Wales Refurbished/ Recycled Workplace, BCO awards 2020. The scheme uses Philips EasyAir Wireless Lighting Controls across the entire building. And unsurprisingly, Immediate Media is listed in the top ten best UK media companies as rated by employees.
Using the right lighting in the right place.

You might have heard the term 'compartmentalise', a concept where you are able to attribute different moods and feelings to different parts of your life. It's an interesting concept that we are able to translate into the workplace in a positive way by attributing different spaces to different moods and feelings.

For instance, meeting rooms are a place for collaboration, inspiration and deep focus from teams. A designer can influence this by carefully selecting the right colours, finishes and the right lighting to influence moods and feelings. Bold shaped luminaires, like triangles, equipped with a cooler colour temperature would be a great fit in this case, offering inspirational feature lighting for tasks where collaboration is key.

When creating larger spaces for team gatherings and presentations, unique architectural lighting can be a deal-breaker. In the auditorium for a global brand Finablr, a custom 'squiggle shaped' feature lighting was used to create an exciting space that reflects the global reach of the brand.

If you were designing a break out area you might opt for a ring shaped fitting with a warmer colour temperature. It's soft edges and diffuse light offer a calmer and more relaxed environment. It gives workers the time to relax whilst they eat and chat and they can attribute feelings of comfort and relaxation to the space.

Without knowing it workers are subconsciously compartmentalizing the different spaces with different emotions. And in turn if there's the right balance of space they should be getting a healthy balance of focus, relaxation and collaboration in the workplace.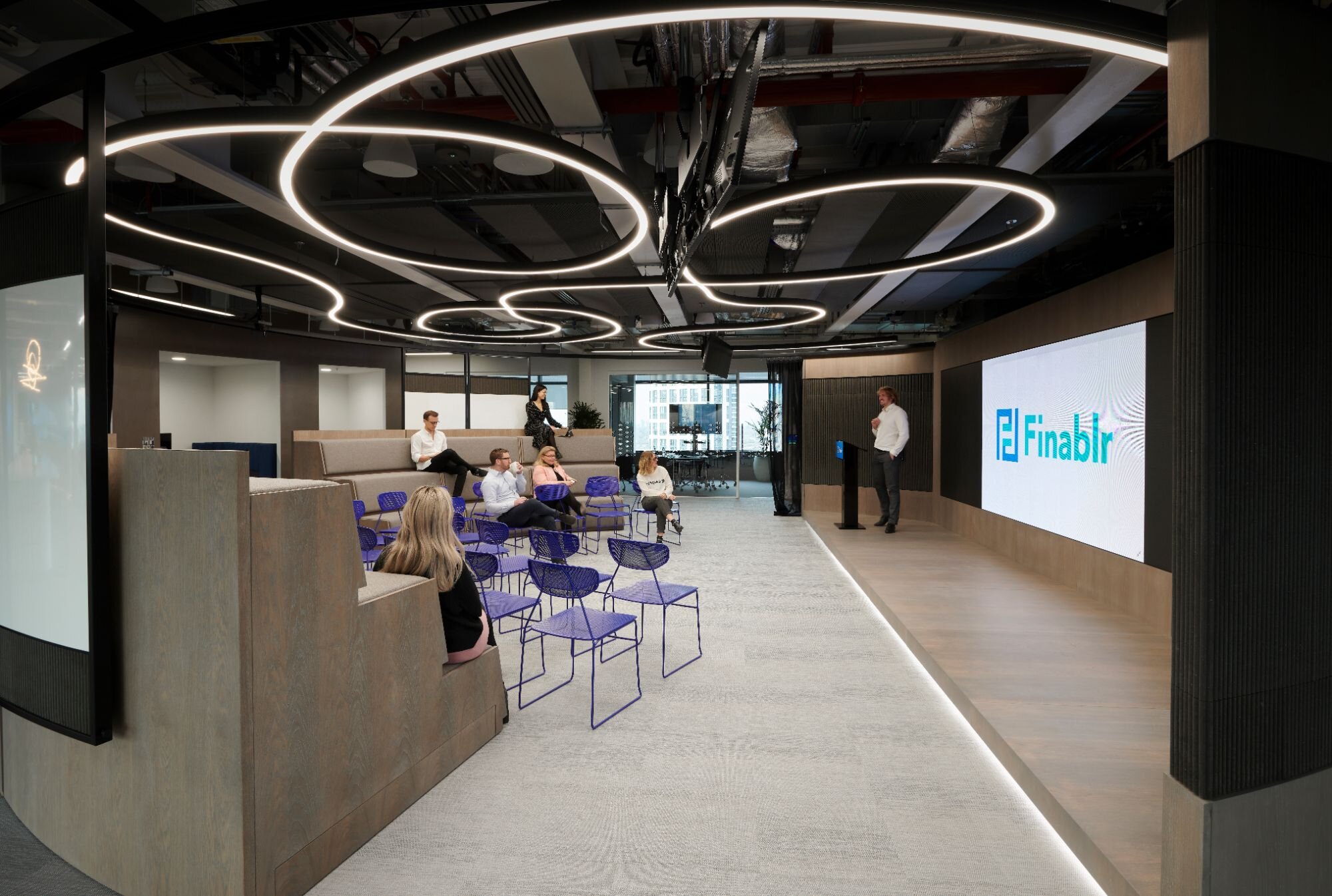 How can lighting improve your brand's presence and inspire workers?

Looking for inspiration on Pinterest is a great start. But before we get carried away, it's wise to speak to your design team and communicate your design aspirations with the lighting consultant. They might point out some practicality issues with your design concept.

When The National Mathematics and Science College approached us to come up with creating a unique design inspired by science and mathematics for their reception area, our lighting designers rubbed their hands together in excitement. The leading Mathematics college was looking to create a great first impression and inspiring space for the students and visitors. We created a stunning feature pendant using architectural lighting. It represents Sun and it's impossible not to notice.

The stunning feature pendant immediately sets the tone for the prestigious college and helps to inspire a new generation of aspiring Scientists and Mathematicians. It fits in perfectly with the culture of the college and helps to improve the wellbeing and productivity of staff.

For more information on how to get the perfect office lighting for your space, visit our Guide to Office Lighting.
---

Read Next.
---